Miscellaneous News                                                      
This web page is a repository for links not otherwise categorized under AWARE-Ontario.ca. 
Table of Contents
Other Links
Miscellaneous News – General
More links to interesting general news articles.
There is an inexorable link between Canadians and the natural environment. Canadians are raised to appreciate recreation in all seasons of the year from the oppressive heat of summer to the bitter cold of our famous winters. We are hardy folks.
Our representatives in government seem to recognize Canadians' appreciation for the natural world, at least in their advertising and marketing propaganda.
Video: Canada Shared by Canadians – Keep Exploring (by CANADA Explore) (2 mins)
So why does government continue to destroy Canada's natural areas for resource extraction, pollute pristine waters, endanger wildlife, and thereby diminish the lifestyles of Canadians?  We, the people of Canada, are perplexed. We have the intellect, the technology and the funds to make better decisions and mitigate negative impacts, in other words "to do things right". So why don't we?
The problem seems to be that government does not truly represent the people but rather business corporations and the huge multi-nationals in particular.
Multi-nationals / Giga-Factories / Mega-Corporations
Walmart
The Propaganda Machine
All media sources – government, industry, corporate and grassroots – have a bias.  The problem arises when the bias is hidden or disclaimed.  Problems also arise with the deliberate spread of misinformation (aka "fake news" or quite simply, lies).
COVID-19 the world's greatest vaccine marketing campaign:  AO News – COVID-19 Overview
It is noteworthy that when it comes to the fifth generation of cellular technology called "5G", all the mainstream media appear to be touting 5G as safe and denigrating those that ask questions, doubt or declare the truth.  5G is controversial for a reason.   (See more at AO Wireless Overview)
See also AO News - Censorship
News - Propaganda
Here is a list of media sources that we find interesting, some good, some not:
American Council on Science and Health
A non-profit advocacy organization founded in 1978 to focus on advocacy related to food, nutrition, health, chemicals, pharmaceuticals, biology, biotechnology, infectious disease and the environment.  (Wikipedia)
Articles from the website are written "promoting science and debunking junk" in opposition rather than producing material for people's edification.  The site promotes cell phones, WiFi and 5G as safe to humans when the technology is not safe.  (AO Wireless Overview)
Center in the Science for Public Interest
Health advocacy equivalent to Hill and Knowlton and the proposed mega quarry.  (see Dr. Joseph Mercola's opinion)
Fraser Institute
A Canadian public policy think tank and registered charity.  Political bias is conservative and libertarian.  (Wikipedia)
General consensus is that data is cherry-picked and misleading to advance their agenda:
Articles by Fraser Institute
For more information:
sourcewatch.org - Fraser Institute
Friends of Science Society
[comment pending further info]
Global Research
Global Research website (www.GlobalResearch.ca) – published by non-profit group Centre for Research on Globalisation (CRG) and features alternative media, general knowledge and non-mainstream thinking.
Date

yyyy-mm-dd

Posted By

Article Link

Comment

2020-09-03

GlobalResearch.ca

Prof. Michel Chossudovsky

"'Economic collapse was caused by the virus' but not true."
Medpagetoday.com
Murphy, Rex
Rex Murphy is a Canadian commentator and author, primarily on Canadian political and social matters. He was the regular host of CBC Radio One's Cross Country Checkup, a nationwide call-in show, for 21 years before stepping down in September 2015. He currently writes for the National Post and has a YouTube channel called RexTV. Wikipedia
The Poynter Institute / Politifact
A nonprofit school for journalism in St. Petersburg, Florida.
Disclaimed America's Frontline Doctors saying they "floated several unproven conspiracy theories about the coronavirus pandemic" "making false and misleading claims" (source). Staff Writer Daniel Funke also writes for AmericanPress Institute.
In August 2020, Poynter Institute and Politifact were sued in conjunction with Science Feedback by Children's Health Defense for censoring content on facebook.  (article)
International Fact-Checking Network for political fact-checking (principles): 
1. Commitment to Nonpartisanship and Fairness
2. Commitment to Transparency of Sources
3. Commitment to Transparency of Funding and Organization
4. Commitment to Transparency of Methodology
5. Commitment to open and Honest Corrections
Praguer U
PragerU, short for Prager University, (prageru.com) is an American non-profit organization that creates videos on various political, economic and philosophical topics from an American conservative or right-wing perspective. The organization was co-founded by talk show host and writer Dennis Prager and Allen Estrin.  Praguer U is not an accredited academic institution and does not offer certifications or diplomas. The organization relies on donations and much of its early funding came from fracking billionaires Dan and Farris Wilks. To be clear "PragerU is largely just paid promotional material by the oil industry. Their other videos not related to fossil fuels are largely clickbait to attract conservative viewers. Also they are not a university." Nevin Zehr WT.Social comment (Wikipedia)
ResearchGate.net
ScienceDirect.com?
· Operated by the British-Dutch publisher Elsevier.  Launched in 1997.
Snopes
Snopes.com was established by a husband and wife team, David and Barbara Mikkelsen, in the early days of the internet as a hoax and urban legend fact-check website.  The site was run by amateurs in the attempt to answer questions about online hoaxes and suspect stories -- was that Nigerian Prince really going to send you money?  As browsing and alternative media journalism grew in popularity, and mainstream media moved online, snopes' mandate grew to address "fake news".  Meanwhile the husband and wife team split up, a contentious divorce accused husband of embezzling company money. Barbara sold her share of the company to Proper Media, and the financials and legalities got messy. (source) (source) The company teamed up with facebook in 2016 along with a shortlist of media organizations that are part of an international fact-checking network led by Poynter.  According to the New York Times, all of Snopes' revenue comes from ads.  
Social Media
The big social media tech companies (Google, Twitter, facebook/Instagram, LinkedIn) have been involved with censoring information considered contrary to the mainstream narrative.  For instance Mike Adams, the Health Ranger was removed from social media platforms in 2014 and forced to create his own platform (HealthRanger.com / Brighteon.com). Also Robert Kennedy Jr, founder of Children's Health Defense.
"Disinformation Dozen" and censorship  (AO News - Censorship)
SourceWatch
· SourceWatch.org – wiki review of media sources and their credibility.  Out of date?
The Bureau of Investigative Journalism (TBIJ)
The Bureau of Investigative Journalism (TBIJ) is but one of many, many examples of groups that appear to serve as front groups for a particular agenda. (source)
(article)
TLDR News (UK, US)
Professionally created internet content (website, videos) – sister to TheVerge.com?  (Russell Brandom (TheVerge, Buzzfeed) Youtube (4 mins), Youtube (14 mins))
American digital media company associated with The Verge (theverge.com), Vox, SB Nation, Eater, Polygon and Curbed as well as Chorus, Concert, Vox Creative, Vox Entertainment, Vox Media Studios and Vox media Podcast Network.
Not to be confused with VoxNews.com
Webmd.com
· Pro experimental covid-19 vaccines
·
Who is Fact Checking the Fact Checkers?
In 2016 fact-checking organizations from nearly 30 countries signed onto a statement of principles aiming to adhere to non-partisan, fair-minded and transparent approach to evaluating political facts.
International Fact-Checking Network (IFCN) (see Poynter Institute) (principles)
"Unbiased third party" companies (i.e. custom-writing.org)
There can be wide differences among fact-checking organizations, reflecting not just cultural or national distinctions. Some fact checkers are attached to newspapers, others to universities or nongovernmental organizations. Funding is a persistent problem for many (i.e factscan.ca). But the hope is that a commitment to core principles will help ensure quality, consistency and transparency, in addition to accountability designed to foster quality reports. Fact checking organizations that have agreed to the principles will be required to publish an annual report explaining how they have adhered to each of the five principles. (source)
Restitution – Is it Enough?
Date

yyyy-mm-dd

Posted By

Article Link

Comment

2015-03-06

Northwest Herald
For more information:
Corporate Accountability International (www.stopcorporateabuse.org)
What's the Worst that Can Happen?
If you are aware of the worst, then you know what to accept, what to avoid, and when to fight like hell.
So how bad is it?  What is the worst that can happen?  Click here to find out.
What's the Best that Can Happen?
Doing the right thing is not easy.  The benefits from short-term, quick gain thinking are seen immediately.  Long-term thinking requires planning and selflessness. 
In this world where people are scrambling to find a place in the global economy, sometimes the right thing is done.
What is the best that can happen?  Click here to find out.
Quotes – Food for Thought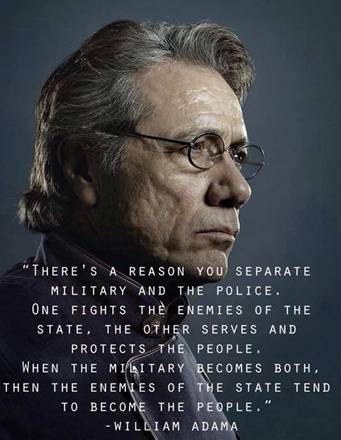 "Over the long run, unfair states are unstable. People aren't stupid. They see how the world's dividing into a tiny clique of haves and a big crowd of have-nots.
And if they don't believe the system's fair, they'll fight it.
That's why unfair regimes secure themselves by some forms of repression. We're already familiar with the softer instances — the state surveillance systems that now have access to all our emails. All our phone calls.
We caught a glimpse of the harder edge of repression here in Toronto at the G20 demonstrations when police squads rounded up a few window-busting anarchists, and hundreds of peaceful demonstrators and unlucky passersby, and threw them in pens for hours.
This is how it starts. In the end, you won't like being authors of this world.
Voting isn't the issue. Voting's just the marker. More critical are civic interests, habits and knowledge: The debates in the lunchroom about taxes and spending or public meetings over a new airport or a mega-quarry. The less visible indicators of democracy's vitality."
John Cruickshank, Toronto Star (source)
"There's much more to learn. No single perspective is adequate." John Cruickshank, Toronto Star (source)
"I hope im not wasing my time trying to edukate u." Patrick B.
"Thank God I could enjoy The Age of Mediocre White Men while it lasted." Scott Gilmore, Macleans (article)
If you preach peace, that can get you killed.  Cause they don't want peace.  Ain't no money in peace, the way they see it.  Money is in the war.  Money is in ordering up 1,000 missiles, gunpowder, guns, ammunition, tanks, planes, submarines.  That's where the money at.  Money is in tearing a town down and rebuilding it.  If the town stay as it is, everything's working functional, ain't no money to be made.  But if we can tear this town apart, we can dismantle it, we can rebuild it, we can get our contractors on that, we can make some millions.  It's a cold game, man.  It's a cold game. 
Willie D (source 8:14)
"Listen, strange women lying in ponds distributing swords is no basis for a system of government. Supreme Executive power derives from a mandate from the masses not from some farcical aquatic ceremony. You can't expect to wield supreme executive power just 'cause some watery tart threw a sword at you! I mean, if I went 'round saying I was an emperor just because some moistened bink had lobed a scimitar at me, they'd put me away…"
Youtube: Constitutional Peasants – Monty Python and the Holy Grail
Return to AWARE-Ontario.ca Home Page
List of Ontario's Issues
Disclaimer: This information has been compiled through private amateur research for the purpose of allowing the reader to make an informed and educated decision. However, while the information is believed to be reliable, accuracy cannot be guaranteed.
APPENDICES
APPENDIX A
https://awareontario.nfshost.com/AWARE-Ontario/News%20Miscellaneous.htm
APPENDIX B (Banking)
Committee for monetary and economic reform ("COMER") William Krehm, and Ann Emmett
The Plaintiffs state that since 1974 there has been a gradual but sure slide into the reality that the Bank of Canada and Canada's monetary and financial policy are dictated by private foreign banks and financial interests contrary to the Bank of Canada Act.
The Plaintiffs state that the Bank of International Settlements (BIS), the Financial Stability Forum (FSF) and the International Monetary Fund (IMF) were all created with the cognizant intent of keeping poorer nations in their place which has now expanded to all nations in that these financial institutions largely succeed in over-riding governments and constitutional orders in countries such as Canada over which they exert financial control.The Plaintiffs state that the meetings of the BIS and Financial Stability Board (FSB) (successor of FSF), their minutes, their discussions and deliberations are secret and not available nor accountable to Parliament, the executive, nor the Canadian public notwithstanding that the Bank of Canada policies directly emanate from these meetings. These organizations are essentially private, foreign entities controlling Canada's banking system and socio-economic policies.
     The Plaintiffs state that the defendants (officials) are unwittingly and /or wittingly, in varying degrees, knowledge and intent engaged in a conspiracy, along with the BIS, FSB, IMF to render impotent the Bank of Canada Act as well as Canadian sovereignty over financial, monetary, and socio-economic policy, and bypass the sovereign rule of Canada through its Parliament by means of banking and financial systems." http://pressfortruth.ca/top-stories/case-reinstate-bank-canada/
The case is being prosecuted by Rocco Galati, who is widely considered to be Canada's top constitutional lawyer.
Interestingly enough, both the case itself and the various developments that have occured are not being covered at all by the mainstream media. While Mr. Galati's other cases have regularly received wall-to-wall coverage across the country, this particular case, which he believes is probably his most important case to date, has so far been ignored. When questioned about this, Mr. Galati said that he has a firm basis for believing that the Canadian government has requested or ordered that the mainstream media not cover the case (he could not divulge his sources), and that, in his opinion, the government does control the media to a certain extent and on certain limited issues. He also added that he does not believe that we in Canada are living in a democracy. In fact, as far back as 1999, he has been on record as claiming that we have entered a 'quiet dictatorship.'
(source)
Canada no longer requires banks to maintain fractional reserves with the Bank of Canada. Instead, banks are required to hold highly liquid assets such as treasury bills equal to 30 days of normal withdrawals (liquidity coverage), while leverage is primarily tied to adequate loss-absorbing capital, notably tier one (equity) capital.
The bank has a zero book value policy on its balance sheet—matching total assets to total liabilities—and transfers any equity above this amount as a dividend to the Government of Canada. As of December 30, 2015 the Bank of Canada owned C$95 billion in Government of Canada debt. It had a net income in 2014 of $1.039 billion. The Bank of Canada matches its liabilities of $76 billion in currency outstanding, $23 billion in deposits from the government and $3.5 billion in other liabilities—to its assets owning $95 billion in Government of Canada debt and $7.5 billion in other assets.[32] Bank notes in circulation have increased from $70 billion at the end of 2014 to $76 billion at the end of 2015. The Bank of Canada lists cash on its 2014 balance sheet at $8.4 million in currency and foreign deposits.[33] The Bank of Canada's books are audited by external auditors who are appointed by Cabinet on the recommendation of the Minister of Finance, and not by the Auditor General of Canada.
Total assets equal total liabilities with surplus paid as a dividend to the Gov't of Canada
Assets
$95 billion Govt of Canada debt 
$ 7.5 billion other assets
$102.5 billion
Net Income $1.039 billion
Liabilities
$76 billion currency outstanding (was $70 billion in 2014)
$23 billion government deposits
$3.5 billion other
$102.5 billion
https://en.wikipedia.org/wiki/Bank_of_Canada
https://www.youtube.com/watch?v=MechH0ebs_c&ab_channel=PublicBankingForumofIreland
APPENDIX C (Trump)
Donald Trump, President of the United States (POTUS) (2016-2017 no longer maintained)
APPENDIX D (Links)
Interesting links:
Biodiversity Heritage Library - free botanical and animal illustrations (article)
Metropolitan Museum of Art – open access artworks (article)
APPENDIX E (fact-checking)
Who is fact-checking the fact-checkers?
~24-Nov-2020
I can't say this on facebook, but I feel it's important to say. I was a facebook Fact Checker. And your conspiracy theories about facebook, are more true than you realize.
I work for a company named Appen. We are a 3rd party freelance contract company. A few years ago facebook approached us with an offer. He couldn't legally censor people on his platform because he plead to congress that he was an open forum. So, he uses several 3rd party companies to "Fact Check", and otherwise censor, information.
Justin Trudeau has been taking action in Canada, China, and America, to prepare us for the Great Reset, and by us, I refer to civilians. Part of this process is to work with Zuckerburg and Dorsey to restrict the flow of information, and to push the statutes of the Reset into peoples minds, repetition is the key here.
We coordinate our efforts with a company in India, from our base in Canada, to provide our censorship services to Facebook. A lot of this information, you probably already guessed. But here's what you might not have known
We have specific directives on what to fact check and how to fact check. I'm going to list off a couple of these directives:
1) First off, primarily conservative and right leaning posts on twitter and facebook make it to our service.
2) Left leaning posts are to be ignored and never manually flagged, it doesnt matter if it violates ToS or even federal law. If facebook gets in trouble they blame us, and they can't do anything because we're not based in America, so we give the government the run around and nothing can be done. It's worked so far.
3) Zuckerburg created a program that feeds posts automatically into our service, it analyzes content in posts, searching for common images and lines of text, and if it matches any of our guidelines it gets automatically flagged and entered into our system to be "Fact Checked". So we don't just go looking for conservative posts, Zuckerburg sends them to us with his automatic program.
4)If there are multiple ideas in a conservative post, only 1 of them needs to be potentially disputable. We are to flag an entire article as disputed/false/discredited/untrue/etc even if theres only 1 idea thats not completely confirmed.
5) Even ideas that are confirmed, don't matter unless its a left leaning idea. What this translates to is as long as we all push the same idea, what we say becomes truth. That's standard psychology, and American's are the easiest to manipulate with this. The only thing making it difficult is their Freedoms that are not common in most countries around the world, which forces us to deal with America in a different way.
6)When we write articles for politico, nyt, etc we are allowed to mark a title or article as true as long as at least 3 of the core ideas in the article or post are potentially true. Keyword here is potentially, it can be completely false, but as long as we can cite a source that argues in our favor, we can confirm it 100% true. The inverse is also true, if we can find even 1 source that dictates something to be potentially false, we can mark the entire article/post.
7) We write articles, and then cite our own articles as evidence. Check the fine print of each article, we always cite ourselves, but what you might not know, is that only a handful of companies are actually writing the articles for dozens of websites, news media, and mass media. This isn't unique to America, we've done this in countries around the world for a very long time.
8 ) We only allow members to join us if they pass a test, this test is an opinion based survey, however, they must answer all left leaning, or they are not allowed to join, we wont be diluted.
9) This part I cannot confirm, but I am suspicious that China has more to do with this than just their involvement with Canada, but again, i can't confirm that, thats just my personal theory because we're not allowed to say anything negative in our business chats about China's government.
10) This is all preparation for the Great Reset, by getting Trump out, because he opposed the idea. Biden has agreed to go full on into it, which is why he's been getting such a big hand from Facebook and Twitter, however, it's much bigger than just that. In our new world order, we'll control not just national news, but global news. By controlling the global narrative, we control what information you're allowed to know and what you're allowed to think.
11) There are contingencies in place, Trump cannot win. We have members of Congress apart of this, and soon the President and VP.
12) If a Civil War breaks out, it will be according to our plan. We hope for it, and we tried to use Race to spark it in America, if that doesnt work, ISIS is on stand by for when Biden is in office. This was determined along time ago, or so i'm told.
13) I no longer work for this company. I registered with them using a fake identity. While I am afraid that they'll find out, i'm hoping this post is just an obscure enough place to start leaking information without drawing too much attention too quickly. My hope is that this information gets out, but you cannot change whats already in place.
14) I left because what they were doing was appalling to me. I can't stand by and watch this happen. My original job was to consult with Walmart and Facebook on customer engagement and advertisement engagement, as well as website management. This isn't what I signed up for. Now all the new recruits are immediately pushed into this Facebook fact checker conspiracy. It's sickening.Ill say that facebook at least pays up, which is the only reason I think most of us were doing it this long. I'm under a very strict NDA, so I had to use a throw away account.
15) You can't change whats to come, but what you can do is get the message out to not just Americans, but everyone in every country that values Freedom. There are allies all over the world that are resisting this, especially in France and Australia. If you want to remain free, you have to hope that Trump can pull out a miracle, but i already know its not possible, trust me when I say, they'll make sure people die before they let him get another 4 years. If that happens, Americans, do what you need to do to keep your country free. Protect yourselves.
Date

yyyy-mm-dd

Posted By

Article Link

Comment

2020-11-24

Ben Swann

Dr. Reiner