This web page is a repository for links not otherwise categorized under AWARE-Ontario.ca. 
Table of Contents
Other Links
For links to interesting news articles (dated), click here.
There is an inexorable link between Canadians and the natural environment. Canadians are raised to appreciate recreation in all seasons of the year from the oppressive heat of summer to the bitter cold of our famous winters. We are hardy folks.
Our representatives in government seem to recognize Canadians' appreciation for the natural world, at least in their advertising and marketing propaganda.
Video: Canada Shared by Canadians – Keep Exploring (by CANADA Explore) (2 mins)
So why does government continue to destroy Canada's natural areas for resource extraction, pollute pristine waters, endanger wildlife, and thereby diminish the lifestyles of Canadians?  We, the people of Canada, are perplexed. We have the intellect, the technology and the funds to make better decisions and mitigate negative impacts, in other words "to do things right". So why don't we?
The problem seems to be that government does not truly represent the people but rather business corporations and the huge multi-nationals in particular.
Giga-Factories/Mega-Corporations
Amazon (article)
Tesla (article)
Walmart
Date

yyyy-mm-dd

Posted By

Article Link

Comment

2014-11-20

EcoWatch / Anastasia Pantsios

Anastasia Pantsios

2013-07-30

WC Native News
For more information:
sourcewatch.org - Fraser Institute
Fraser Institute (www.fraserinstitute.org)
Date

yyyy-mm-dd

Posted By

Article Link

Comment

2015-03-06

Northwest Herald
For more information:
Corporate Accountability International (www.stopcorporateabuse.org)
What's the Worst that Can Happen?
If you are aware of the worst, then you know what to accept, what to avoid, and when to fight like hell.
So how bad is it?  What is the worst that can happen?  Click here to find out.
What's the Best that Can Happen?
Doing the right thing is not easy.  The benefits from short-term, quick gain thinking are seen immediately.  Long-term thinking requires planning and selflessness. 
In this world where people are scrambling to find a place in the global economy, sometimes the right thing is done.
What is the best that can happen?  Click here to find out.
Quotes – Food for Thought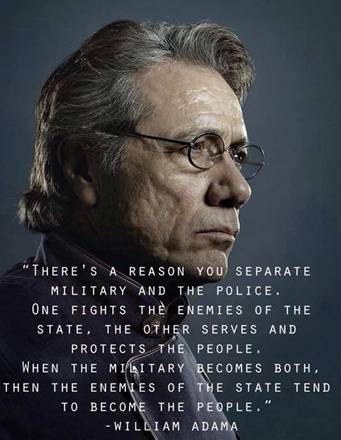 "Over the long run, unfair states are unstable. People aren't stupid. They see how the world's dividing into a tiny clique of haves and a big crowd of have-nots.
And if they don't believe the system's fair, they'll fight it.
That's why unfair regimes secure themselves by some forms of repression. We're already familiar with the softer instances — the state surveillance systems that now have access to all our emails. All our phone calls.
We caught a glimpse of the harder edge of repression here in Toronto at the G20 demonstrations when police squads rounded up a few window-busting anarchists, and hundreds of peaceful demonstrators and unlucky passersby, and threw them in pens for hours.
This is how it starts. In the end, you won't like being authors of this world.
Voting isn't the issue. Voting's just the marker. More critical are civic interests, habits and knowledge: The debates in the lunchroom about taxes and spending or public meetings over a new airport or a mega-quarry. The less visible indicators of democracy's vitality."
John Cruickshank, Toronto Star (source)
"There's much more to learn. No single perspective is adequate." John Cruickshank, Toronto Star (source)
"I hope im not wasing my time trying to edukate u." Patrick B.
"Thank God I could enjoy The Age of Mediocre White Men while it lasted." Scott Gilmore, Macleans (article)
If you preach peace, that can get you killed.  Cause they don't want peace.  Ain't no money in peace, the way they see it.  Money is in the war.  Money is in ordering up 1,000 missiles, gunpowder, guns, ammunition, tanks, planes, submarines.  That's where the money at.  Money is in tearing a town down and rebuilding it.  If the town stay as it is, everything's working functional, ain't no money to be made.  But if we can tear this town apart, we can dismantle it, we can rebuild it, we can get our contractors on that, we can make some millions.  It's a cold game, man.  It's a cold game. 
Willie D (source 8:14)
"Listen, strange women lying in ponds distributing swords is no basis for a system of government. Supreme Executive power derives from a mandate from the masses not from some farcical aquatic ceremony. You can't expect to wield supreme executive power just 'cause some watery tart threw a sword at you! I mean, if I went 'round saying I was an emperor just because some moistened bink had lobed a scimitar at me, they'd put me away…"
Youtube: Constitutional Peasants – Monty Python and the Holy Grail
Return to AWARE-Ontario.ca Home Page
List of Ontario's Issues
Disclaimer: This information has been compiled through private amateur research for the purpose of allowing the reader to make an informed and educated decision. However, while the information is believed to be reliable, accuracy cannot be guaranteed.
APPENDICES
APPENDIX A
https://awareontario.nfshost.com/AWARE-Ontario/News%20Miscellaneous.htm
APPENDIX B
Committee for monetary and economic reform ("COMER") William Krehm, and Ann Emmett
The Plaintiffs state that since 1974 there has been a gradual but sure slide into the reality that the Bank of Canada and Canada's monetary and financial policy are dictated by private foreign banks and financial interests contrary to the Bank of Canada Act.
The Plaintiffs state that the Bank of International Settlements (BIS), the Financial Stability Forum (FSF) and the International Monetary Fund (IMF) were all created with the cognizant intent of keeping poorer nations in their place which has now expanded to all nations in that these financial institutions largely succeed in over-riding governments and constitutional orders in countries such as Canada over which they exert financial control.The Plaintiffs state that the meetings of the BIS and Financial Stability Board (FSB) (successor of FSF), their minutes, their discussions and deliberations are secret and not available nor accountable to Parliament, the executive, nor the Canadian public notwithstanding that the Bank of Canada policies directly emanate from these meetings. These organizations are essentially private, foreign entities controlling Canada's banking system and socio-economic policies.
     The Plaintiffs state that the defendants (officials) are unwittingly and /or wittingly, in varying degrees, knowledge and intent engaged in a conspiracy, along with the BIS, FSB, IMF to render impotent the Bank of Canada Act as well as Canadian sovereignty over financial, monetary, and socio-economic policy, and bypass the sovereign rule of Canada through its Parliament by means of banking and financial systems." http://pressfortruth.ca/top-stories/case-reinstate-bank-canada/
The case is being prosecuted by Rocco Galati, who is widely considered to be Canada's top constitutional lawyer.
Interestingly enough, both the case itself and the various developments that have occured are not being covered at all by the mainstream media. While Mr. Galati's other cases have regularly received wall-to-wall coverage across the country, this particular case, which he believes is probably his most important case to date, has so far been ignored. When questioned about this, Mr. Galati said that he has a firm basis for believing that the Canadian government has requested or ordered that the mainstream media not cover the case (he could not divulge his sources), and that, in his opinion, the government does control the media to a certain extent and on certain limited issues. He also added that he does not believe that we in Canada are living in a democracy. In fact, as far back as 1999, he has been on record as claiming that we have entered a 'quiet dictatorship.'
(source)
Canada no longer requires banks to maintain fractional reserves with the Bank of Canada. Instead, banks are required to hold highly liquid assets such as treasury bills equal to 30 days of normal withdrawals (liquidity coverage), while leverage is primarily tied to adequate loss-absorbing capital, notably tier one (equity) capital.
The bank has a zero book value policy on its balance sheet—matching total assets to total liabilities—and transfers any equity above this amount as a dividend to the Government of Canada. As of December 30, 2015 the Bank of Canada owned C$95 billion in Government of Canada debt. It had a net income in 2014 of $1.039 billion. The Bank of Canada matches its liabilities of $76 billion in currency outstanding, $23 billion in deposits from the government and $3.5 billion in other liabilities—to its assets owning $95 billion in Government of Canada debt and $7.5 billion in other assets.[32] Bank notes in circulation have increased from $70 billion at the end of 2014 to $76 billion at the end of 2015. The Bank of Canada lists cash on its 2014 balance sheet at $8.4 million in currency and foreign deposits.[33] The Bank of Canada's books are audited by external auditors who are appointed by Cabinet on the recommendation of the Minister of Finance, and not by the Auditor General of Canada.
Total assets equal total liabilities with surplus paid as a dividend to the Gov't of Canada
Assets
$95 billion Govt of Canada debt 
$ 7.5 billion other assets
$102.5 billion
Net Income $1.039 billion
Liabilities
$76 billion currency outstanding (was $70 billion in 2014)
$23 billion government deposits
$102.5 billion
https://en.wikipedia.org/wiki/Bank_of_Canada
https://www.youtube.com/watch?v=MechH0ebs_c&ab_channel=PublicBankingForumofIreland
APPENDIX C
Donald Trump, President of the United States (POTUS) (2016-2017 no longer maintained)