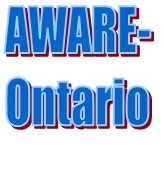 First Nations News
History
Before "Canada" existed, the relationship between aboriginal peoples and settlers was managed by the British Crown. It was cemented with the Royal Proclamation of 1763, described by some as a "Bill of Rights" for Canada's indigenous population. King George III wanted to avoid the protracted conflicts that characterized previous North American colonization and pave the way for British settlers following the Seven Years' War.
The Proclamation's sections dealing with aboriginal relations admitted "great frauds and abuses" had been committed against the first peoples in Canada and sought a new relationship. The document outlined boundaries beyond which land was considered unceded — essentially off limits to new arrivals. It also ensured all future land negotiations would be made in public and recorded with treaties.
In B.C., as in Quebec, Yukon, the Northwest Territories and the Atlantic provinces, the vast proportion of land has never been subject to treaty. Although often referred to as public or Crown land, most of these areas are the unceded homelands of Indigenous nations. (article)
Royal Proclamation of 1763 (Wikipedia)
Map of Ontario Treaties and Reserves
Delgamuukw Case
In 1997 the Supreme Court of Canada that Aboriginal title constituted an ancestral right protected by section 35(1) of the Constitution Act, 1982.  It effectively set a precedent establishing Aboriginal title to unceded land. (article)
Who Decides?
See:  The Complicated History of Hereditary Chiefs and Elected Councils
Treaties
Link to Government of Ontario Map of Ontario Treaties and Reserves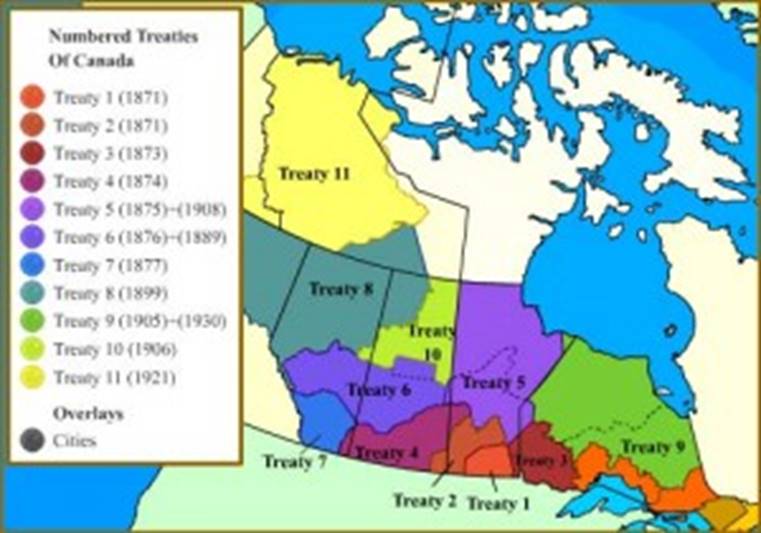 Excerpt from the Vancouver Observer (article)
10 things Canadians should know about the Treaties upon which the oil sands/tar sands are being developed:
1. If you are a Canadian, know you are a signatory to a Treaty. If you are a settler (i.e. non-Indigenous), know you are a benefactor of the Treaty.
2. Read the Treaty. Know which Treaty territory you are on. You can read Treaty 6 and Treaty 8, the two treaty territories that sit in the tar sands.
3. Know that the Treaty is not just an Indigenous peoples' agreement. We are all Treaty peoples. Know that treaties are the foundation of Canada.
4. The Treaty is a reciprocal treaty, an equal treaty for co-existence. It was an agreement between the British Crown and Indigenous peoples. First Nations leaders believed they were entering into a trust relationship with the representative of the British Crown. They considered the Treaty a mutual trust agreement to live in peace.
5. Non-native people are benefactors of those treaties because they are receiving the benefits and profits of the resources from native land. There are billions of dollars coming out of traditional territories, and it never stays in the territory. These real costs of resource extraction, in turn, are borne by the people and communities who have lived here all along.
6. First Nations never violated the treaty.
7. First Nations have never surrendered their land.
8. The federal government has a fiduciary responsibility with First Nations who entered into Treaty. In plain terms, it's similar to the responsibility that a corporation has to its shareholders. The Canadian government's shareholders are First Nations and it has a duty, a legal responsibility to them.
9. When reading the Treaty, you'll never come across the word "ownership", because no one can own the land. The land owns its inhabitants.
10. According to the Treaty, as long as the grass grows, the rivers flow and the sun shines, First Nations will always have a right to the land to hunt and fish and forage. As long as industrial development continues to take place on these lands without consent, these Constitutional rights are being violated.
Williams Treaties
Williams Treaties First Nations state they have an outstanding claim against Canada and Ontario concerning the signing of the treaties. The group consists of the Georgina Island First Nation, the Beausoleil First Nation, the Rama First Nation, the Mississaugas' of Alderville First Nation, the Curve Lake First Nation, the Hiawatha First Nation and the Scugog Island First Nation. According to federal government's Aboriginal Affairs and Northern Development Canada website, the Williams Treaties is a series of agreements that designated large parcels of land in southern and central Ontario acquired by the Government of Canada in 1923.
Treaty Six
(6)
The story of Treaty Six (article)(article)
Treaty Annuity Payments
In Canada, treaty annuity payments are paid annually on a national basis to registered Indians who are entitled to treaty annuities through membership to bands that have signed historic treaties with the Crown.  Depending on the terms of the specific treaty, these obligations can include the payment of individual treaty annuities, the provision of ammunition and twine for nets, and the provision of a suit of clothing every three years for Chiefs and Councillors.
AWARE-Ontario (AO) Comment
Over the centuries up to today the Treaties were, for the most part, ignored or deliberately contravened. Now the relationship between indigenous and non-indigenous people is strained to say the least.
"For more than a century, Canadians have been accustomed to reports of terrible housing conditions on reserves, unsafe drinking water, dismal educational outcomes and, at least in Western Canada, prison populations disproportionally stacked with aboriginal inmates. Aboriginal leaders and young people such as those who embraced the Idle No More movement have been calling for Canadians to fundamentally acknowledge the injustices and atrocities of the past and fix the problems that keep indigenous Canadians from living the same quality of life as their non-aboriginal neighbours." (source)
Today's actions build on the actions of the past and so far, the story has not been favourable to First Nations. However, the tide is turning. First Nations people are learning to play the game (legal / political / economic / social / environmental), how to demand enforcement of treaty rights and how to celebrate First Nations culture in Canada's multicultural society. And thanks to the internet's ability to bring people face-to-face with the issues, First Nations supporters are growing in number.
From a legal point of view, Canada's law ensures that we honour our agreements.  The Treaties were struck by the European settlers with the indigenous people of this land and are the earliest agreements.  If we do not honour our agreements, then the basis for law dissolves.  If we do not honour our agreements for a particular group of people, then the law cannot be trusted and the basis for equality becomes subjective, putting us all at risk. 
From a political point of view, Canadians are proud of our ability to live together in relative harmony, accepting our neighbours and lending a helping hand when necessary.  The fact that many First Nations people have been living in squalor with social and legal injustices is unacceptable.  First Nations and their supporters are becoming loud in their demands for a solution from political representatives.  The issue is echoed by similar situations across the world and voiced in the United Nations Declaration on the Rights of Indigenous Peoples (UNDRIP).
From an economic point of view, "in B.C., as in Quebec, Yukon, the Northwest Territories and the Atlantic provinces, the vast proportion of land has never been subject to treaty. Although often referred to as public or Crown land, most of these areas are the unceded homelands of Indigenous nations." (article)  In other words, the amount of land and natural resources is enormous giving First Nations significant economic leverage.
From a social point of view, the importance of the internet and alternative media cannot be downplayed.  We are seeing a bigger picture.  First Nations are showing their support for other groups and areas (Site 41, Stop the Mega Quarry) and by simply standing for the environmental and land rights of all Canadians.  Their influence is widespread and growing with their efforts on behalf of us all, becoming appreciated. 
From an environmental point of view, First Nations have rights such as hunting and fishing written into the Constitution of Canada, which by extension could apply to the right to clean water, fresh air, and healthy woodlands – rights that non-indigenous Canadians do not have.  Protecting such rights for one provides the protection of such rights for all.  (water song)
As a Resident, Taxpayer and Voter it is up to you decide how other Canadians (and thus yourself) should be treated by our government.
See BC First Nations - Wet'suwet'en protests
Specific Issues
Fracking in New Brunswick (Elsipogtog)
First Nations News – British Columbia (BC)
USA's Dakota Access Pipeline (DAPL) / Standing Rock
Attawapiskat First Nation
An isolated First Nation located in Kenora District in northern Ontario at the mouth of the Attawapiskat River on James Bay, the community came to wider attention around 2014 for it's crucial state of poverty.  With De Beers diamond mine 90 kms away, and a perceived surplus of government handouts, Attawapiskat became the posterchild for Canada's failure at supporting indigenous populations.
Website:  http://www.attawapiskat.org/ / Wikipedia
News - Attawapiskat

Benny Forest
Located an hour's drive north of Sudbury on the ancestral lands and territorial hunting grounds of the Anishnawbek, the forest is being clear-cut by the logging giant EACOM Timber Corporation with Northshore Forest Inc. and Vermilion Forest Management Company Limited, and aerially sprayed with toxic herbicides. Protests against clear cutting have been undertaken since Spring 2015. MNR approval on April 1, 2010 to 2020.
Nairn Centre sawmill employs about 160 people.
Logging is targeted on approximately 800 hectares (~2,000 acres) or 8 square kilometres of forest up to the Spanish River.
Local First Nations cite endangered species, old growth, historical and current cultural use, and archeological interest.  Clear-cutting will make the area poisoned and uninhabitable.  Clear cutting also jeopardizes a local business, Camp Eagle Nest (www.campeaglenest.com), that is endeavouring to pass First Nations culture to the next generation. 
News - Benny Forest
Opposition: facebook – Save the Benny Forest
Gogama, Mattagami First Nation
Gogama is located 190 km north of Sudbury.  On Saturday, March 7, 2015 a train carrying 94 cars of Alberta crude oil, rolled through Gogama and then about 4 kms away, 35 cars jumped the tracks and caught fire.
Now sheens of oil are commonly reported on Gogama's Makami River as well as Lake Minisinakwa, on which the town is built.
"The clean-up shouldn't be determined by what MOE feels is satisfactory, the clean-up should be determined by the community members and what's satisfactory to them. Because we're the ones that have to live here." Chad Boissoneau, Band Councillor, Mattagami First Nation
There is a reluctance to talk about the problem too much outside of Gogama for fear that it will hurt the tourism (fishing) industry. (article)
News - Gogama
Grassy Narrows
Grassy Narrows is the site of the longest running native logging blockade in Canadian history - an ongoing grassroots action which recently celebrated its 11th anniversary. Grassy Narrows youth, elders, women, and land-users put their bodies on the line to stop logging trucks from passing. At the end of 2013, the Ontario government approved another decade of clearcut logging in the Grassy Narrows Territory against the will of this Indigenous community. The community is already struggling with the long-term health impacts of mercury poisoning. The plan sets out a schedule to clearcut much of what little mature forest remains on Grassy Narrows Territory after decades of large-scale industrial logging.
For more information, click here.
Moose Cree First Nation
Click here for more information.
Shoal Lake
Until 1906, Winnipeg used water from many sources including well, rain and shipped water and was suffering a host of water-related problems (fire and disease) and ricocheting from one public health crisis to another. In 1906 Winnipeg purchased the Shoal Lake bed and lands from the federal government to construct a cement aqueduct. The reserve community of Shoal Lake was cut off and made into an artificial island.
Shoal Lake 40 First Nation, a reserve near Winnipeg straddling the Ontario-Manitoba border, lives under one of the longest boil-water advisories in Canada.
In June 2019 the community celebrated the opening of "Freedom Road", its first and only permanent road access to the mainland, which opened the door for garbage removal, emergency and postal services.
UPDATE: September 2019 Work begins on the new Shoal Lake 40 water treatment system.  Expected in December 2020. (source)
News - Shoal Lake
NEWS – General
Date

Source

Title

Comment

2021-12-22

thestar.com

'We are ecstatic': Scugog Island First Nation lifts 13-year drinking water advisory

Chris Hall

2020-11-10

Netnewsledger.com (Manitoba)

Tragic Day for Children in Care – Province of Manitoba passes legislation denying children's rights

2020-06-04

CBC News (New Brunswick)

Indigenous woman killed by Edmundston, N.B., police during wellness check

Shane Magee

2020-04-18

CBC.ca (Manitoba)

22-year-old man dead after 3rd Winnipeg police shooting in 10 days

Caitlyn Gowriluk, Dana Hatherly

2020-04-09

Aptnews.ca (Manitoba)

16-year-old Winnipeg girl shot and killed by police

Brittany Hobson

2020-02-25

Globe and Mail

Afternoon commuter trains disrupted, cancelled after fresh rail protests near Toronto

Molly Hayes, Oliver Moore

2020-02-07

TheNarwhal.ca

Industry, government pushed to abolish Aboriginal title at issue in Wet'suwet'en stand-off, docs reveal

Martin Lukacs, Shiri Pasternak

2019-10-02

Northern Ontario Business

OPINION: The Ring of Fire bulldozer is here.  Will it work?

Charles Cirtwill

2019-09-08

National Observer

First Nations given max compensation for Ottawa's child-welfare discrimination

Mia Rabson

2019-07-18

CBC News

Tensions rise in Oka as mayor speaks of being 'surrounded' by Mohawks

2019-07-11

CBC News

Developer offers to give land back to First Nation where Oka Crisis happened

Jessica Deer

2019-04-23

Owen Sound Sun Times

$80-billion Bruce Peninsula land claim trial to begin Thursday

Scott Dunn

2019-03-27

CBC News

Richmond Hill, Ont., residents upset after council rejects land acknowledgment proposal

Nick Boisvert

2019-03-24

Globe and Mail

Opinion:  Doug Ford's repeal of the Far North Act won't gain the respect of Indigenous communities

Dayna Scott

2019-02-26

Northern Ontario Business

Nishnawbe Aski Nation on board with Far North Act repeal

2018-10-11

Macleans Magazine

Opinion: The Supreme Court has just gutted the Crown's duty to consult First Nations

Pam Palmater

2018-10-04

TheGuardian.com

While Nestlé extracts millions of litres from their land, residents have no drinking water

Alexandra Shimo

2018-08-01

Macleans

The colonial history behind B.C. Day that can make us all proud

Terry Glavin

- a bit of obscure history (BC)

2018-06-30

TheNarwhal.ca

'Nowhere else to turn': First Nations inundated by oilsands projects face impossible choices

Judith Lavoie

2018-06-02

Northern Ontario Business

Start of environmental process for Ring of Fire roads anger isolated First Nations

Ian Ross

3018-05-30

Globe and Mail

Ontario, First Nations take giant step toward reconciliation with revenue-sharing deal

Ken Coates, Stephen Crozier

2018-04-29

CBC News

Our home on Native-Land.ca: website lets users explore Indigenous ancestral territories

Nic Meloney

- new website

2018-03-21

Globe and Mail

Updated: Saskatchewan First Nation wins $4.5-million from federal government, 131 years later

Laura Stone

2018-03-07

CBC News

Northern Ontario First Nation now has clean drinking water after 14 years

Matt Prokopchuk

- Slate Falls

2018-02-02

Globe and Mail

Supreme Court rules band in B.C. can claim compensation for land theft during 1860s gold rush

Sean Fine

2018-01-19

CBC News

Trudeau becomes first sitting PM to visit northern Ontario reserve

John Paul Tasker

2018-01-17

CBC News

Treaty annuity case a 'historical landmark' for Ontario First Nations

Waubgeshig Rice

2018-01-14

CTV News

Supreme Court case could lead to First Nations role in law-making

The Canadian Press

2017-12-06

OpenDemocracy.net

Why does Canada spy on its own indigenous communities?

Lex Gill and Cara Zwibel

2017-12-06

Atpnnews.ca

'It's all based on agreements' why OI leasing staff are being targeted by CRA – but not AFN

Annette Francis

- OI Leasing

2017-11-10

CBC News Hamilton

Indigenous deer hunt in Dundas Valley starts next week

2017-09-27

CBC News BC

Court of appeal rules against Kinder Morgan, federal government on existing Trans Mountain pipeline

2017-07-26

CBC News

Death of First Nations man handcuffed and stepped on by police was accidental, inquest says

Jody Porter

- Romeo Wesley

2017-08-18

Aptn National News (Manitoba)

Norway House woman tired of leaky roof, chief blames lack of funding

Shaneen Robinson-Desjarlais

2017-07-18

National Post

Ontario court halts quarry project over lack of consultation with First Nations

- T & P Hayes Ltd.

2017-07-15

CBC BC

Forget Smokey the Bear: How First Nation fire wisdom is key to megafire prevention

Yvette Brend

2017-07-14

Aptnnews.ca

Canada releases 10 "principles" on government's relationship with Indigenous peoples

2017-07-05

CBC Edmonton

Alberta spends $7M to bring drinking water to Alexis Nakota Sioux Nation northwest of Edmonton

Anna Desmarais

2017-06-12

CBC Newfoundland & Labrador

Senators blast N.L. government about Beatrice Hunter case

2017-06-09

CBC

'I Know You're Sorry:' one Anishinaabe MC and poet's response to all of Canada's apologies

Leonard Sumner

2017-06-05

Maclean's

The Canada most people don't see

Scott Gilmore

2017-05-31

CBC

Indigenous protesters ordered to pay oil giant thousands over pipeline legal battle

Adam Carter

- Todd Williams, Wayne Hill

2017-04-26

Tbnewswatch.com

Gary Rinne

2017-04-25

Tvo.org

How Canada set up Aboriginal treaties to keep First Nations down

TVO Current Affairs

2017-04-03

Dailycaller.com

Opinion:  Anti-Pipeline Tribes Worry Enviros Are 'Tokenizing' American Indians

Chris White

2017-03-31

NOW Toronto

Indigenous leaders issue call to action: here's what Canada must do to make amends for residential schools tragedy

Senator Murray Sinclair, Phil Fontaine, Dawn Lavell-Harvard

2017-03-02

pressprogress.ca

Millions promised for Indigenous kids is subsidizing mining companies, internal documents show

2017-02-15

CBC Thunder Bay

No mental health support available for First Nations artist who died in jail, chief says

Jody Porter

2017-02-14

APTN News

Canada breached its fiduciary duty to care for Indigenous children swept up by 60s Scoop

2017-01-09

TIME (USA)

Dakota Access Pipeline Supporter Becomes Chair of Senate Indian Affairs Committee

Zak Cheney Rice

2016-12-29

NativeNewsOnline.net

This Day in History: December 29, 1890 – Wounded Knee Massacre

Levi Rickert

2016-12-06

CBC News Windsor

Standing Rock supporters shut down Hwy 401 overpass in London, Ont.

2016-11-15

CBC Manitoba

Shamattawa still in crisis weeks after fire destroyed lone grocery store

Bryce Hoye

2016-11-14

CBC

Contamination forces Ontario First Nation to close school, fly in bottled water

Weagamow First Nation

2016-11-02

Bsnorrell.blogspot.ca

Morton County Dumps Eagle Feathers, Sacred Items, on Ground, of Treaty Camp

2016-10-15

Thespec.com

Confederacy warns province about new housing project proposed for Caledonia

Joel OpHardt

- Caledonia, Six Nations, Haudenosaunee Confederacy, McClung Properties

2016-10-07

CBC News

Thanksgiving Monday protest planned over cleanup from 2015 Gogama train derailment

AO Info – Water News

2016-09-28

CBC  Nova Scotia

Potlotek's chief goes to Halifax to push for solution to community's water crisis

Hal Higgins

2016-09-23

DemocracyNow.org

50 Tribes & First Nations Sign Treaty to Fight Tar Sands Pipelines

2016-09-23

WSAU

Jim Monk

2016-09-22

Treatyalliance.org

The Treaty is an expression of Indigenous Law prohibiting the pipelines/trains/tankers that will feed the expansion of the Alberta Tar Sands

2016-09-15

Daily Commercial News (Yukon)

The Canadian Press

2016-09-14

theRealNewsNetwork.com

The Struggle to Defeat Dakota Access Pipeline Goes Global

2016-09-08

CBC.ca (USA)

Standing Rock protest grows with thousands opposing North Dakota pipeline

Tim Fontaine

#NoDAPL

2016-09-08

Santa Monica Observer (USA)

Oil Company Destroys Burial Sites in Holiday Sneak Attack

Liz Miller

2016-08-19

Northern Ontario Business

Ring of Miner junior needs to mend fences with First Nations

Ian Ross

- Matawa First Nations

2016-08-17

NetNewsLedger.com

Ring of Fire MOU Causing Concern in Marten Falls First Nation

2016-08-17

CBC News

'Cease and desist,' Neskantaga First Nation tells Ring of Fire mining company

Jody Porter

2016-08-15

National Post

Distrust, racism loom over police probe into death of First Nations man

Joseph Brean

- Saskatchewan

2016-07-21

DavidSuzuki.org (BC)

Industrial damage threatens Blueberry River's way of life

David Suzuki, Rachel Plotkin

2016-07-10

Huffington Post

Gitxsan First Nation Evicts CN Rail, Logging Companies From Its Land

Dene Moore

2016-07-08

Aptn.ca

Mi'kmaq band asks for emergency order to protect at-risk salmon from natural gas project

Trina Roache

- Nova Scotia

- first time Cdn Dept of Fisheries & Oceans is asked to protect aquatic species at risk

2016-07-07

National Post

Mikinaks call themselves Quebec's newest aboriginal community, others are calling them a fraud

Graeme Hamilton

2016-06-01

Windspeaker.com

Blog: The shame of skirt shaming - June 2016

Drew Hayden Taylor

2016-05-20

Global News

Land dispute brewing between Oka and Quebec Mohawk community

Felicia Parrillo

2016-05-19

Theobserver.ca

David Gough

- Walpole Island

2016-05-10

CBC News

Canada officially adopts UN declaration on rights of Indigenous Peoples

2016-04-29

Brantford Expositor

Michael-Allan Marion

- Caledonia, Six Nations

2016-04-25

Toronto Star

A decade of despair in the Pikangikum First Nation

Allan Woods

2016-04-15

CBC News

Suicide crisis protests at Indigenous Affairs offices spread across Canada

2016-04-13

CBC News

Opinion: 21 things you may not know about the Indian Act

Bob Joseph

2016-04-12

CBC News

Indian Act turns 140, but few celebrating

Tim Fontaine

2016-03-30

TwoRowTimes.com

McClung development galvanizing Six Nations

Jim Windle

- Caledonia, Six Nations

2016-03-24

Reportca.net

Children treated for skin conditions on troubled Ontario reserve

Metro News Canada

- Kashechewan

- eczema, scabies and possibly a case of impetigo

2016-03-23

HuffingtonPost.com

Kashechewan Evacuation: Kids With Rash Will Be Removed From Community

The Canadian Press

2016-03-21

OutdoorCanada.ca

Why Ontario's Algonquin Land Claim is bad news for conservation

Phil Morlock

2016-03-21

Muskoka411.com

Officials to evacuate Kashechewan First Nation kids due to rashes, open sores

Kirsty Kirkup, The Canadian Press

2016-03-20

Aljazeera.com

Jillian Kestler-D'Amours

- Clyde River

2016-03-09

CTV News (Manitoba)

Manitoba First Nation declares state of emergency over suicide epidemic

The Canadian Press

2016-03-03

Winnipeg Free Press

Chiefs say proposed Algonquin land claim deal illegal, fraudulent

2016-02-17

BBC (UK)

Questions over number of missing indigenous women in Canada

2016-02-04

Vancouver Sun

B.C. union joins First Nations vowing to use law to fight pipelines like Northern Gateway

Laura Kane

2016-01-27

National Observer

Indigenous peoples and climate to be factored in federal pipeline reviews

Mike De Souza

2016-01-14

CBC News

Prison watchdog says more than a quarter of federal inmates are aboriginal people

2016-01-13

National Observer

B.C. First Nations win court challenge against B.C. over Enbridge pipeline

Jenny Uechi

2016-01-12

CBC News

First Nations student deaths inquest: Build schools on reserve, parents say

Jody Porter

2015-12-29

Indian Country Today Media Network

Year of Clout: 10 Stories of Indigenous Environmental Influence in 2015

2015-12-17

CTV News

Map: Water advisories for First Nations communities in Canada

2015-12-08

ABC News (Australia)

Canadian PM Justin Trudeau announces inquiry into missing, murdered indigenous women

AFP

2015-11-26

Globe and Mail

Action needed to protect indigenous women from serial killers, minister says

Kathryn Blaze Baum

2015-11-23

CBC News

Audio - First Nations have their voices heard in a new Ring of Fire documentary (7 mins)

2015-11-20

It takes Roots

First Ever Indigenous Women's Treaty Signed of "North and South"

2015-11-18

CBC News

First Nation student deaths inquest examines 2005 death of Curran Strang

- inquest into deaths of 7 First Nations students in Thunder Bay between 2000 and 2011

2015-10-21

National Post

Comment: Kent McNeil: Stop wasting money fighting aboriginals

Kent McNeil

2015-10-21

CTV News

'Harper awoke a sleeping giant': First Nations break election records

Nicole Gibillini

2015-10-14

CBC News Manitoba

Bad water: 'Third World' conditions on First Nations in Canada

Joanne Levasseur, Jacques Marcoux

2015-10-07

Macleans.ca

Why can't we get clean water to First Nation reserves?

Cathy Gulli

2015-10-05

WagingNonViolence.org (USA)

Lakota women and ranchers lead charge to break silence against uranium mine

Suree Towfighnia

- Nebraska

2015-09-30

Financial Post

Eagle Spirit Energy's pipeline plan in northern B.C. gets backing of First Nations chiefs

Geoffrey Morgan

- Aquilini Group

- Fort McMurray, AL to Prince Rupert, BC

2015-09-08

CBC News

B.C. First Nation gets Nexen fracking water licence overturned

2015-09-07

OilVoice

Fort Nelson First Nation wins legal challenge stopping Nexen water license for fracking in British Columbia

2015-09-02

National Observer

Elizabeth McSheffrey

- First Nations Financial Transparency Act

2015-09-01

Hamilton Spectator / Thespec.com

Newly crowned Mrs. Universe calls for First Nations to vote Harper out

Peter Edwards

2015-08-29

Vancouver Observer

RCMP say they have no intention of "taking down" Unist'ot'en Camp

Elizabeth McSheffrey

2015-08-28

CBC News

RCMP planning mass arrests at pipeline protest camp, northern B.C chiefs fear

Betsy Trumpener

2015-08-27

Government of Ontario

New Agreement marks Step Forward in Connecting First Nation Communities to the Electricity Grid

News release

2015-08-24

Anishinabek News

Chiefs of Ontario sign historic Political Accord with the province

2015-08-19

TwoRowTimes.com

Cheyenne Williams

2015-06-22

Montreal Gazette Magazine

Big decisions for Akwesasne Mohawks after Ottawa offers $240 million for land

Giuseppe Valiante

2015-06-11

CBC News

Police break First Nations woman's shoulder, charge her with assault

- Mishkeegogamang First Nation

north of Thunder Bay

2015-06-11

Simcoe.com

2015-06-10

Aljazeera

2015-06-06

National Post

Conrad Black: Canada's treatment of aboriginals was shameful, but it was not genocide

Conrad Black

2015-06-02

Toronto Star

Canada's residential schools cultural genocide, Truth and Reconciliation commission says

Joanna Smith

2015-05-03

TwoRowTimes.com

Leaked documents prompt declaration to dismantle HDI: launch investigation

Nahnda Garlow

- Haudenosaunee Development Institute (HDI)

2015-04-10

CNW Newswire

First Nation Chiefs oppose Noront's purchase of Cliffs' assets in the Ring of Fire

2015-03-24

NetNewsLedger

"A small victory for our First Nation, and for all First Nations"

James Murray

2015-03-24

CBC News

Ring of Fire: Ontario has 'gun to our head' First Nation chief says

Jody Porter

2015-03-04

Globe and Mail

First Nations seek injunction barring development in Fort St. John region

Mark Hume

- first lawsuit based on cumulative impact of numerous developments

2015-02-14

Huffington Post

There Is A Way To Fix First Nations Education And This Is How It Starts

Michael Bolen

2015-02-14

Toronto Star

Ottawa sends $2M in bottled water to First Nation

Joanna Smith

2015-02-09

Huffington Post

Sixties Scoop: Aboriginal Adoptees Sue Federal Government

Chinta Puxley

2015-01-30

APTN National News

Credit card proves extravagant spending at now-broke Aboriginal-owned investment company

Tlamirande

- Tribal Councils Investment Group (TCIG), Allan McLeod

2015-01-27

BC Local News

Kitselas signs up for three LNG pipeline deals

- TransCanada

2015-01-27

APTN National News

People furious over report of chiefs per diem rate: 'double dipping has to stop'

Trina Roache

- Nova Scotia

2015-01-13

APTN National News

Aboriginal organizations hit with $60 million worth of cuts, Inuit faced steepest reduction: AFN analysis

Jorge Barrera

2015-01-08

CBC News

Mountie takes aboriginal woman home from jail cell to pursue relationship

Holly Moore

2015-01-07

Vancouver Sun

More First Nations signing on in support of LNG projects in northern B.C.

Gordon Hoekstra

- 8 of 20 First Nations affected (40%)

2015-01-07

Anishinabek News

Sisters host 'Toxic Tours' of their home in Canada's Chemical Valley

Rick Garrick

- Sarnia

2015-01-02

Briarpatch Magazine

On the Front Lines of the Great Lakes

Toban Black, Sonia Grant

2014-12-20

Coop media de Montreal

URGENT CALL FOR SUPPORT: Punishment for Failure to Submit to First Nations Financial Transparency Act?

Barriere Lake Solidarity

2014-12-14

CBC News Sudbury

Transparency Act : Resource company payments to First Nations unveiled

2014-12-11

TheRecord.com

- Assembly of First Nations, new Chief, Perry Bellegarde

2014-11-26

Rabble.ca

Stephen Harper and the myth of the crooked Indian

Pamela Palmater

2014-11-24

Timmins Times

Woman speaks out against Grand Chief

Jennifer Wabano, Peawanuck

2014-11-19

APTN National News

Plenty riding on whether Supreme Court will hear appeal for off reserve Aboriginal peoples

Steve Rennie

2014-11-19

EcoWatch / Anastasia Pantsios

Native Americans Arrested Following Keystone XL Pipeline Vote

Anastasia Pantsios

2014-11-11

AZCentral.com

Remembering the last of the original Navajo Code Talkers

Betty Reid

2014-11-05

Youtube/AJ+

How To Stop An Oil And Gas Pipeline: The Unist'ot'en Camp Resistance (10 mins)

2014-10-31

Westcoast native News

Nisga'a Nation Signs Pipeline Benefits Agreement

John Crawford

- TransCanada subsidiary

2014-10-16

Vancouver Observer

Hupacasath First Nation puts China on notice over FIPA

Jenny Uechi

2014-10-07

CTV News

Pesticides linked to bee deaths pose 'massive' ecological threat, watchdog warns

Keith Leslie

- Aamjiwnaang First Nation near Sarnia

2014-10-06

Vice.com

Indigenous Canadians Are Blockading a Mine to Protest Pollution

Sarah Berman

- Imperial Metals, Red Chris copper & gold mine, Iskut, BC

2014-10-02

Huffington Post

Canada Is The Only UN Member To Reject Landmark Indigenous Rights Document

Zi-Ann Lum

2014-10-01

Aptnnews.ca

Ontario tax exemption: Your rights as a First Nation citizen

Kevin Restoule

2014-09-11

Vancouver Sun (B.C.)

Tsilhqot'in set to declare site of New Prosperity mine a tribal park

Larry Pynn

2014-09-02

CBC News

Government now open to roundtable on missing and murdered aboriginal women

Kristen Everson

2014-08-20

Globe and Mail

Tina Fontaine's death shows how little is being done for indigenous women

Dr. Sarah Hunt

2014-06-27

Financial Post

Pipeline prospects take a hit as Supreme Court grants land title to B.C. First Nation

Dwight Newman

2014-06-26

CBC News

Tsilhqot'in First Nation granted B.C. title claim in Supreme Court ruling

- landmark decision

2014-06-10

Toronto Star

Opinon: Canada starved aboriginal people into submission: Goar

Carol Goar

2014-05-26

Earth First Journal

Sexual Assault in the Bakken Shale "Man Camps"

Damon Buckley

2014-05-02

Wawatay News

Mushkegowuk Council, communities seeking Ring of Fire opportunities

2014-05-01

APTN

OPP spent 3 years reviewing missing, murdered Indigenous women files in search of potential serial killer

Kenneth Jackson

2014-04-29

CTV News

String of youth suicides in remote Ont. First Nations community

2014-04-29

David Suzuki Foundation

Fourth World Living Conditions in the Ring of Fire: Call to Action

2014-04-24

APTN

Federal court ruling could affect First Nation organizations across Canada

2014-03-19

CBC News

Via Rail blockade by First Nations that halted Montreal-Toronto trains ends

- bringing attention to missing and murdered aboriginal women

2014-03-03

Whig

- bringing attention to missing and murdered aboriginal women

- Shannonville Road

2014-02-01

WC Native News

Black bear accidentally mulched by oil and gas company

Derrick

2014-01-20

Net News Ledger

Matawa Students Start Ring of Fire Training Program

2014-01-14

EcoWatch / TckTckTck

Neil Young Stands With First Nations on Anti-Tar Sands Tour

Emily Saari

2014-01-07

Edmonton Journal

First Nations struggle to save traditions while profiting from boom (with video)

Marty Klinkenberg

"Do I die by starvation or by poison" @3:25 mins

2014-01-07

Aptn

Confusion in Driftpile First Nation over Enbridge agreement inclusion

2014-01-04

CBC News

Ring of Fire boom may strain First Nations services, memo warns

Canadian Press

2013-12-30

CBC

Top 5 Aboriginal stories of 2013 as per CBC

2013-12-23

Youtube / the 1491s

Video: The Indian Store (4 mins)

2013-12-14

IC Magazine

For Land and Life: 25 stories of Indigenous resilience that you might've missed in 2013

John Ahni Schertow

2013-12-12

Northern Journal

Alberta First Nation plans second roadblock to fracking site

Meagan Wohlberg

2013-12-09

WC Native News

No cause for Celebration on one of the largest settlements in Canada's history

Jennifer O'Brien

2013-12-09

WC Native News

Landmark $120m First Nations deal a go

Randy Richmond

2013-12-06

Ernst v. EnCana

Chiefs of Ontario say no to fracking anywhere in the province

Tom Sasvari w/Michael Erskine

2013-11-30

Aaron Paquette Network

Aaron Paquette

#INM #idlenomore Indigenous Nationhood Movement / Nations Rising (#INMvmnt)

2013-11-28

WC Native News (Alberta)

Lubicon Nation sets up camp on unceded lands, Driven to enforce their Law

2013-11-28

CBC Sudbury

Audio: Cleaning up the old Long Lake Gold Mine site in Sudbury

- Long Lake Stewardship Committee

- leaking arsenic for years – target 2015 cleanup

- Whitefish Lake First Nation on water restrictions

2013-11-22

EcoWatch / Donna Lisenby

First Nations Furious Over Mishandling of Canada's Largest Coal Slurry Spill

Donna Lisenby

2013-11-09

Popular Resistance

Noam Chomsky: Indigenous People Are In The Lead

Michael Keefer

2013-11-06

CBC New Brunswick

Interview with lawyer Bill Gallagher

re: Elsipogtog

2013-10-31

Indigenous Action Media

Indigenous Elders and Medicine Peoples Council Statement on Fukushima

2013-10-26

Aptn National News

Death threats, brandished weapons, forcible confinement triggered raid: RCMP

Jorge Barrera

2013-10-21

Toronto Sun

There's no excuse for violent protests

Jerry Agar

2013-10-21

Toronto Sun

Ezra Levant, QMI Agency

2013-10-21

Toronto Sun

Anthony Furey, QMI Agency

2013-10-21

AWARE-Ontario.ca

Oil & Gas News 2013 – coverage of protest against fracking in New Brunswick

2013-10-21

Indian Country Today (USA)

The Heresy of Capitalism Threatens Well Being in Indian Country

Dina Gilio-Whitaker

2013-10-19

National Post

Rex Murphy: A rude dismissal of Canada's generosity

Rex Murphy

2013-10-18

Saultstar.com

Aboriginal affairs minister stresses 'solid working relationships' as Ontario communities rally in solidarity with New Brunswick anti-fracking protesters

Michael Purvis

2013-10-18

Toronto Star

McKay calls for calm after violent anti-fracking protest spreads across the country

Solidarity with Rexton, New Brunswick

2013-10-17

CBC News

Video: Albino moose honoured by Mi'kmaq

spirit moose

2013-10-06

Indian Country Today (USA)

Breaking the Cycle of Poverty and Crime in Indian Country

Duane Champagne

2013-10-01

Submedia.tv

Video: Kahsatstenhsera: Indigenous Resistance to Tar Sands Pipelines (10mins)

Line 9 and Energy East

[Kahsatstenhsera (gah-sad-sdanh-se-ra) is a Kanienkeha:ka (Mohawk) word that means Strength in Unity.]

2013-09-28

CBC News

Alberta orders lake drained to contain bitumen leak

Cold Lake, Alberta

2013-09-27

MiningWatch Canada

THE BELL TOLLS FOR FREE ENTRY IN CANADA: Legal Victory for Yukon First Nation Will Have Implications Across the Country

2013-08-28

Global Research

Canada: On Missing Aboriginal Women

John Bart Gerald

2013-08-23

Vice.com

First Nations Women Are Being Sold into the Sex Trade On Ships Along Lake Superior

Dave Dean

2013-08-16

Globe and Mail

BC First Nation renews battle to prevent open pit mining

Kim Nursall

2013-08-12

Globe and Mail

Lake Babine sockeye fishery at risk of unprecedented closure

Canadian Press

2013-08-09

Globe and Mail

Wake up to the aboriginal comeback

John Ralson Saul

2013-08-09

Two Row Wampum Renewal Campaign

Alternative to assimilation

2013-08-07

WC Native News

Siksika Nation: Pretty well-being colonized

High River, Alberta

2013-07-19

Globe and Mail

James Daschuk

- Treaty 6

2013-07-01

Vancouver Observer

Happy Canada Day? Learning about Treaties in tar sands territory

Emma Pullman

2013-06-28

Rabble

Yukon Council of First Nations declares territory to be frack free

George Lessard

2013-05-14

CBC

How Quebec Cree avoided the fate of Attawapiskat

Terry Milewski

2013-04-27

Bayshore Broadcasting

Anglers Rally at Owen Sound Harbour

Jon Meyer

2013-04-26

Bayshore Broadcasting

Protest Planned Over Fish Deal

Kevin Bernard

2013-04-25

Owen Sound Sun Times

Anglers to protest against province

Rob Gowan

2013-03-06

People's World

Rare disease suddenly arises on Navajo Reservation

Albert Bender

2013-01-15

Resource Investing News

First Nations Consultation: A Crucial Step for Mining Companies

Chad Fraser

Legal duty to consult rests with the Crown, not industry

2013-01-11

The Gazette

Gaspe-area First Nation expands two-week-old railroad blockade

Christopher Curtis

Mi'gmaq, Listuguj reserve

#IdleNoMore

2013-01-08

Globe and Mail

Opinion: Natives don't need 'accountability.' Show us the money

Jeffrey Rath

2013-01-01

Kitchenuhmaykoosib Inninuwug (KI) Nation

Walk to Parliament Hill to say "NO" to treaty violations

News Release .pdf

2012-12-31

Union of BC Indian Chiefs

Standing for What is Right: Harper Gov't attacked First Nations Rights in 2012

News Release - Opinion

This is a rising grassroots movement ignited by the intransigence of the Harper Government and it is a movement that Harper Government ignores at their peril.

2012-12-20

Global Edmonton

Highway blockades part of Idle No More demonstrations

Emily Mertz

Overview of Bill C-45

2012-12-10

âpihtawikosisân

2012-12-10

Google Documents by Fae Morning Bull, LLB

Harper Government Unilateral federal legislation imposing over First Nations:

fmorningbull@hotmail.com

2012-12-10

Rabble.ca

Enough is Enough

#IdleNoMore

2012-07-03

Vancouver Sun

This day in history: July 1, 1967

Chief Dan George

2011-12-03

CBC News

Stop building junk on reserves, says Mike Holmes

Janet Davison

2009-12-17

Youtube / flamingwarbonnet

Shoshoni Elder Oldhands' original Xmas song

1995-08-19

CBC Television

Gustafsen Lake Inside Out — How the RCMP Really Works Part #1
Striving to Understand
More Information:
Mapping traditional territories:  www.Native-Land.ca
Link to Government of Ontario Map of Ontario Treaties and Reserves
Colonialism
According to www.dictionary.com colonialism is the control or governing influence of a nation over a dependent country, territory, or people. It is the system or policy by which a nation maintains or advocates such control or influence.
Elsipogtog, New Brunswick
Link to AWARE-Ontario Elsipogtog, NB information
Reconciliation
What is the significance of acknowledging the Indigenous land we stand on?
Taxation
The Idiot's Guide to First Nations Taxation
United Nations (UNDRIP)
United Nations Declaration on the Rights of Indigenous Peoples (UNDRIP) (.pdf)
For more information and another perspective, see:
"I Know You're Sorry" by Leonard Sumner
Voisey Bay, Labrador Canada
"Resource Rulers: Fortune and Folly on Canada's Road to Resources" by Bill Gallagher
Wab Kinew, Fort Rouge MP, Manitoba – comments about water re: North Dakota pipeline protest (AO Info - DAPL)
"For more than a century, Canadians have been accustomed to reports of terrible housing conditions on reserves, unsafe drinking water, dismal educational outcomes and, at least in Western Canada, prison populations disproportionally stacked with aboriginal inmates. Aboriginal leaders and young people such as those who embraced the Idle No More movement have been calling for Canadians to fundamentally acknowledge the injustices and atrocities of the past and fix the problems that keep indigenous Canadians from living the same quality of life as their non-aboriginal neighbours.
As the skeletons in our collective closet are exposed to the light, through the work of Dr. Mosby and others, perhaps we will come to understand the uncomfortable truths that modern Canada is founded upon – ethnic cleansing and genocide – and push our leaders and ourselves to make a nation we can be proud to call home."
Dr. James Daschuk (article)
"Nibwaakaawin—Wisdom: To cherish knowledge is to know Wisdom. Wisdom is given by the Creator to be used for the good of the people. In the Anishinaabe language, this word expresses not only "wisdom," but also means "prudence," or "intelligence." In some communities, Gikendaasowin is used; in addition to "wisdom," this word can also mean "intelligence" or "knowledge.""
Pat Johnson, Facebook entry
"The uncomfortable truth is that modern Canada is founded upon ethnic cleansing and genocide."
James Daschuk, University of Regina (article)
Return to AWARE-Ontario.ca Home Page
List of Ontario's Issues
Disclaimer: This information has been compiled through private amateur research for the purpose of allowing the reader to make an informed and educated decision. However, while the information is believed to be reliable, accuracy cannot be guaranteed.
APPENDICES
APPENDIX A
https://awareontario.nfshost.com/AWARE-Ontario/News%20First%20Nations.htm
APPENDIX B
Eagle feathers – are sacred to the First Nations' culture. In Canada, First Nations are given all usable eagle carcasses but the supply from natural or accidental deaths can't keep up with the burgeoning demand from the competitive American and Canadian powwow circuit. Much of the multimillion-dollar trade in eagle feathers, beaks and talons has gone underground, and unscrupulous native and non-native dealers have thrived. (article)
* * *
The Huron ARE Wendat. They are Iroquoian language based people. They ARE Haudenosaunee - People of the Longhouse, but they are NOT of the Iroquois Confederacy, as they did NOT come into the Great Peace, under The Great Law, even though the Peacemaker, Deganawida, WAS Huron (or Wendat).
* * *
The Lubicon Lake Nation has not signed treaty with the Crown or any other foreign body at any time. As such, they remain the sole title holders and retain the Aboriginal rights to their land and resources and do not recognize the authority of the Province to issue any type of permits to industry for the exploitation of Lubicon land. The Government of the Lubicon Lake Nation requires industry to obtain the free, prior and informed consent from the Nation prior to any environmentally harmful project moving forward. This hasn't happened in this case according to Chief Ominayak. Penn West has been repeatedly informed by the Nation that no foreign government, including any Canadian endorsed, illegal, Indian Act formed government, will represent the Lubicon Lake Nation with regards to their lands. (source) Alberta
* * *
"There is resistance: in Canada it's coming from First Nations. But it's worth remembering that that's a world-wide phenomenon. Throughout the world, the indigenous populations are in the lead. They are actually taking the lead in trying to protect the earth. That's extremely significant." Noam Chomsky (article)
* * *
C Lester: "The Government of Canada is committed to reconciliation and nation-to-nation relationships with indigenous peoples, based on a recognition of rights, respect, co-operation, and partnership," said the response from spokeswoman Meaghan Bradley."
Now, if only they felt this so strongly as to #FullyImplementUNDRIP, stop building pipelines, #EndAddictionToFossilFuels, fully finance #IndigenousEducation at least on part with the rest of Canada, #AdoptJordansPrinciple, overhaul Harper's #OmnibusBills and fully protect the environment and water , hold the police to account in the upcoming #MMIW Inquiry ... for starters ... (article)