British Columbia's Site C Hydro Dam Proposal
Site C is a proposal for a massive hydro-electric dam on the Peace River in north-eastern British Columbia. The site is downstream from the existing W.A.C. Bennett and Peace Canyon dams.
The project is expected to cost almost $9 billion and is touted to generate 10,000 jobs while it floods 55 square kilometres of river valley. Site C represents an eight per cent increase to BC Hydro's energy supply and is expected to generate 1,100 MWs or enough electricity to power about 450,000 homes per year. (article)
Opposition
Opponents state that there would be severe impact on the First Nations and Métis families and communities who live in and depend on the area. A joint federal-provincial environmental assessment concluded that the dam would "severely undermine" the cultural practices of First Nations and Métis peoples, would make fishing unsafe for at least a generation, and would submerge burial grounds and other crucial cultural sites. Article by Amnesty International: Site C Dam – Human Rights at Risk
Site C would flood a vast swath of prime farmland (AO News – Farmland Development).
Site C would cause the loss of irreplaceable wildlife corridors and habitat (article).
Flooded vegetation would produce methylmercury, poisoning fish on which northerners depend (article).
Flooded vegetation would release methane gas, a major source of global warming (article).
UPDATE:
Since the summer of 2015: "Already, a bridge spans the Peace River, a massive temporary work camp has been erected, 1.5-million cubic metres of dirt have been moved and excavation has begun in the river." (source)
Winter of 2015/16 Forest clearing started.
Approval Process:
- Roughly 45 applications
- Consultation with Treaty 8 First Nations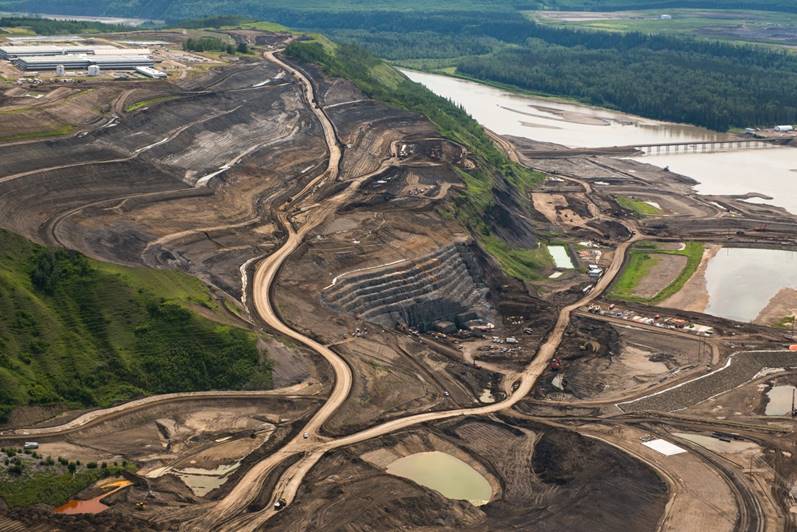 Source: Amnesty International
News – BC's Site C (reverse chronological order)
More Information:
BC Hydro - www.sitecproject.com
Return to AWARE-Ontario.ca Home Page
List of Ontario's Issues
Disclaimer: This information has been compiled through private amateur research for the purpose of allowing the reader to make an informed and educated decision. However, while the information is believed to be reliable, accuracy cannot be guaranteed.
APPENDICES
https://awareontario.nfshost.com/AWARE-Ontario/Issues/Dev_Hydro/Hydro%20BC%20Site%20C.htm