Oil & Gas News
New Brunswick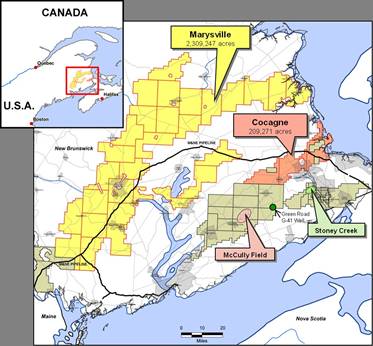 "New Brunswick has moved ahead with natural gas exploration and development, including hydraulic fracturing in unconventional reservoirs, but not without considerable resistance from various actors in the community.
The Province cites difficult economic circumstances, and the need to develop its resources in general as a rationale for permitting unconventional oil and gas exploration: the prospect of royalties and increased tax revenues is perceived to be a strong incentive to move forward.
The public debate has largely focused on the activities of SWN Resources in the company's exploration work in the past two years; yet Corridor Resources has been delivering natural gas derived through hydraulic fracturing to customers for over a decade. In recent months, NB has produced its Oil and Natural Gas Blueprint, intended to guide the responsible development of these resources; and a new set of regulations, touted as the most stringent in the world: Responsible Environmental Management of Oil and Natural Gas Activities in New Brunswick: Rules for Industry. 
In addition, the Province created the New Brunswick Energy Institute (NBEI), and the Office of the Chief Medical Officer of Health (OCMOH) of the New Brunswick Department of Health produced a report called, "Chief Medical Officer of Health's Recommendations Concerning Shale Gas Development in New Brunswick"." (source)
Elsipogtog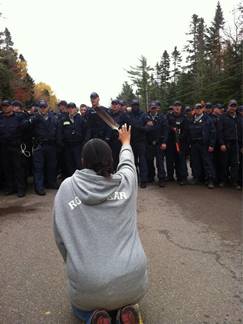 The Elsipogtog First Nation is a Mi'kmaq First Nations band in New Brunswick, Canada living on unceded land.  In May 2013, the band started to demonstrate their concern over shale gas exploration proposed by SWN Resources Canada.  After several months of sometimes violent protest, SWN announced that it completed the seismic testing and left the area in December 2013 with plans to return at a later date.
Other information:
Toronto Star – The often-ignored facts about Elsipogtog (14-Nov-2013)
Penobsquis
In 1997-99, the first water wells and springs were lost in Penobsquis. At the same time there was a water inflow problem at the Penobsquis Potash Mine operated by a division of Potash Corporation of Saskatchewan.  Efforts to fix the mine resulted in several natural gas wells now known as the McCully Field and operated by Corridor Resources Inc.  More than 50 homes lost their potable well water over several years but the cause was never conclusively shown.  For years drinking water was delivered to the homes by the company and the province although many residents allege that the provincially delivered water caused rashes and other health problems.  A new water system was put in place by the province and now the residents are forced to pay for water.
Link to Concerned Citizens of Penobsquis
General News – Oil & Gas in New Brunswick
Date

Source

Title

Comment

2019-06-14

CBC News New Brunswick

Energy minister says 'responsible' fracking will help transition to green economy

- Mike Holland, New Brunswick's Minister of Energy & Resource Development

2018-11-30

National Post

N.B. Tories survive throne speech vote, plan to amend ban on fracking

Kevin Bissett

2018-06-21

CBC News New Brunswick

Province extends fracking ban 'indefinitely' after failing to meet its own conditions

2017-11-03

CBC News New Brunswick

Irving-owned railway charged with safety violations in oil transport

Sarah Petz

2016-12-12

CBC News

Property tax concessions have cost N.B. nearly $380M over 40 years

Robert Jones

2016-05-27

CBC News

Video

2015-12-24

CTV News

Oil spills into N.B. river after valve malfunctions at power station

2015-12-07

Aptn.ca

Fracking returning to NB after firing of top doctor, says provincial NDP

2015-11-10

CBC News

Windsor Energy's $105M lawsuit against province suffers blow

2015-10-21

NBmediacoop.org

Kent County residents slam fracking, document concerns during emotional meeting with Commission in Richibucto

Dallas McQuarrie

2015-08-07

CBC News

Irving Oil tanker cars causing worries for some Saint John businesses

Stephanie Skenderis

2015-06-01

Ricochet

Op-ed:  How do you stop a pipeline when one family owns both the oil and the media?

Lynaya Astephen

2015-03-16

Redpowermedia.wordpress.com

SWN Canada granted one-year extension to search for shale gas in N.B.

- SWN Canada

2014-12-18

Globe and Mail

Kevin Bissett

- First Nations consultation; plan for wastewater disposal; impacts on health, water & the environment; royalty structure; social licence given by public acceptance <comment>

2014-12-18

Alberta Oil Magazine

Jesse Snyder    

- another five conditions on energy development

2014-12-02

CBC News

Brian Gallant promises hydro-fracking moratorium bill by Christmas

2014-11-24

CBC News

2014-10-30

CBC News

2014-09-25

CBC News

Irving Oil turfs Gordon Dalzell, clean-air activist, from group

- company/community liaison committees are useless?

2014-09-23

CBC

2014-09-18

Global

Brion Robinson

2014-09-09

Global News

Laura Brown

2014-08-28

CBC

Justin Trudeau wrong on fracking, NB Premier David Alward says

Laura Payton

2014-07-04

CBC News

- shipping into Maine and Maritimes

- Spectra Energy

- Maritimes and Northeast Pipeline

2014-02-21

CBC News New Brunswick

More info re:

2014-02-14

Youtube / NewBrunswickToday

- New Jersey

2014-01-13

CBC News

Newer railcars 'damaged less' in Plaster Rock, N.B., derailment

Dave Seglins

2014-01-08

Bangor Daily News

President of railroad apologizes to New Brunswick town for derailment and fire

Wapske, New Brunswick

2014-01-07

CBC News New Brunswick

CN train carrying crude oil derailed, on fire near Plaster Rock

Wapske, New Brunswick

2013-12-19

CTV

Man pleads guilty to charges laid after N.B. anti-fracking protests

Canadian Press

2013-12-14

Toronto Star

Jessica McDiarmid

2013-12-13

Toronto Star

2013-11-18

Aptn.ca

NB residents turn to Mi'kmaq as environmental concerns bubble to surface in wake of shale gas exploration

Jorge Barrera

2013-11-04

CBC News

2013-11-02

CBC News

2013-10-18

CBC News

2013-10-18

Saultstar.com

Aboriginal affairs minister stresses 'solid working relationships' as Ontario communities rally in solidarity with New Brunswick anti-fracking protesters

Michael Purvis

2013-10-18

Warrior Publications

2012-09-17

CBC News

- Geocam

- AWS Energy

2011-08-01

CBC News

2011-04-14

Desmogblog.com

New Brunswick Is Canada's Next Shale Gas Fracking Battle Front

TJ Scolnick
"From my perspective, it would be a great opportunity and I think it should be pursued." Ray Ritcey, CEO of the Maritimes Energy Association (source)
More Information:
Link to AWARE-Ontario First Nations News
Link to AWARE-Ontario Oil & Gas News
Return to AWARE-Ontario.ca Home Page
List of Ontario's Issues
Disclaimer: This information has been compiled through private amateur research for the purpose of allowing the reader to make an informed and educated decision. However, while the information is believed to be reliable, accuracy cannot be guaranteed.
APPENDICES
https://awareontario.nfshost.com/AWARE-Ontario/Issues/Oilgas_Provinces/Oilgas_Province_New_Brunswick.htm