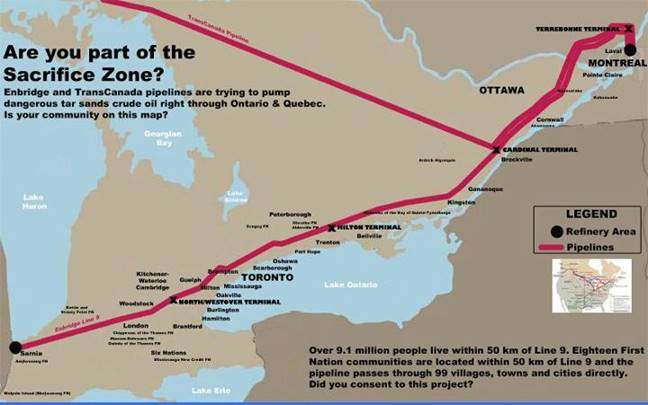 Enbridge's Line 9
Built in 1975, Enbridge's Line 9 pipeline stretches 639km from Sarnia, Ontario to Montreal, Quebec (map).
Major urban centres along the pipeline's path include the cities of Hamilton, Mississauga, Toronto and Kingston. In Toronto the pipeline roughly follows Finch. In Hamilton, the pipeline passes through several wetlands including the picturesque Beverly Swamp. (article)

Around 2013, a proposal was made to reverse the flow of Line 9 – a light oil pipeline – and to boost its capacity 25% to 300,000 barrels from 240,000 barrels per day. The company said the reason was to respond to requests from Eastern Canadian refineries (owned by Suncor Energy Inc. and Ultramar Ltd.) looking for access to cheaper crude from Alberta and the North Dakota, USA's Bakken region. Environmentalists feared that Enbridge would start to transport bitumen from Alberta's oil sands. Bitumen is a heavier product which must transport under greater pressure. Leaks were forecast due to the aging infrastructure of the pipeline.
Bitumen reacts differently in water than conventional crude oil due to its chemical attributes. Bitumen is a solid at room temperature, and so it is mixed with a natural gas condensate to decrease its viscosity. When the Enbridge pipeline burst in 2010 spilling bitumen into the Kalamazoo River, the bitumen sank to the bottom of the river, while the light-weight gas evaporated in the air. The oil was hard to clean up (in fact is still being cleaned up in 2013) and the air was polluted by toxins.
Line 9 runs across southern Ontario, the most populated part of the province.
Update:  The Ontario portion of the reversal was granted bringing western crude to Imperial Oil Ltd.'s refinery at Nanticoke (December 2015)
Overview video – Line 9: The Tar Sands Come to Ontario (vimeo) / Toronto Star maps/coverage
Enbridge's Line 9 News
Date

Source

Title

Comment

2018-11-13

National Observer

Carl Meyer

2015-12-29

Intercontinentalcry.org

Robert Desjarlait

2015-12-12

EarthFirstJournal.org

The Cat is Out of the Bag: Shutting Down Pipelines Is Way Easier Than Anyone Thought

anonymous

2015-12-07

Comment

Activists shut down Line 9. Company reports shutdown as a "precautionary measure".

(source)

2015-12-03

Comment

Line 9 transported crude to Montreal refinery.

(source)

2015-08-20

National Observer

Fram Dinshaw

- Louisette Lanteigne

2015-05-22

Huffington Post

This Aging Oil Pipeline Is In Great Lakes' 'Worst Possible Place' For A Spill

Enbridge Line 5

2015-02-17

Rabble.ca

Water issues may be the key to stopping Enbridge's Line 9, say activists

Steve Cornwell

2015-02-06

Globe and Mail

NEB approves Enbridge's Line 9 reversal with revised safety plan

Shawn McCarthy and Jeff Lewis

2014-10-08

Environmental Defence

Adam Scott

- lacking emergency shut-off valves on both sides of major water crossings

2014-03

Comment:

NEB approves Enbridge's application to reverse flow through Line 9B (639km from North Weston, ON to Montreal)

(article)

2014-03-06

Vice.com

Michael Toledano

2014-03-05

Toronto Star

Spike in crude oil trains rumbling through heart of Toronto raises concerns

Jessica McDiarmid

2014-02-23

Toronto Star

Enbridge Line 9: W5uncovers unreported spills, alarming communities along 830-km pipe

Jessica McDiarmid, Annie Burns-Pieper

2014-01-30

Thespec.com

Jessica McDiarmid

2014-01-24

Toronto Star

Jessica McDiarmid

2014-01-22

Toronto Star

Jessica McDiarmid

- Line 7

2014-01-22

CBC

Adam Carter

- Clayton Ruby

2014-01-21

CBC

Adam Carter

2014-01-16

CBC

Adam Carter

- Line 7

2014-01-07

Swamp Line 9 Blog

Trish

2013-12-14

Toronto Star

Jessica McDiarmid

2013-12-04

Vice.com

Michael Toledano

2013-11-26

Vice.com

Which Parts of Toronto Are Being Put at Risk by Enbridge's Line 9?

Michael Toledano

2013-10-23

Toronto Star

Jessica McDiarmid

2013-10-23

EcoWatch / DeSmog Canada

Hundreds Protest Tar Sands Pipeline as Expert Warns of 90 Percent Probability of Line 9 Rupture

Derek Leahy

2013-10-22

Maclean's / Canadian Business

Would Enbridge's Line 9 really save Quebec refineries $23 billion?

Andrew Leach

2013-10-20

Toronto Star

Hundreds protest after energy board cancels pipeline hearing amid 'security' concerns

Jessica McDiarmid

2013-10-19

CBC News Toronto

2013-10-19

CBC News Toronto

Line 9 hearings by National Energy Board overtaken by protest

2013-10-18

Toronto Star

Toronto criticizes Enbridge 'one-size-fits-all' emergency plans for pipeline

Jessica McDiarmid

2013-10-18

Environmental Defence

2013-10-16

Environmental Defence

Protester action items

2013-10-15

EcoWatch / National Wildlife Federation

First-Ever Footage of Aging Tar Sands Pipelines Beneath Great Lakes

Straits of Mackinac pipelines, owned by Enbridge Energy, are 60-years-old

2013-10-03

Toronto Star

Toronto environment groups want cleanup plans should Line 9B rupture

Jessica McDiarmid

2013-09-25

Alternatives Journal

Climate Change Containment Unit on Site at Enbridge Oil Spill Drill

Laura McDonald

- North Dumfries where Line 9 crosses the Grand River

2013-09-24

Brantford Expositor

Michael-Allan Marion

- Brant County

2013-08-23

Hamilton Spectator

Matthew Van Dongen

2013-08-23

Huffington Post

Mike Schreiner, Leader, Green Party of Ontario (letter to National Energy Board)

2013-08-22

Thespec.com

Matthew Van Dongen

- Line 9 feeds: Lines 10/11

- Line 10 Westover to NY

- Line 11 Westover to Imperial Oil refinery, Nanticoke

2013-08-21

Thespec.com

2013-08-16

Thespec.com

Molly Hayes

2013-06-25

Inside Halton

David Lea

Oakville

2013-07-24

Thespec.com

Joan Walters

2013-07-01

Change.org

Petition: Ontario Citizens Demand an Environmental Assessment of Enbridge's proposed Line 9 Reversal

Gerry Dunn

2013-06-24

Thespec.com

2013-06-20

CTV News Toronto

2013-06-03

Inside Climate News

Lisa Song

Enbridge looking to expand in USA, greater capacity than Keystone XL

2013-05-29

Financial Post

'No economic development possible in Quebec' if Enbridge's Line 9 plan crushed, business lobby says

Nicolas Van Praet

2013-05-22

Financial Post

Pipeline plan to send crude from Montreal to Maine raises ire in New England

Yadullah Hussain

2013-05-05

Environmental Defence

New undemocratic rules create barrier to public participation in upcoming pipeline hearings: a consequence of weakened federal environmental laws under Bill C‑38

2013-05-03

CBC News

Sarah Harmer among dozens speaking against Enbridge pipeline

Samantha Craggs

2013-04-26

Financial Post

Enbridge's Line 9 pipeline reversal plan runs up against skeptical public

Nicolas van Praet

2013-04-21

Financial Post

Enbridge's Line 9 pipeline fuels climate of suspicion in Quebec

Nicolas van Praet

2013-04-05

Environmental Defence

New undemocratic rules create barrier to public participation in upcoming pipeline hearings: a consequence of weakened federal environmental laws under Bill C-38

2013-04-03

Alexander Knight

Video: Oil: Enbridge Line 9 exposed in the Rouge River, Markham (4mins)

2013-04-01

The Peak

Vol. 52 Issue 4

2013-03-25

Financial Post

Ontario Municipalities raise oil spill concerns on Enbridge pipeline reversal

Jeff Lewis

map

2013-02-22

Toronto Star

Toronto council eyes Enbridge proposal for Toronto oil sands pipeline

John Spears

2013-02-04

Environmental Defence

Sabrina Bowman

2013-01-23

Rabble.ca

Ethical Enbridge? The real story of Line 9 and the tar sands giga-project

Dave Vasey, Sakura Saunders, Sonia Grant

2013-01-21

Alternatives Journal

Paisley Cozzarin

2013-01-08

Youtube / Rachel Deutsch

2013-01-01

Hamilton Line 9 Wordpress

blog

2012-11-23

Rabble News

Stopping Line 9: Toronto conference lays basis for mass challenge to tar sands pipeline

John Riddell

12-10-04

Knowing the Land is Resistance

12-09-12

Rabble News

Stopping Line 9: Communities mobilize for Ontario's tar sands battle

Dave Vasey

12-06-01

Natural Resources Defense Council (NRDC)

Report: Going in Reverse: The Tar Sands Threat to Central Canada and New England

See how Line 9 impacts the Niagara Escarpment and southern Ontario
Key Contacts
It took a while for a solid grassroots movement to appear from the individual actions springing up across communities. However, it is happening. Communities are coming together to create a blanket resistance. Contact any of the following for more information:
| | |
| --- | --- |
| Environmental Defence | |
| Swamp Line 9 – Westover near Hamilton | |
| | |
| No Line 9 organizing committee | |
| Stop Line 9 Toronto | |
| Facebook | Search "Line 9" |
Other Information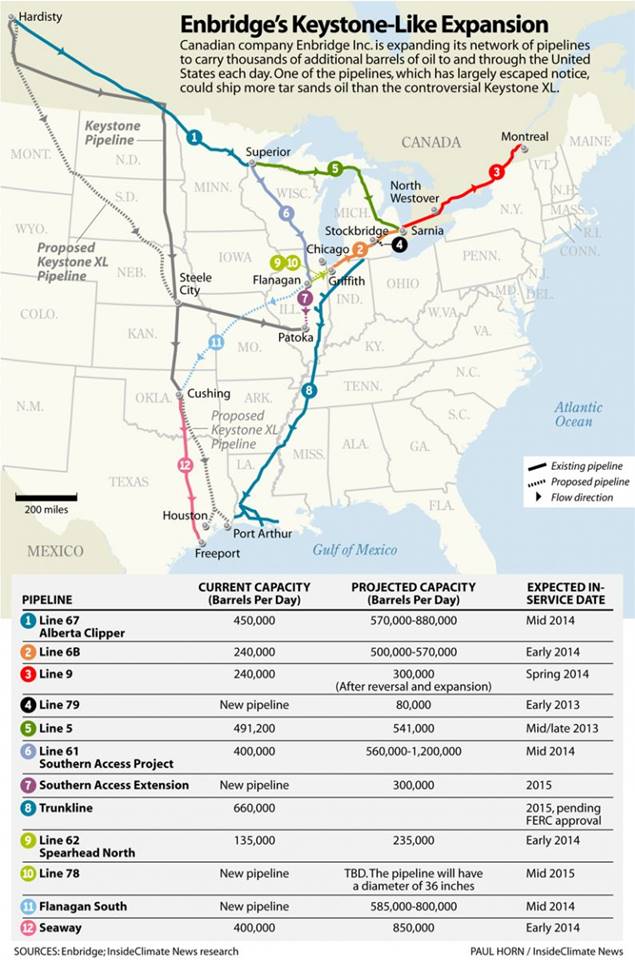 "Enbridge strives for zero spills, but when it comes to pipeline safety, the company has an oil-splattered record. According to Enbridge's own data, between 1999 and 2010, the company had 804 spills, releasing 6.8 million gallons of hydrocarbons."
Richard Girard and Tanya Roberts Davis (report pg 15)
Return to AWARE-Ontario.ca Home Page
List of Ontario's Issues
Disclaimer: This information has been compiled through private amateur research for the purpose of allowing the reader to make an informed and educated decision. However, while the information is believed to be reliable, accuracy cannot be guaranteed.
APPENDICES
APPENDIX A
https://awareontario.nfshost.com/AWARE-Ontario/Issues/Oilgas_Pipelines/OG_Enbridge/OG_Line_9/Enbridge%20Line%209%20Overview.htm
APPENDIX B
Comments Found Online:
19-Oct-2013 Louisette Lulu Lanteigne (article)
As a DELEGATE I witnessed the following:
Enbridge only studied the pumping station areas, not the total pipeline for the permit application to reverse flow in spite of the fact it will change fluids, change pressure and change the function of the pipe.
The FULL length of Iine 9 has stress fractures. Many of which would rupture under 700psi (pounds per square inch) of pressure. Enbridge is seeking a permit to increase the line to 750-100 psi which would guarantee ruptures. The source of all data: ENBRIDGE's own studies.
When asked if they will do hydrostastic testing, Enbridge stated no they could damage the pipes but they're willing to switch to BITUMEN without RE-TESTING the pipe with water.
Enbridge admitted in WRITING that they never reviewed any treaty regarding Line 9 even though it crosses over 18 First Nations territories/
There was NEVER aboriginal consultation appointed by the crown with any of these tribes.
The NEB approved Line 9 and the approved reversal from Sarnia to Westover which was a violation of CHARTER RIGHTS, TREATY RIGHTS and International Law! They violated the Simcoe treaty that was written by King George.
19-Oct-2013 Louisette Lulu Lanteigne (article)
The pipeline has a SPILLS response system with a 6 hour window for Enbridge to shut off a manual valve. Even with the valve closed, it is still 12 miles long before they hit the other valve and whatever fluid that is in the remaining pipe, leaks out!
1 Billion insurance won't do much if the spill happens in Toronto around Finch Street where houses are at least 1 million each and the pipe crosses by York University and the Finch Subway. It even goes under a fire department and the workers there didn't even know there was a pipeline under them.
Land owners have leaks but Enbridge isn't fixing it up! Land owners have liability if it flows from their property to their neighbours.
Enbridge Line 9 in it's current form is 38 years old. It crosses 12 tributaries in a 7 mile area in Whitby. Water systems like the Grand RIver are now exempt where Line 9 crosses because of the Omnibus bill Harper passed. 90% of protected rivers lost their status and no longer require shut off valves.
19-Oct-2013 Louisette Lulu Lanteigne (article)
Spills legally mean an incident that starts and stops. Leaks continue on. Enbridge has a spills response system but not a leaks monitoring system. They admitted they don't have the ability at this time to detect pin hole leaks.
19-Oct-2013 Rick Munroe (article)
I just learned that the NEB has postponed Enbridge's final argument which was scheduled for today (Saturday). This is unfortunate because (as an Intervenor) I had hoped that Enbridge would respond to a few requests for information/clarification/correction.
Enbridge could also use its Final Argument to explain a few other details to the NEB and the general public, for example:
- why Enbridge/IPL did not keep its promise in May 1975 that "the wall thickness of all pipe under watercourses flowing into the Great Lakes and the St. Lawrence Seaway would be increased to 0.500 inches. Also, ... that motorized block valves would be installed on each river bank" (p. 27).
- why Enbridge selected such thin-walled pipe (0.250") for its 30" pipelines in Michigan and Ontario (Standard wall thickness for 30" diameter pipe is 50% thicker, 0.375").
- why it did not share its Emergency Response Plan with Toronto Fire.
- why it did not regularly (if ever) inform the Transit Workers Union of the presence of Line 9 at Finch Subway, the risks that this could present to TTC workers and riders, or how staff might manage the sudden discharge of flammable liquids and explosive vapours into their subway.
- why it did not provide comment/express concern to City planners regarding the proposed intensification of the Fountainhead complex, which already has enough risks.
- why its pipeline marker next to Emery Collegiate is barely visible, and why there is an absence of visible Enbridge markers at a Scarborough geriatric facility. These are vulnerable locations which warrant especially close monitoring by pipeline companies.