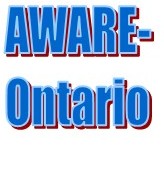 Large-Scale Fill Operations / Excess Soil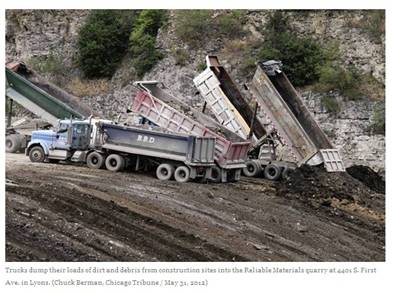 There is a lot of construction happening in southern Ontario, especially in the greater Toronto area. As the ground is excavated for subways, concourses and parking, where does the dirt go? Companies have been paying rural land-owners (~$60 per load) to take truckloads of dirt/fill off their hands. It has become a lucrative business with one Highway 9 aerodrome rumoured to be making around one million dollars a month.
There are several problems for local communities and neighbours where the fill operation is taking place:
Is the fill contaminated?

Will there be an impact on local water sources?

Who pays for the wear and tear of the trucks on the roadways?

What about the additional traffic, noise and dust?

How does it affect property values?

Who has jurisdiction when there is a problem?

Why are there no government standards?

What happened to the original plan for the land? What is the community giving up?

How does it impact the natural topography of the land?

Is there an impact on other industries such as tourism?
Adding insult to injury, old quarry sites or gravel pits are being purchased as dump sites for the fill. This is not the pit rehabilitation originally promised to the community. The "interim" life-span of the aggregate site is increased. The traffic, noise and dust are problems. Neighbouring property values decrease. Also, with all the stone and gravel extracted from the site, the water table is particularly vulnerable to contamination.
Ontario does not have a lot of rules and regulations around large-scale fill operations. It also gets more complicated when an aerodrome or airport is involved as they fall under federal jurisdiction.
"This is not your problem. Let's get it solved where it should be solved – at Queen's Park in downtown Toronto". Gord Miller, Environmental Commissioner of Ontario (source)
Specific Issues
- Beechwood Road Environmental Centre, Tyendinaga Township near Napanee
- Brock Aggregates - Tottenham pit
- Carmeuse Lime, Ingersoll, Guelph 
- Ramara Quarry, Ramara Township
- Tottenham Airfield Corporation (TAC), New Tecumseth, Simcoe County
General News – Large-Scale Fill Operations
Other sources of information:
Lakeridge Citizens for Clean Water - www.lakeridgecitizens.ca
Oxford People Against the Landfill (OPAL)
Other links:
Myth Busting – Richardson Corridor Community Association (Waste Management proposed Carp Landfill site)
AWARE-Ontario's Waste Management News
AWARE-Ontario's Aggregate News summary
AWARE-Ontario's Aggregate Site Rehabilitation
Oak Ridges Moraine – pending
Return to AWARE-Ontario.ca Home Page
List of Ontario's Issues
Disclaimer: This information has been compiled through private amateur research for the purpose of allowing the reader to make an informed and educated decision. However, while the information is believed to be reliable, accuracy cannot be guaranteed.
APPENDICES
https://awareontario.nfshost.com/AWARE-Ontario/News%20Fill.htm
Comments:
Realize that large-scale fill operations are a province-wide problem taking advantage of the jurisdictional finger-pointing for aerodromes and lax rehabilitation laws for exhausted pits and quarries. As Gord Miller, former Environmental Commissioner for Ontario said, "This is not your problem. Let's get it solved where it should be solved – at Queen's Park in downtown Toronto". Follow-up with your MP and make sure that you're heard!