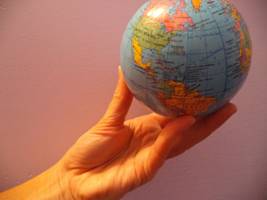 While there are no large-scale commercial alternatives to fossil fuels yet there are technologies and ideas worthy of investigation. It is hard to compete commercially with the relatively free availability of what is in the ground so environmentalists point out that the large subsidies used to benefit the oil and gas industry might be enough to help create a commercial alternative. Realizing that oil and gas resources are finite and that extracting fossil fuel products are becoming more difficult, wasteful and destructive, funds could be invested in researching/improving alternative energy sources such as wind, solar, uranium-free nuclear as well as excess energy storage (pumped storage, liquid storage). So why do we continue to finance a progressively "dirty" energy industry when we could be investing in "clean" renewable projects?
AWARE Ontario – Renewables News
Vancouver
Vancouver captures methane at the landfill and use it to heat greenhouses. They even take the warmth that naturally accumulates in sewers and use it to heat homes.
Article: How did Vancouver Get So Green?
Article: Waste heat - How Vancouver mined its sewage to heat an entire neighbourhood
News – Other Fossil Fuel Energy Alternatives & Supplements
For more information:
AO Renewables News - Introduction
Independent Electricity System Operator (IESO) – balances the supply and demand for electricity in Ontario
Other Products:
Hydrogen fuel cells – what are fuel cells?
Cansolair (www.cansolair.com) (video 3mins)
Distributed Energy Resources 101
"A smart grid combined with better energy storage mechanisms could handle the intermittency and decentralized nature of renewable energy sources in a way that can overwhelm today's industrial era grids. But in a slow-growth global economy hell-bent on austerity, the prospects for large government investments in grid resilience look slim." Nafeez Ahmed, Ph.D. (source)
Return to AWARE-Ontario.ca Home Page
List of Ontario's Issues
Disclaimer: This information has been compiled through private amateur research for the purpose of allowing the reader to make an informed and educated decision. However, while the information is believed to be reliable, accuracy cannot be guaranteed.
APPENDICES
https://awareontario.nfshost.com/AWARE-Ontario/News%20Energy%20Alternatives.htm