Aggregate News
Proposed Eek Gravel Pit Expansion, Centre Vespra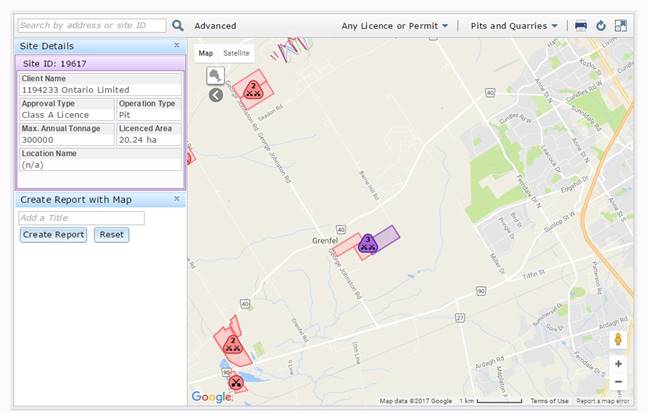 Applicant:  1194233 Ontario Ltd., John Eek and Son (www.johneekandson.com)
Location:  3568 Barrie Hill Road, Part Lot 21, Concession 9, formerly Township of Vespra, Springwater Township, County of Simcoe, consisting of 20.24 hectares west of Barrie
Seeking a Category 3, Class "A" pit above water, maximum annual tonnage 300,000 tonnes on the property north of the existing pit
The existing property was purchased in 1996 with 50 acres used for a gravel pit.  That pit is now exhausted.  Proposal is to expand to the property north of and adjacent to the existing pit, which is currently a corn field.
Opponents, People vs. Pits, list concerns as non-compliance of the required distance between the proposed pit and existing residences, increased gravel truck traffic, possible environmental risks to air and water quality as well as possible decreased property values. (article)
Broad concerns about creating new aggregate operations or expanding existing sites are:  consolidated impacts of local aggregate operations, affect on water quality, direct community impacts, healthcare, loss of long-term jobs, blasting impact (fly rock, accidents, property damage) and explosives transportation/storage (where used), heavy truck traffic, dust, loss of air quality, noise pollution, greenspace impact, wildlife impact, impact on fish, potential to take water, operational life cycle, rehabilitation plan, tax implications and future-use (planning vs reality).
Approval Process:
Notice of Complete & Received Application / Public Meeting
Zoning By-law amendment
Official Plan amendment if applicable
County level Official Plan amendment approval if applicable
Conservation Authority approval
MNRF Aggregate Resources Act licence
Permit To Take Water
Sewage permit
Air permit
Timeline (chronological order)
| | |
| --- | --- |
| Date | Event |
| 2012-02 | Application for proposal deemed complete (article) |
| 2016-01-20 | Springwater Township Council considers and denies zoning bylaw amendment. Proponent files appeal with OMB. |
| 2016-10 | OMB pre-hearing #1 |
| 2017-02-14 | OMB pre-hearing |
| 2017-06-12 | OMB hearing (5 weeks scheduled) |
| 2017-06-23 | No entry in the Environmental Bill Registry (www.ebr.gove.on.ca) |
| 2017-06-28 | Deputation by People vs. Pits in Centre Vespra to Springwater Township |
| 2019-07-03 to 05 | OMB Hearing: LPAT #PL160112 (article) |
| 2019-08-14 | LPAT approves Eek Pit expansion with conditions (article) (190813 LPAT decision PL160112) |
NEWS (reverse chronological order)
More Information:
People vs. Pits (David Aves, 705.739.6736) / Friends of Centre Vespra
Return to AWARE-Ontario.ca Home Page
List of Ontario's Issues
Disclaimer: This information has been compiled through private amateur research for the purpose of allowing the reader to make an informed and educated decision. However, while the information is believed to be reliable, accuracy cannot be guaranteed.
APPENDICES
https://awareontario.nfshost.com/AWARE-Ontario/Issues/Aggregate_Barrie/Eek%20Overview.htm