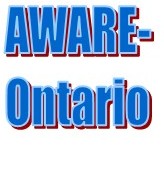 Pollinator News – Monarch Butterflies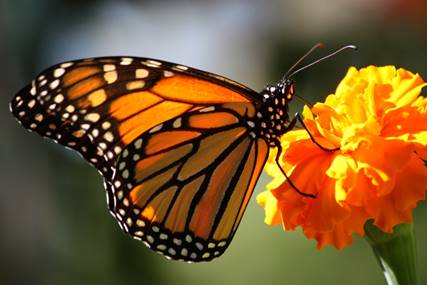 Rallying to Protect the North American Monarch Migration
Forty years ago, in 1970's southern Ontario it could be argued that butterflies, monarchs in particular, were the most populous of insects excluding ants.  Today that is not the case.  These days it is an unexpected pleasure to see a monarch butterfly. 
People have been asking: where did the monarchs go?
With a bit of research, it becomes obvious that today's farming and maintenance practices are so efficient that we have wiped out the monarchs' principal food source and habitat – milkweed plants.  In fact, for many decades milkweeds were considered noxious weeds so it was mandated by government to cut them down.  Today we pay the price.
Monsanto's Roundup and Roundup Ready seeds are part of that deadly efficiency.  Roundup kills all plants except for those genetically-modified to be Roundup tolerant.  Over the past decade Roundup has been extensively used by farmers effectively helping to decimate milkweed growth.
Monarchs* can live up to nine months and migrate between Canada, United States and Mexico.  The migration arrives in Mexico from late-October to March (article).
There are two north/south legs to the migration:  west coast (via California) and east coast.
* Note that there are monarchs in other countries so there is little risk of monarch extinction.  However, monarchs in the Caribbean for instance do not migrate.  The North American monarch migration is at risk, perhaps also indicating risk for other species.
News - Monarch Butterfly (most recent first)
Date

yyyy-mm-dd

Source

Title

Comment

2020-09-18

EcoWatch / The Conversation

Monarch Butterflies' Spectacular Migration Is at Risk – An Ambitious Plan Aims to Save It

The Conversation

2020-06-08

Nevada Today

Milkweed, only food source for monarch caterpillars, ubiquitously contaminated

2020-04-23

Youtube / Nature on PBS

Nature on PBS

2020-01-21

TheDailyBeast.com

Monarch Butterfly Activist Missing in Mexican Cartel Country

Pilar Melendez

- Homero Gomez

2019-08-04

CBC.ca

A flicker of hope in the insect world: Firefly, monarch butterfly numbers up, say Ont. researchers

Kate Bueckert

2019-06-24

Sciencemag.org

Elizabeth Pennisi

2019-03-13

EcoWatch / Olivia Rosane

'Absolutely Magical': Southern California Sees Largest Painted Lady Migration Since 2005

Olivia Rosane

- Painted lady butterflies in California

2019-02-15

Associated Press

Locals find monarch colony in Mexico after years long search

Christopher Sherman

2019-01-31

EcoWatch / Center for Biological Diversity

- 6.05 ha of occupied forest in 2019 vs 2.48 ha in 2018 vs 21 ha in mid-1990s.

2019-01-29

Lewiston Tribune

Jerry Painter

2019-01-06

SFGate.com

Study: Number of monarch butterflies in California declined by 86 percent in one year

Michelle Robertson

2018-11-08

ScienceDaily

Florida monarch butterfly populations have dropped 80 percent since 2005

Florida Museum of Natural History

2018-07-24

New York Times

Lincoln Brower, Champion of the Monarch Butterfly, Dies at 86

Neil Genzlinger

2018-03-06

Globe and Mail

Extreme weather, forest loss behind sharp drop in monarch butterfly sightings

Michelle Alaimo

2018-03-02

EcoWatch / Environment Defense Fund

Groundbreaking 'Airbnb for Butterflies' Now Open for Business, Donations

www.monarchhabitatexchange.org

2018-03-01

EcoWatch / Lorraine Chow

Dicamba Drift Could Put 60 Million Acres of Monarch Habitat at Risk

Lorraine Chow

2018-02-02

Xerces Society

News release

2017-11-09

University of Guelph

Not All Milkweed Is Equal for Egg-Laying Monarchs, U of G Study Reveals

2017-10-30

Journey North / learner.org

Elizabeth Howard

2017-10-27

CBC News

Thousands of monarch butterflies could be stranded in Canada by cold weather

Associated Press

- Point Pelee National Park

2017-02-15

USA Today

There will be fewer monarch butterflies this year. 22 million fewer.

Doyle Rice

2016-12-12

Charlie On Travel

Charlie Marchant

2016-11-01

The Monitor

Kristian Hernandez

2016-09-07

EcoWatch / Care2

Alicia Graef

2016-08-23

TheGuardian.com

Storms devastate monarch butterflies' forest habitat in Mexico

Associated Press

2016-08-10

EcoWatch / Care2

Susan Bird

- California Pipevine Swallowtail (Battus philenor hirsuta)

2016-07-06

E360.yale.edu

Christian Schwӓgerl

2015-06-02

BeeCulture.com

CATCH THE BUZZ – Monarch Migration Gets a Boost from Ohio Collaboration

2015-04-04

Independent Science News

New Research Links Neonicotinoid Pesticides to Monarch Butterfly Declines

Jonathan Latham, PhD

2014-12-01

CBC News

Milkweed touted as oil-spill super-sucker — with butterfly benefits

Margo McDiarmid

2014-07-12

Toronto Star

Antonia Zerbisias

2013-11-22

New York Times

Jim Robbins

2013-11-20

Windsor Star

Sarah Sacheli

2013-09-24

Huffington Post / CBC

2013-07-10

Yahoo News Canada

Scott Sutherland
More Information:  Bees & Other Pollinators News
Return to AWARE-Ontario.ca Home Page
List of Ontario's Issues
Disclaimer: This information has been compiled through private amateur research for the purpose of allowing the reader to make an informed and educated decision. However, while the information is believed to be reliable, accuracy cannot be guaranteed.
APPENDICES
https://awareontario.nfshost.com/AWARE-Ontario/News%20Pollinators_Monarchs.htm