Species at Risk/Endangered Species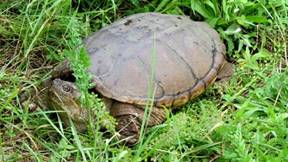 "Extinction is forever."
Provincial
On June 29, 2018 the Ministry of Environment, Conservation and Parks assumed responsibility for the Endangered Species Act, 2007.  The act was formerly the responsibility of the Ministry of Natural Resources and Forestry.
According to the Ontario Ministry of Natural Resources website (as at 3-Jun-2013):
With the passage of the Endangered Species Act (ESA 2007), Ontario becomes a North American leader in species at risk protection and recovery.
Ontario's original Endangered Species Act was written back in 1971. Since then there have been big changes in the province; changes in land and resource use, planning processes, and increasing threats to our native species. It was time for updated legislation.
During the year long review process we asked Aboriginal communities, industry and resource organizations, environmental groups, other partners, the Endangered Species Act Review Advisory Panel, and the Ontario public for their views. Support was strong for updated species at risk legislation.
Compared to Ontario's previous Act, the new ESA 2007 provides
broader protection for species at risk and their habitats,

greater support for volunteer stewardship efforts of private landowners, resource users, and conservation organizations,

a stronger commitment to recovery of species,

greater flexibility,

increased fines, more effective enforcement, and

greater accountability, including government reporting requirements.
However, on May 31, 2013, Ontario's provincial Cabinet announced sweeping exemptions for industry under Endangered Species Act, 2007 (ESA). The new exemptions lower the standard of protection for endangered plants and animals across many industries, including forestry, pits and quarries, renewable energy, hydro, mining, infrastructure development, waste management, and commercial and residential development. The new exemptions also dramatically reduce government oversight of activities affecting Ontario's lakes, rivers, forests, and wildlife.
Federal
[Add Species at Risk Act]
SPECIFIC ISSUES
Bees & Other Pollinators
Link to AWARE-Ontario's Bees & Other Pollinators News
Caribou
Date

yyyy-mm-dd

Source

Title

Comment

2018-11-01

EcoWatch / Olivia Rosane

Olivia Rosane

USA, Brazil, Canada, Russia, Australia

2018-10-30

TheGuardian.com

Humanity has wiped out 60% of animal populations since 1970, report finds

Damian Carrington

2018-05-12

EcoWatch / onEarth

America's Last Woodland Caribou Herd Is Down to Just Three Animals

Jason Bittel

2018-05-04

Toronto Star

Alberta, B.C. caribou need immediate intervention to survive, federal government says

The Canadian Press

2018-04-23

Toronto Star

Canada to oppose Alaska oil drilling on caribou habitat: minister

Bob Weber, The Canadian Press

2018-03-25

Global News

Alberta's stance on caribou a 'national test case' of Species at Risk Act

Colette Derworiz

2018-03-09

WesternStar.com

Quebec government to let threatened woodland caribou herd die off

The Canadian Press

2018-03-09

CBC News

Efforts to save woodland caribou in northern Quebec too costly, says province

Julia Page

2017-06-22

Nrdc.org

Anthony Swift, Jennifer Skene and Courtenay Lewis

2017-04-21

CBC News

Quebec to send threatened woodland caribou to zoo for protection

Angelica Montgomery

2017-04-20

CBC News

Environmental group sues Catherine McKenna for failing to report on efforts to save caribou habitat

Peter Zimonjic, Susan Lunn

2015-08-08

CBC News

Nearly entire caribou herd at St-Félicien zoo mysteriously dies
Monarch Butterflies
Link to AWARE-Ontario's Monarch Butterfly News
NEWS - Species at Risk/Endangered Species
Date

yyyy-mm-dd

Source

Title

Comment

2019-03-12

TheGuardian.com

'Almost certain extinction': 1,200 species under severe threat across world

Lisa Cox

2019-03-06

TheGuardian.com (USA)

Endangered species face 'disaster' under Trump administration

Oliver Milman

2019-01-31

EcoWatch / Olivia Rosane

Olivia Rosane

2019-01-11

EcoWatch / Lorraine Chow

WATCH: Poachers Ambush Sea Shepherd Vessel Protecting Nearly Extinct Vaquita

Lorraine Chow

- Paul Watson, Sea Shepherd Captain

- vaquita, world's most endangered marine mammal

2018-11-12

CTV News

'So many bears:' Draft plan says Nunavut polar bear numbers unsafe

Bob Weber, The Canadian Press

- too many polar bears?

[indicative of the difficulty in getting reliable stats]

2018-05-16

Water Canada

Katherine Balpataky

- Midland Painted Turtle

2018-05-08

CBC

Virus that has contributed to "mass mortality" in reptiles confirmed in Canadian turtle for first time

Dan Taekema

2018-05-03

OwenSoundSuntimes.com

Denis Langlois

2018-03-09

InsideHalton.com

Burlington's King Road to close for annual Jefferson salamander migration

Burlington Post

2018-03-05

DailyMail.com

Storm Emma's grisly aftermath: Incredible pictures show beaches blanketed by millions of dead fish, crabs and seals dragged ashore by gale-force winds and an underwater storm

Mark Duell

2018-02-27

Financial Post

Polar bears keep thriving even as global warming alarmists keep pretending they're dying

Susan Crockford

2018-01-24

EcoWatch / The Revelator

John R. Platt

2017-12-15

National Observer

Bluefin tuna in P.E.I. are so hungry they no longer fear humans

Elizabeth McSheffrey

2017-12-12

Toronto Star

Ontario regulations are jeopardizing species at risk, report says

Miriam Katawazi

2017-11-03

EcoWatch / Lorraine Chow

Hundreds of Sea Turtles Found Dead Off El Salvador and No One Knows Why

Lorraine Chow

2017-10-25

Sudbury Star

Jim Moodie

2017-10-07

TheBigWobble.org

Hundreds of thousands of fish, crabs, shrimp and other species are washing up dead on India's west coast leaving experts baffled

Gary Walton

2017-09-28

CTV News

2017-08-29

TheGuardian.com

Sea Shepherd says it will abandon pursuit of Japanese whalers

Ben Doherty

2017-07-11

New York Times

Era of 'Biological Annihilation' Is Underway, Scientists Warn

Tatiana Schlossberg

2017-07-05

Hamilton Spectator

How did the turtle cross the road? With some help from its friends

Sheryl Nadler

2017-06-27

EcoWatch / Lorraine Chow

6 Endangered Whales Found Dead This Month in 'Unprecedented Event'

Lorraine Chow

2017-05-31

BBC News

Sean Coughlan

2017-05-26

Global News

How an Ontario community set a global example for saving turtles on a deadly road

Allison Vuchnich, Veronica Tang

2017-05-03

Globe and Mail

Nine aquatic animals added to Canada's list of at-risk species

Luke Carroll

2017-03-21

YourNewsWire.com

Sean Adl-Tabatabai

2016-12-09

Smithsonian.com

Jason Daley

2016-11-11

EcoWatch / Dan Zukowski

Dan Zukowski

2016-10-26

Toronto Star

Ontario's moose population under threat, some bats may be wiped out entirely, environment report says

Kristin Rushowy

2016-10-11

Toronto Star

Law allowing exemptions to Ontario's endangered species rules upheld

Liam Casey

2016-09-15

NYwolf.org

Ontario Opts to Allow Threatened Algonquin Wolves to Be Hunted/Trapped

2016-09-14

Globe and Mail

Bird populations in steep decline in North America, study finds

Eric Andrew-Gee

2016-07-08

Aptn.ca

Mi'kmaq band asks for emergency order to protect at-risk salmon from natural gas project

Trina Roache

- Nova Scotia

- first time Cdn Dept of Fisheries & Oceans is asked to protect aquatic species at risk

2016-02-02

National Geographic

Scott Duke Harris

- rafetus turtle, China

2015-12-29

TheDodo.com

Sarah V. Schweig

- horseshoe crabs

2015-10-05

NYTimes.com

Environmentalists Praise Wildlife Measures in Trans-Pacific Trade Pact

Ron Nixon and Coral Davenport

2015-09-19

Toronto Star

Devon Page

2015-06-13

CTV News

Piping Plover comeback on Great Lakes aided by army of volunteers

Marlene Leung

2015-01-29

Natural News

West Coast orcas experiencing 100% infant mortality rate as radiation from Fukushima drifts across ocean

Daniel Barker

2015-01-03

EcoWatch / Anastasia Pantsios

10 Animal Species That Could Vanish in 2015 if We Don't Act Now

Anastasia Pantsios

2014-12-19

The Diplomat

Spare a Thought for the Tiger of East Asia, It's Almost Gone

Luke Hunt

2014-12-15

CBC News BC

2014-12-12

CBC News

Canada opts not to block international trade in 76 endangered species

2014-12-11

Huffington Post

Canada Hasn't Blocked Global Trade in 76 Endangered Species: Docs

Bob Weber, The Canadian Press

2014-08-26

CNW Newswire

Government of Canada is taking action to protect species at risk

Habitat Stewardship Program for Species at Risk

2014-05-26

In The Hills

Don Scallen

2014-04-24

Huffington Post

Chris Genovali

2014-03-28

Iler Campbell

Federal Court finds Canadian government failed to protect species at risk

Laura Bowman

2014-03-28

EcoWatch / Traffic

Surge in Illegal Trade of Turtles and Tortoises Spells Trouble for Rare Species

2014-03-04

Straight.com

David Suzuki: The fate of federally recognized endangered species remains in jeopardy

David Suzuki

2014-02-13

Youtube / Sustainable Human

2013-11-22

New York Times

Jim Robbins

2013-11-20

Windsor Star

Sarah Sacheli

2013-11-09

Green Party of Ontario

Video: Liberals sell out endangered species to corporate interests (2mins)

Mike Schreiner

- gov't removing Endangered species permits from the EBR process

2013-10-30

Globe and Mail

White fungus spells a dark future for North America's bat populations

Dene Moore

2013-07-13

Common Dreams

"Significant" Destruction of Canadian Wildlife Serves "Public Interest", says Govt Panel

Jon Queally

2013-06-30

Daily Mail (UK)

Mark Shand, palm oil

2013-05-31

Sun News

Antonella Artuso

2013-05-31

Ontario Nature

2013-03-11

InsideHalton.com

Temporary closure for Jefferson Salamander

2013-02-27

Mike Schreiner, Green Party of Ontario

Tim Hudak's attack on endangered species is misguided and unnecessary

2013-02-27

Toronto Star

Tim Hudak warns endangered species regulations hurting business

Robert Benzie

2012-04-25

Toronto Sun

Antonella Artuso

"species of special concern"

2012-02-18

Toronto Star

Mary Ormsby

2009-04-14

Youtube / PBS

- rafetus turtles, China
Other Risks:
Return to AWARE-Ontario.ca Home Page
List of Ontario's Issues
Disclaimer: This information has been compiled through private amateur research for the purpose of allowing the reader to make an informed and educated decision. However, while the information is believed to be reliable, accuracy cannot be guaranteed.
APPENDICES
https://awareontario.nfshost.com/AWARE-Ontario/News%20Endangered%20Species.htm