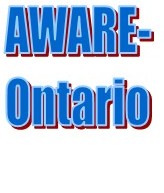 Arctic Impact News
The Arctic is believed to contain as much as one-quarter of the world's undiscovered energy resources. Mineral and hydrocarbon resources in the Arctic are well-documented and in the past decades efforts have been made to harvest those resources. However, ultimately the frigid environment was too risky and the cost of production too high to make operations worthwhile. Today, climate change (arctic ice is melting), new technology and increased location restrictions at home have changed the game.  Operations in the Arctic may have become worthwhile.
Players to watch are Russia, Norway, USA, Denmark (Greenland) and Canada.  Other players are Finland, Iceland, and Sweden.
Canada
- In addition to oil and gas, look for diamond or iron or some other kind of mining (article)
- Most experts believe that some 20-25% of Canada's conventional oil and gas potential occur in Nunavut. (article)
- At present there is no active exploration ongoing in these areas, though we remain optimistic that part of the Sverdrup Basin will be considered in the next few years, and that we may see exploration in the eastern offshore perhaps within this decade. (article)
- "There are all kinds of environmental consequences of drilling for oil and gas. Canadian Arctic is one of the most remote parts of the Arctic. So if something were to go wrong, it would be incredibly hard to deal with."  Charles Emmerson . (article)
- "Ottawa already has enough energy environmental concerns to deal with in the Alberta oil sands, and may not have the political appetite to take on environmentalists who are ramping up their global campaign against Arctic development."  Yadullah Hussain  (article)
- The Premiers of the Yukon, NWT and Nunavut are pushing for greater say in Canada's energy policy and on the intergovernmental Arctic Council (an association of coastal states and other interested parties that periodically discuss, security, environment emergency response and development)
- Husky Energy Inc. is building a 36-kilometre all-weather road between Norman Wells and Tulita (article)
- Chevron Corp. is planning seismic exploration in the area this year. (article)
- the government also recently sold two parcels north of Norman Wells, generating $92-million in work commitment. Overall, the oil and gas industry has committed close to $630-million of exploration over the next four to five years. (article)
- The [Canadian] government has made great noises about the desire for Canada to become an energy superpower, and the Arctic might be part of that."  Charles Emmerson . (article)
Arctic & Area News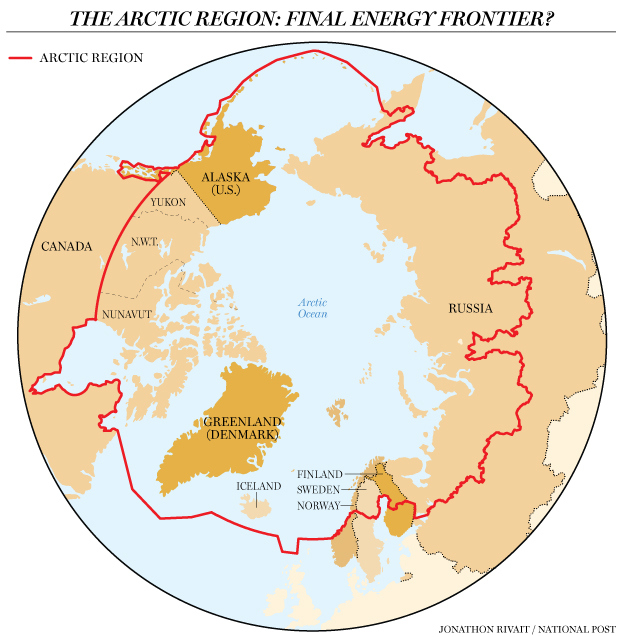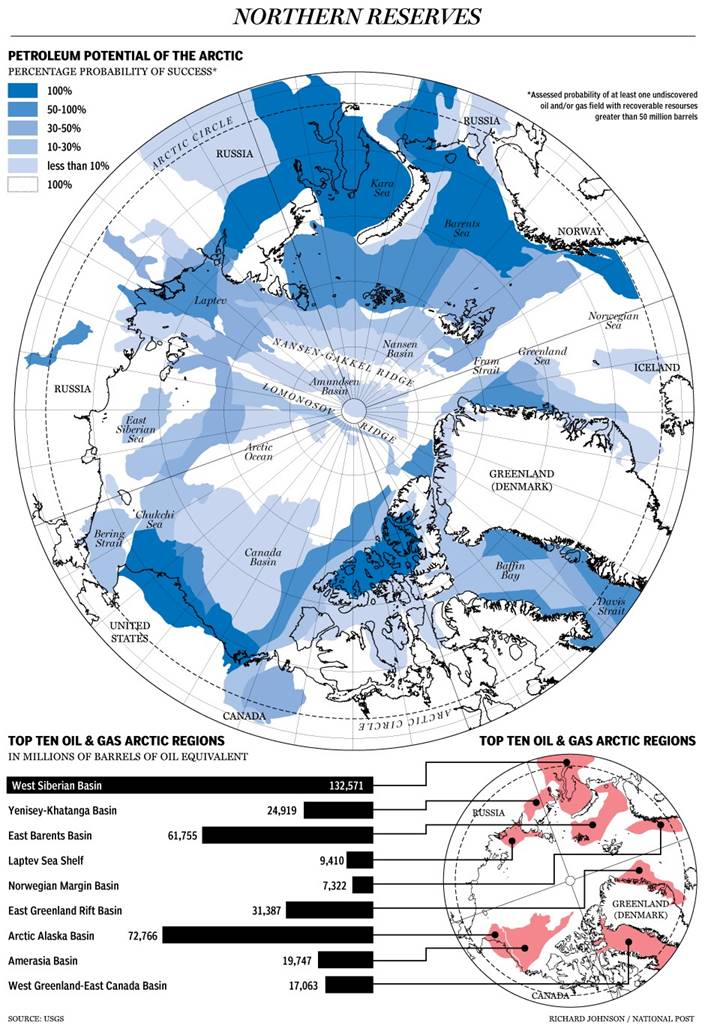 More information:
Mackenzie gas pipeline – an idea which has been around for decades and recently approved (NWT's centrepiece $16-billion project stuck in regulatory limbo for nine years and finally shelved due to poor economic feasibility) (article)
Opposition:
Greenpeace – www.greenpeace.org
#SaveTheArctic
"The greater Arctic region is one of the world's last few unexplored energy frontiers: foreboding and risky but irresistible to world powers given its treasures beneath. " Yadullah Hussain (article)
Return to AWARE-Ontario.ca Home Page
List of Ontario's Issues
Disclaimer: This information has been compiled through private amateur research for the purpose of allowing the reader to make an informed and educated decision. However, while the information is believed to be reliable, accuracy cannot be guaranteed.
APPENDICES
https://awareontario.nfshost.com/AWARE-Ontario/News%20Arctic%20Impact.htm