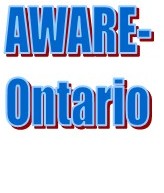 What Else Should I Know? 
Sinkholes
Nova Scotia Sinkhole
In August 2018, a sinkhole appeared in Oxford, Nova Scotia, in a community park.  The hole swallowed surrounding trees and picnic tables. (article)
Bayou Corne, Assumption Parish, Louisiana (40 miles south of Baton Rouge)
One night in August 2012, after months of unexplained seismic activity and mysterious bubbling on the bayou, a sinkhole opened up on a plot of land leased by the petrochemical company Texas Brine, forcing an immediate evacuation of Bayou Corne's 350 residents.  Texas Brine's operation sits atop a three-mile-wide, mile-plus-deep salt deposit known as the Napoleonville Dome, which is sheathed by a layer of oil and natural gas, a common feature of the salt domes prevalent in Gulf Coast states. The company specializes in a process known as injection mining, and it had sunk a series of wells deep into the salt dome, flushing them out with high-pressure streams of freshwater and pumping the resulting saltwater to the surface. From there, the brine is piped and trucked to refineries along the Mississippi River and broken down into sodium hydroxide and chlorine for use in manufacturing everything from paper to medical supplies.  What happened in Bayou Corne, as near as anyone can tell, is that one of the salt caverns Texas Brine hollowed out—a mine dubbed Oxy3—collapsed. The sinkhole initially spanned about an acre. One year later (Aug-2013) the sinkhole covers more than 24 acres and is an estimated 750 feet deep. It subsists on a diet of swamp life and cypress trees, which it occasionally swallows whole. (article & video)
Bayou Corne sinkhole (wikipedia)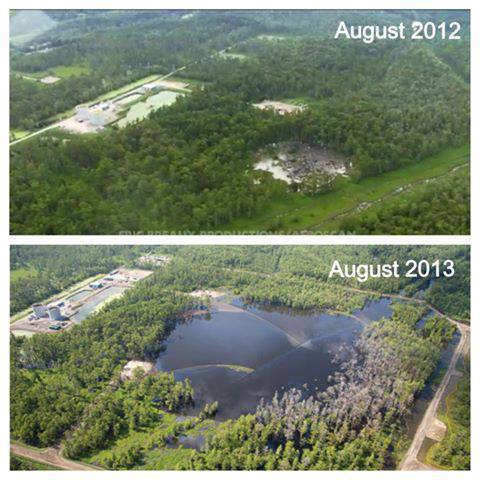 A salt dome is a large, naturally occurring underground salt deposit. Companies drill on the dome's outskirts to create caverns in which to extract brine that is used in the petrochemical refining process, or for storage of such things as hydrocarbons. Officials say a cavern was being mined too close to the edge of the Napoleon Salt Dome, which caused the "unprecedented" side wall collapse. (article)
Anatomy of Salt Dome Storage Cavern and Explosion (slides)
Additionally as per Deborah Dupre:
"The Department of Natural Resources (DNR) had quietly permitted Texas Brine Company LLC to pump radioactive waste into its now failing cavern near the sinkhole DNR also hid documents showing that cavern may have had problems since 2010."  [radioactive waste = soil contaminated with Naturally Occurring Radioactive Material (NORM) also radioactive oil and gas waste (article) ]
"Assumption Parish, an oil refinery haven in the heart of the nation's Cancer Alley, is crisscrossed with oil and gas pipelines."  (article)
"USGS maps show extra movement and stress from oil and gas operations are susceptible to present pressure of a series of earthquakes west of Louisiana, each being where fracking and frack waste injection storage are ongoing."  (article)
Lake Peigneur, Iberia Parish, Louisiana (north of Delcambre and west of New Iberia)
Lake Peigneur – Wikipedia  / youtube story
GENERAL NEWS - Sinkholes
Date

Source

Title

Comment

2020-11-05

Hcn.org

Elizabeth Miller

2018-08-28

Simcoe.com (Nova Scotia)

The Canadian Press

2018-08-11

Fox News (USA)

Sinkhole in Pennsylvania parking lot reportedly engulfs six cars

Elizabeth Zwirz

2018-03-31

Desmog

A Death in Louisiana's Cancer Alley Reinforces a Small Town's Fears of Industry Impacts

Julie Dermansky

2018-01-12

TheAdvocate.com

Judge: Fault for Bayou Corne sinkhole lies with Texas Brine, OxyChem, Vulcan; companies had decades of warnings

David J. Mitchell

2018-03-22

Science Alert

Massive Oil Fields in Texas Are Heaving, Sinking, And Opening Up Like Mouths

Peter Dockrill

2017-07-14

NBC News

"sinkhole alley"

2016-09-23

Forbes

Massive Sinkhole Leaks Radioactive Water Into Florida's Aquifer

Trevor Nace

- Mosaic Fertilizer

2016-09-17

Guardian (UK)

Florida sinkhole causes vast leak of wastewater into drinking water source

2014-03-20

WHTM

Dave Marcheskie

Pennsylvania, USA

2013-10-30

The Verge

Adrianne Jeffries

2013-09-12

Youtube / Matty

In Louisiana's "Cancer Alley", huge sinkhole creates more concerns, Al Jazeera America

Al Jazeera / Matty

2013-08-23

Fox News

Gregg Jarret with John Boudreaux

- gas has migrated into water aquifer

2013-08-22

Weather Channel

2013-08-22

Charlotte WCNC

Video:  Must See:  Sinkhole swallows trees in Louisiana (3mins)

2013-08-22

Daily KOS

The biggest ongoing disaster in the United States you haven't heard of

Jen Hayden

2012-09-05

Examiner.com

Sinkhole area Isaac aftermath fish kills raise potable water question

2012-08-28

Examiner.com

Sinkhole parish-wide evacuation, No cots, assistance checks or rescue

- due to sinkhole and to Hurricane Isaac

2012-08-12

Examiner.com

Sinkhole: H-Bomb explosion equivalent in Bayou Corne possible

Deborah Dupre

- hole may be close to a liquid butane well

2012-08-10

Examiner.com

Sinkhole cavern is not gas bubbles source, environmentalists say

Deborah Dupre

2012-08-03

Weather Channel
Return to Oil & Gas Overview
Return to AWARE-Ontario.ca Home Page
List of Ontario's Issues
Disclaimer: This information has been compiled through private amateur research for the purpose of allowing the reader to make an informed and educated decision. However, while the information is believed to be reliable, completeness and accuracy cannot be guaranteed.
APPENDICES
https://awareontario.nfshost.com/AWARE-Ontario/Issues/Oilgas_Louisiana/Oilgas_Louisiana_Overview.htm