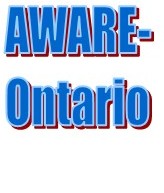 Pickering Airport / Pickering Lands / Federal Lands
Forty years ago (around 1972) Canada's federal government expropriated (aka eminent domain for our American friends) 18,600 acres of farmland to build an airport in Pickering, east of Toronto.  However, Pearson International Airport (at 4,400 acres) was modernized and expanded, and was sufficient to meet the needs of local area so the land was set aside or leased to farmers.  Much of the western portion of the federal lands lies in the Greenbelt.
On June 11, 2013 federal Finance Minister Jim Flaherty made the surprise announcement that the Pickering airport would go ahead (and that 5,000 acres of the Pickering lands would be transferred to Parks Canada to expand the Rouge Urban National Park to almost 15,000 acres).
Opponents say an airport would result in loss of prime farmland, air & noise pollution, green space loss, wildlife impact, watershed impact & contaminated water, health hazards.  They also note that it would be close, perhaps too close, to the Pickering nuclear plant.
Airport Proponents:
Airport Opposition:
Land Over Landings, North Pickering
http://www.landoverlandings.com
Facebook page:  www.facebook.com/LandOverLandings  / Facebook group:   www.facebook.com/groups/LandOverLandings
Food and Water First Campaign (www.foodandwaterfirst.com)
"The Greenbelt is not a place to be building a giant international airport. This is some of the best prime farmland and nature in the city and we think it's worth protecting."
Faisal Moola, Director General, David Suzuki Foundation
Return to AWARE-Ontario.ca Home Page
List of Ontario's Issues
Disclaimer: This information has been compiled through private amateur research for the purpose of allowing the reader to make an informed and educated decision. However, while the information is believed to be reliable, accuracy cannot be guaranteed.
APPENDICES
https://awareontario.nfshost.com/AWARE-Ontario/Issues/Dev_Pickering%20Lands/Pickering%20Lands.htm
#PickeringLands #FoodOverFlights @LandOverLandings #OntAg #ONpoli #agriculture #agritourism #FoodAndWaterFirst