Aggregate News
Dufferin Aggregates – Proposed Watts Pond Road, Paris Pit
Location:  Lot 26, 27, 1,2 & 3, Concession 3, 2, WGR, South Dumfries, County of Brant, ON (Licence 5601)
CRH Canada Group Inc. aka Dufferin Aggregates Ltd, a subsidiary of Holcim, has proposed to start up a 614-acre gravel pit on farmland near Paris based on a 38-year old licence. Since the licence was granted, residential areas have been built and the community of Paris has come to rely on two source water wells (Gilbert and Telfer well fields) close to the proposed site. The local citizens are asking that the gravel pit proposal be considered under today's standards and circumstances, and not simply given approval based on an old never-used licence.
Under the Aggregate Resources Act, aggregate licences do not expire. They can be revoked by Ontario's Ministry of Natural Resources or the licenced area can run out of aggregate based on licence conditions, but otherwise the licence has no time limit.
Dufferin Aggregate is working towards having the site operational in late 2014 or early 2015.
EBR 011-8609 Permit to Take Water "aggregate extraction is above the water table at this time"
EBR 012-4127 Environmental Compliance Approval (sewage)
UPDATE: 
Site became operational in 2015.
Locals fighting Permit to Take Water (Jan-2017)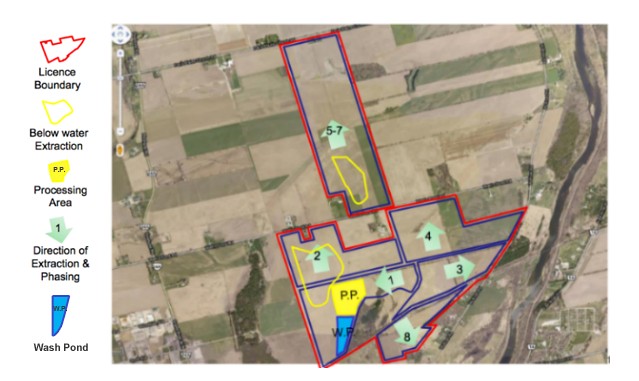 News:  Dufferin Aggregates – Proposed Paris Pit (most recent first)
For More Information:
Proponent:  Dufferin Aggregates www.dufferinparispit.com
Opposition:  Concerned Citizens of Brant / www.ccob.ca
Support – www.Gofundme.com/ParisPitAppeal
Paris Pit Tour on Youtube (2013) (note "typex.ca" website no longer exists)
Water Displacement on Youtube (2012)
For other "dormant" quarry issues:
Meridian Brick Quarry expansion
Return to AWARE-Ontario.ca Home Page
List of Ontario's Issues
Disclaimer: This information has been compiled through private amateur research for the purpose of allowing the reader to make an informed and educated decision. However, while the information is believed to be reliable, accuracy cannot be guaranteed.
APPENDICES
https://awareontario.nfshost.com/AWARE-Ontario/Issues/Aggregate_Paris%20Pit/Paris%20Brant.htm