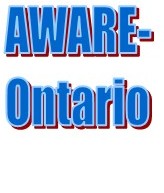 Brock Aggregates - Tottenham Pit (Palgrave, Town of Caledon)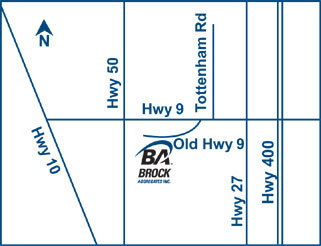 Confirm:  ID #6677 Class A Licence, pit, 32.7ha, maximum annual capacity 270,000 tonnes, W ½ Lot 26, Conc. 10?
The Tottenham pit started as an unlicenced pit in a farmer's field more than 50 years ago.  It was licenced in 1987 but has never had to undergo a thorough licencing application to ensure community safety based on current regulations.
Located at 17027 Mount Wolfe Road/Hwy 9 in Palgrave, Town of Caledon, this Brock Aggregates Inc. gravel pit was productive in the 1980s.  The existing licence is for an above water-table gravel pit.  After exhausting the pit, the licence was inactive for years.  However the company recently (2009) applied to amend the siteplan to increase the extraction footprint below and above the water-table, contrary to the original agreement with the community, which promised to turn the site into estate residential lots.  In addition the company has proposed changes to it's progressive and final rehabilitation plan, allowing the below-water-table site to revert to a lake once exhausted.
The site should be subject to Oak Ridges Moraine legislation.
Local residents consider their water and property values at stake.
Residents' Contacts:
Cheryl Connors, Protect Caledon Inc.
Mike McGarrell
New Tecumseth, Caledon & King (NTCK) Citizens for Clean Water
Brock Contacts:
Pat Lamanna, VP Brock Aggregates Inc., VP G & L Group, Senior VP 693316 Ontario Ltd.
Dominic Suppa, Chief Financial Advisor 693316 Ontario Ltd.
G & L Group owns Brock Aggregates
http://www.brockaggregates.com
Status Update – 6-Sep-2016 (as per Friends of Pitsense)
Despite frequent and vociferous objections by community residents, the recent major site plan amendment for the Tottenham Pit was quietly approved in June 2015 without notice given to community representatives. It was only much later the same year that a resident inadvertently discovered that an approval had been granted months earlier. The Mayor and Councillors initially denied knowledge of the approval. It was only later when evidence surfaced that they had been notified in June that they admitted to the facts.

More recently still, residents learned that discussions have been underway to explore turning the site into a commercial fill operation. Our Town officials have been reluctant to disclose any details about these discussions. It appears that Brock Aggregates is affiliated with a number of other companies, some of which seem to be engaged in waste disposal and similar activities. Recent happenings at the site – license conditions not being followed (particularly around dust mitigation, noise and hours of operation), persistent noise from back-up beepers and other heavy equipment disturbing residents, internal roads construction, major dust storms blanketing neighbouring homes and causing respiratory distress, tree removal, destruction of swan nests, and a large multi-acre fire – have only served to increase the levels of concern.

On August 8, 2016 a 'Public Liaison Committee' (PLC) meeting was held (a requirement of the license), from which members of the community who wanted to observe were barred and forced to leave despite the fact that the terms of reference drafted by the Town of Caledon and formally approved by Council state that "Members of the public may attend to observe committee meetings." It appears that the operator, without approval of the PLC, arbitrarily removed that clause.

It also appears that the selection process for appointing PLC members was not followed as stipulated in the draft terms of reference;

"Residents or representatives of groups who are interested in being appointed to the PLC may apply to the Town of Caledon and the Town Council shall appoint such members." [From Town of Caledon DP-2015-08, emphasis added]

The PLC is simply not what was anticipated by either the residents or the Town and appears to be destined to not serve its intended purpose of an open and transparent bridge between the public and the pit operators. The draft terms of reference state that the operators should "… establish and maintain a good working relationship among the pit operator, the residents living in the vicinity of the site and the regulatory agencies". However, at the August meeting company representatives yelled at residents who had arrived at the meeting to observe and threatened to sue them as they were removed. It was an extremely frightening experience for the residents.

Neighbourhood residents are extremely frustrated and some fear for their safety. In addition to various intimidating tactics utilized by the MNRF and the pit owners, residents are distressed that Town of Caledon and Ministry officials are stonewalling, failing to respond, misleading them and failing to represent their best interests.

There are many more details available. A large file of related information has been compiled, including pictures and recordings. PitSense believes a prompt, thorough and independent investigation is in order.


Petition:  http://www.thepetitionsite.com/32/say-no-to-the-tottenham-pit-expansion/ (closed)
Date

yyyy-mm-dd

Posted By

Article Link

Comment

2015-10-14

Orangeville Citizen

Bill Rea

- Mike Schreiner, Nancy Urekar

2015-10-07

Caledon Enterprise

Matthew Strader

- application approved May 19, township notified June 12

2015-06-12

Comment

MNRF approves siteplan amendment

- no EBR posting …

2012-10-26

Caledon Enterprise

Ministry of Natural Resources says fuel spill at Tottenham Pit is old

Matthew Strader

2012-10-25

Caledon Citizen

Bill Rea

2012-10-24

Stone Cold Truth

Status update

2012-10-22

Simcoe.com

Matthew Strader

2012-10-19

Simcoe.com

Matthew Strader

2012-04-26

Caledon Enterprise

Richard Whitehead, Regional Councillor Ward 3 & 4, Town of Caledon

2012-04-02

Caledon Enterprise

Matthew Strader, Tottenham pit

2012-03-29

Caledon Citizen

Bill Rea, Brock Aggregates

2012-03-07

Caledon Enterprise

Matthew Strader, other aggregate proposal, Sylvia Jones, Palgrave residents

2012-02-29

Caledon Enterprise

Matthew Strader

- Gravel Watch, Helen Purdy

2012-01-05

Caledon Enterprise

Richard Paterak, Regional Councillor, Ward 1 Town of Caledon

2009

Brock applies for siteplan amendment to extract to the full limit of the licence

(article)

Comment

Pit ownership becomes Brock Aggregates

(article)

Comment

Pit is depleted and site becomes inactive

(article)

Comment

Dufferin Aggregates purchases operation

(article)

Comment

Below-water-table extraction begins – siteplan amendment application

(article)

1987

Comment

ARA licence application & official plan/re-zoning applications submitted

(article)

- above water-table extraction

- Gormley Sand & Gravel
Link to other large-scale fill issues
Return to AWARE-Ontario.ca Home Page
List of Ontario's Issues
Disclaimer: This information has been compiled through private amateur research for the purpose of allowing the reader to make an informed and educated decision. However, while the information is believed to be reliable, accuracy cannot be guaranteed.
APPENDICES
APPENDIX A
http://awareontario.nfshost.com/AWARE-Ontario/Issues/Aggregate_Tottenham%20Pit/Tottenham%20Pit.htm
APPENDIX B
Facebook Entries
Cheryl Connors: "Well Brock has been running their processor and crusher all week near me. And I am so sick already. Our house is full of dust. I am having trouble breathing and I have a headache that won't go away. Our lives have been absolutely destroyed. And those councillors couldn't give a crap." (April 29, 2016)