Aggregate News
Dufferin Aggregates, a Division of CRH Canada Group Inc. (www.crhcanada.com)
Cedarhurst Quarries and Crushing Limited, Beamish Pit proposal, Teedon Pit Expansion
Location:    Lots 79 & 80, Concession 1 WPR
                 West of Darby Road / west of Hwy 93
County of Simcoe, Township of Tiny
Sibthorpe pit (new), Teedon pit (#3670)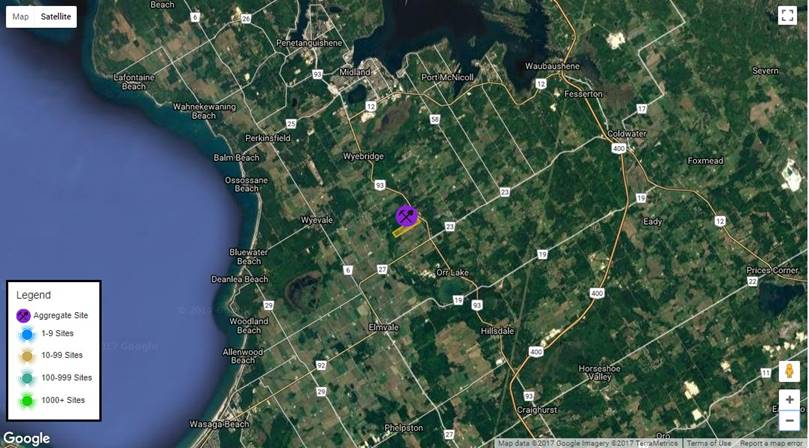 Proposal to amend an existing pit (Teedon #3670) plus establish a new pit (formerly called Sibthorpe) adjacent on the north side (north ½ of Lot 80, Concession 1, W.P.R. & Part of Original Road Allowance between lots 80 and 81, Concession 1, W.P.R. Township of Tiny, County of Simcoe for overall area of 15.3 ha / 38 acres (although 42.6 ha requested?)).
There are already two pits owned by the Sarjeant Co. adjacent on the south (607361) and west (607461) sides. (See diagram below).
In addition to problems associated with aggregate operations, the local community is concerned about removal of filtration material into the Alliston aquifer, as well as the cumulative impacts of the four (4) pits.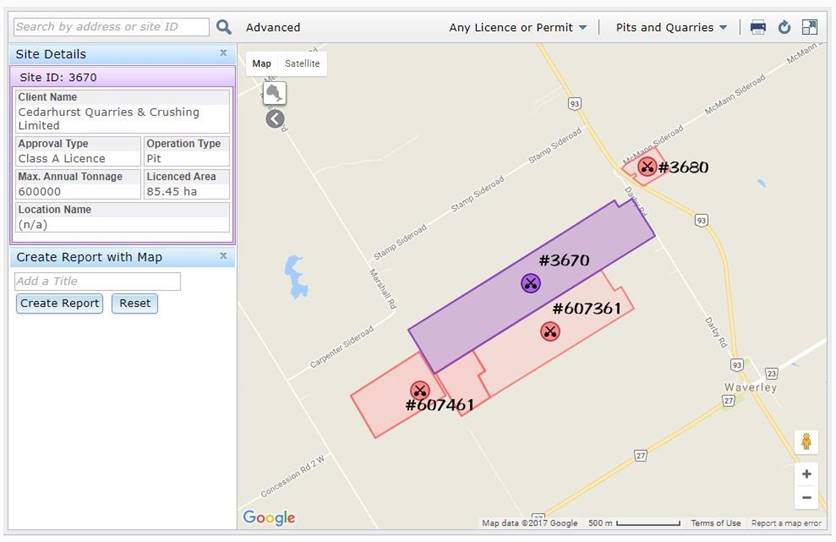 Source: Pits and Quarries Online system
Owner/Operation

Licence

Class

Maximum Tonnage

Licenced

Area

Comment

Dufferin Aggregates,

CRH Canada / Cedarhurst Teedon gravel pit

3670

A

600,000

85.45 ha

north

Sarjeant Co. Waverley Pit No. 1, gravel pit

607361

A

1,000,000

52.74 ha

South, proposed 2006, OMB 2013, licence 4-Mar-2014

EBR #IB06E2036

Sarjeant Co. Waverley Pit No. 2, gravel pit

607461

A

Below water table

1,000,000

40.08 ha

West, proposed 2006, OMB 2013, licence 4-Mar-2014

EBR #IB06E2037

Proposed

Cedarhurst Sibthorpe gravel pit

requested

A

600,000

42.6 ha

North adjacent to Teedon pit, currently forested area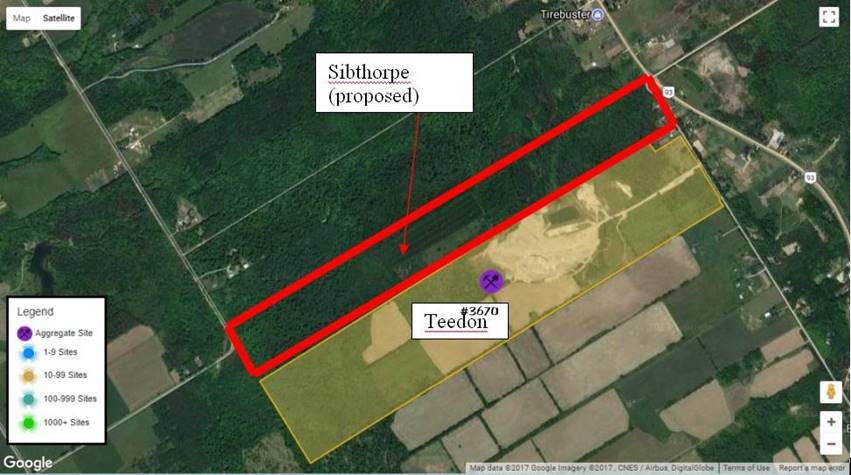 Link to google map
Teedon (existing)
Teedon site is operated under the authority of Licence #3670 under the Aggregate Resources Act.  Class A licence, above water table, 85.45 ha, 600,000 tonnes/year.
Amendment to site plan (EBR #012-3848) proposed around March 2015 to:
Increase the depth of extraction

Reduce fencing requirements

Remove the northern and southern setbacks

Permit the importation of asphalt, concrete, aggregate and topsoil/fill for transfer or processing

Import fill for the establishment of 3:1 slopes in rehabilitation

Permit overrides for the processing and stockpiling of material along the northern and southern boundaries

Change the rehabilitation plan, removing the slope along the southern boundary and show a common final floor elevation with the neighbouring pit

Permit a wash plant and wash pond on-site.
Amendment was approved around April 2017.
For more information see Dufferin Community Liaison Committee
Permit to take water (PTTW) expired on April 28, 2018.  Application
Teedon Pit Expansion (formerly called Sibthorpe) – Proposal for New Pit
A new pit is proposed on the property immediately north of Teedon, which is currently forested.
Class "A" aggregate licence above the water table, Category 3, max. 600,000 tonnes per year; 42.6 ha / 39.0 extractable; depth of extraction 10 metres to 41.2 metres remaining 1.5 metres above the water table.  Contains an estimated 10 million tonnes of sand and gravel.  Expected to be rehabilitated to 15.3 ha of productive cropland.
Opposition:
Surrounding land owners are convinced that the gravel pit has impacted their wells.  Additionally, people are worried because the plan virtually eliminates French's Hill, which filters and produces some of the cleanest water on the planet accord to William Shotyk, Professor and Bocock Chair for Agriculture and the Environment at the University of Alberta (letter .pdf).  Note that the property is directly east of the Site 41 property.
French's Hill and the Waverley Uplands are the recharge area for the Alliston Aquifer, which also supplies drinking water to Tiny, Springwater and Tay townships.
Friends of Waverley Uplands (facebook)
Owner / Proponent:
Beamish owned this Cedarhurst property and sold it to Dufferin Aggregates, which in turn was purchased by CRH Canada (www.crhcanada.com).  Notice of change of applicant was sent out in August, 2019.
Entered on Ontario's Environmental Registry (EBR 013-4911) on March 20, 2019 with public comment period until May 6, 2019. 
Timeline (chronological order)
| | |
| --- | --- |
| Date | Event |
| 2012-02-15 | Tiny Twp receives Beamish proposal (article) |
| 2012-03-26 | Tiny Twp deems application complete (Notice of Public Hearing .pdf) |
| 2012-04-04 | Tiny Twp notice of application (link) |
| 2012-12-23 | Tiny Twp notice of public meeting (link) |
| 2015-03 | Amendment to Teedon (#3670) site plan proposed (EBR #012-3848) |
| 2015-04-17 | Tiny Twp letter to MNRF re: application for site plan amendment |
| 2017-05-26 | CRH Canada Group Inc. – Change of ownership from K.J. Beamish Construction Co. Ltd including Cedarhurst Quarries & Crushing Ltd. To become part of Dufferin Aggregates, a division of CRH Canada |
| | Township of Tiny official plan amendment (OPA) and zoning by-law amendment applications (link) |
| 2018-11-16 | Official plan and zoning amendments appealed to Ontario Municipal Board (OMB) / Environment and Land Tribunals Ontario (ELTO) OMB Case/File #PL180416 (link) (e-status) |
| 2018-12-05 | Proponent requests 6 months delay at OMB to consolidate hearings (article) |
| 2019–03-05 | Public information session re: application under Aggregate Resources Act for Category 3, Class "A" Pit Above Water |
| 2019-03-25 | End of public comment period for Teedon Pit Expansion proposal in writing.  On EBR (#013-4911) until May 6, 2019. |
| 2019-07-02 | OMB pre-hearing scheduled to resume (article) |
| 2020-01-22? | Sarjeant gets approval from Tiny Township to upgrade French's side road for a haul route, heralding the startup of pits #607461, 607361 |
NEWS (reverse chronological order)
More Information:
Friends of Waverley Uplands (facebook)
Return to AWARE-Ontario.ca Home Page
List of Ontario's Issues
Disclaimer: This information has been compiled through private amateur research for the purpose of allowing the reader to make an informed and educated decision. However, while the information is believed to be reliable, accuracy cannot be guaranteed.
APPENDICES
APPENDIX A
https://awareontario.nfshost.com/AWARE-Ontario/Issues/Aggregate_Tiny_Twp/Beamish%203670.htm
APPENDIX B
CRH Canada Acquires Some K.J. Beamish Operations
As of May 26, 2017, CRH Canada Group Inc. officially acquired the King City, Holt, Orillia, Midland, Coboconk, Bark Lake and Barrie operations of K.J. Beamish Construction Co., Limited and Royel Paving Limited.
CRH Canada is a leading manufacturer of cement, aggregates and ready-mix concrete and provides construction services to many of Canada's largest infrastructure projects. With over 3,000 employees, CRH Canada has a portfolio of brands that operates across Canada, including Dufferin Construction and Dufferin Aggregates in Ontario, the Great Lakes region and the Northwest U.S. CRH Canada is a subsidiary of CRH plc, headquartered in Ireland and one of the top three international building materials companies in the world, with a strong track record of performance and a clear commitment to safety and ethical business practices. (source)
APPENDIX C
Facebook Comments
Person 1: According to the PTTW of the Teedon pit (which expired in April 2018 and hasn't yet renewed) "Past claims by a small number of nearby residents to the water quality (silt) in their domestic wells have been caused by operation of the aggregate washing operations have been investigated and determined to be unfounded. The MOECC has attributed the domestic well quality issues to the shallow and silty nature of the shallow aquifer and/or poor well maintenance."
Interesting that there was an "unplanned water taking" in 2015 when a pump inadvertently ran for 11 weeks discharging an estimated 108 million litres of water. I guess they don't like to talk about that too much. But since there were no complaints, assumption is no harm done.
Person 2: The area residents were having huge silt issues at the time the "unplanned" water taking. In reality the gravel pit left the water running. I know the Pigeon family called repeatedly. THE MOECC did not even go and check. Area wells turned to silt laden water causing huge hardships. Toilets, water heaters and washing machines have been replaced. They did not find out until much later that they had left the gravel pit had left the water on. MOECC says its poor well construction. they all got the same form letter.
APPENDIX C