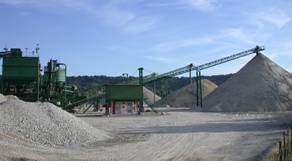 Melville Gravel Pit Proposal
20946 Willoughby Road
Olympia Sand and Gravel has proposed a new gravel pit west of Caledon and south of Orangeville on Lots 27 & 28, Concession 2 between Porterfield (Peel Rd 136) & Willoughby Rds, north of Highpoint Sideroad.  The operation would be an above water-table, 118.6 ha/293 acres (extraction area 80.8ha/200acres) extracting 1.2 million tonnes/year with 12 million tonnes in reserve, with an expected operation life of 20 years.
Opponents cite concerns as noise, truck traffic, water use, air quality and no proof of need for the material.  They also state that there are at-risk species on the site (bobolinks, Jefferson salamander, butternut trees) but there is no mention in the Environmental Registry listing (EBR 011-8792).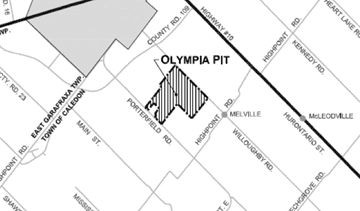 Approval Process:
Zoning by-law amendment – rezone 118 ha at 20946 Willoughby Road.
Official plan amendment
Conservation Authority approval if applicable (Credit Valley)
MNR Aggregate Resources Act licence
Permit To Take Water
Peel Region site access approval (from Porterfield)
Sewage permit
Air permit
News
More Information
Industry:
Olympia Sand and Gravel
Opposition: 
Citizens Against the Melville Pit (CAMP) - https://www.facebook.com/CAMPCaledon (Paul Bunt) and www.stopthemelvillepit.com
Return to AWARE-Ontario.ca Home Page
List of Ontario's Issues
Disclaimer: This information has been compiled through private amateur research for the purpose of allowing the reader to make an informed and educated decision. However, while the information is believed to be reliable, accuracy cannot be guaranteed.
APPENDICES
Link:  https://awareontario.nfshost.com/AWARE-Ontario/Issues/Aggregate_Melville/Melville%20Caledon.htm