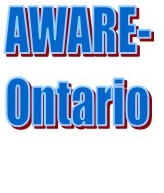 AGGREGATE NEWS
Melrose/Long's Proposed Quarry Expansion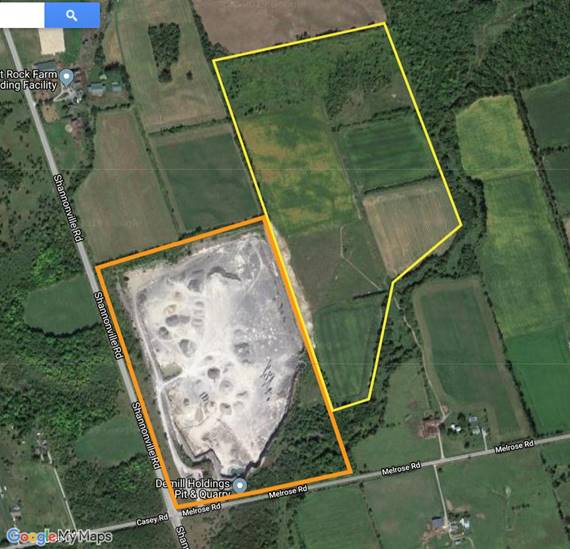 Location:  Long's Quarry, 13 Melrose Road, Lot 6 and 7, Conc. 3, Shannonville, Tyendinaga Township, County of Hastings, northeast of Belleville
Proponent:  C.H. Demill Holdings Inc.
A new and separately licenced quarry (25.73 ha) is proposed (Feb-2013) adjacent to Long's quarry (Licence #3083 24.3 ha) for a combined total of more than 120 acres.  Long's quarry, in existence since 1939, is currently licenced for 500,000 tonnes annual extraction and the application is to double that rate to 1 million tonnes.  Currently the average extraction rate is 170,000 tonnes per year.
Opponents are worried about loss of farmland (5 fields), impact on the neighbouring creek, water quality, water supply (5 dairy farms in area), increased heavy truck traffic (2.9x), dust, soil impacts, noise, vibration, decreased property values, poorer road conditions, impact on wildlife and on environment, residential impact and safety (school, recreation centre and library). 
There are nearly 300 homes within two kilometers of the quarry and each of them are 100 per cent dependent on wells (source).
The Ontario Federation of Agriculture as well as the Hastings Federation of Agriculture have come out against the quarry expansion proposal.  (article)
Approval Process:
EBR IA05E0847 Permit to take water (2-Aug-2005) decision – request denied "based on the past history of the quarry further hydrogeological studies with respect to potential quarry floor pop-ups and their effects on the area's water supplies are required. Therefore a Permit to Take Water was not issued."
EBR 011-2498 Class A licence to remove more than 20,000 tonnes of aggregate annually from a pit or quarry (4-Feb-2011) proposal – part Lot 7 Conc 3
EBR 011-4894 Permit to take water (4-Nov-2011) proposal
EBR 011-5368 Permit to take water (23-Apr-2013) decision – 2 years approved
EBR 011-6645 Environmental Compliance Approval (sewage) (11-Sep-2013) decision
EBR 012-0410 Permit to take water (29-Jul-2014) decision – 1 year approved expiring 30-Jun-2015
Case No. 14-053 Environmental Review Tribunal Leave To Appeal by Citizens Against Melrose Quarry
Tyendinaga Township Council zoning by-law amendment from agriculture to aggregate – approved in 2019
Official plan amendment if applicable
Conservation Authority approval if applicable
Air permit
"Proponent has a history of non-compliance with Ontario's environmental laws"? (Source EBR 012-0410)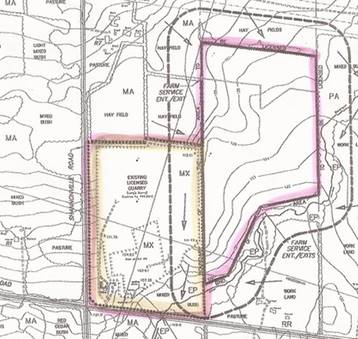 News – Melrose Quarry Expansion Proposal
More Information:
Citizens Against Melrose Quarry (CAMQ)
Contacts:  Jim Bates, Sue Munro-Chairperson, Cheryl Holand-Hughes-Secretary
www.citizensagainstmelrosequarry.com
Return to AWARE-Ontario.ca Home Page
List of Ontario's Issues
Disclaimer: This information has been compiled through private amateur research for the purpose of allowing the reader to make an informed and educated decision. However, while the information is believed to be reliable, accuracy cannot be guaranteed.
APPENDICES
https://awareontario.nfshost.com/AWARE-Ontario/Issues/Aggregate_Melrose/Aggregate_Melrose.htm