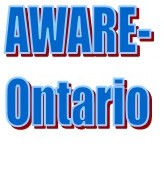 Heart Lake Road, McCormick Property
Blueland Farms Limited, Caledon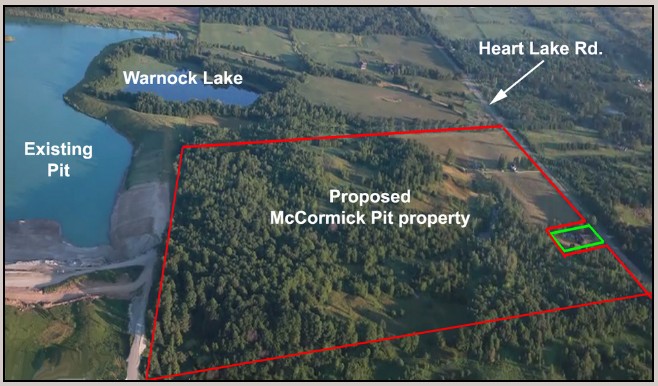 Location: 17736 Heart Lake Road, Part Lot 12, Concession 2 (EHS), Town of Caledon (west side of Heart Lake Road, south of Charleston Sideroad), Regional Municipality of Peel
Proposal on 40.5 hectare (100 acres) McCormick property is an aggregate licence area of 25.97 ha (64 ac), with 20.75 ha (52 ac) extraction below the water table gravel pit.  The annual tonnage condition applied for is 750,000 tonnes per year.  It is proposed that all tonnage removed from the proposed licence and adjacent ARA licenses #6512 and #19073 will be combined for total annual tonnage of 1,800,000 tonnes.   
Harrington McAvan Ltd. on behalf of Blueland Farms Limited has applied for an official plan amendment (from rural area to extractive industrial area B) to permit mineral aggregate resource extraction (gravel pit) below the water table and accessory uses (crushing, screening, washing, stockpiling and recycling of asphalt and concrete material). For further information contact Town of Caledon Development Approval and Planning Policy Department (905-584-2272 x4223) File No. POPA 13-02
Estimated Requirements:
- official plan amendment from "rural" to "extractive industrial" (early 2013)
- zoning amendment
- Niagara Escarpment Plan Amendment (EBR 013-3656)
- Niagara Escarpment Commission Development Permit
- Aggregate Licence from the Ministry of Natural Resources (ON)
- Permit to take water from Ministry of Environment
- Sewage permit from Ministry of Environment
- Air emission permit from Ministry of Environment
Proponent
Blueland Farms Limited (Wiarton, ON) specializes in developing aggregate pits and quarries simply because the process of prospecting and seeking local zoning and Ontario Ministry of natural Resources (MNR) approvals has become so labour-intensive. The company develops new aggregate sites for other producers. Steve Mader, Vice-President notes "I get them through the regulatory hurdles, get them licensed, get the berms and fences up, break ground, move equipment in and operate them for six months to get production rolling," he says. "At that point I sell them to another producer to operate for the remainder of the licence." (article)
Opponents are fighting to stop this pit due to increased noise and pollution for equipment, neighbouring property depreciation, woodlot destruction, potential water contamination and wildlife impact. In particular, the cumulative impact of such aggregate operations in Caledon is a concern to grassroots groups. (Caledon map 2013)
Timeline (chronological order)
Date

Event

2013-06

Public comment period for original proposal and official plan amendment.  Proposal included property access to Heart Lake Road for haulage, travelling north to Charleston Sideroad, then west to Highway 10 or east to Airport Road.  

Zoning change?

Permit to take water?

2019-03-07

As per the Friends of Pitsense, Blueland has filed a new Notice of Application for a Class A licence proposing to excavate aggregate at the McCormick property located on Heart Lake road, Lot 12 Concession 2 EHS near Caledon Village.  Licenced area 25.97 hectare / 20.75 ha extraction area.  A maximum annual tonnage limit of 750,000 tonnes.  An agreement between Blueland Farms Ltd. and James Dick Construction Limited so that the material from the proposed pit will be transported within an internal network to the adjacent existing licensed pit to the west for processing and shipping, resulting in limited processing on site and no proposed truck traffic on Heart Lake Road.

The Notice of Public Information Session was also filed.

Opponents continue to cite concern over environmental impacts, well water quality and supply, air quality, health, noise pollution, additional heavy truck traffic, safety issues, impact on protected green space (a world heritage site, conservation area, Niagara Escarpment area, greenbelt area, Oak Ridges Moraine, etc.), rehabilitation and site after-use, economic impacts in the form of additional long-term costs, property value decreases and consolidated impacts of the other 10 adjacent aggregate licences..  (Source)

2019-03-10

Notice of application for aggregate licence not yet listed on Ontario's Environment Registry (www.ebr.gov.on.ca)

2019-04-04

Notice listed on EBR #013-4923.  Also application for approval of an amendment to the Niagara Escarpment Plan #013-3656
NEWS – Heart Lake Area, Caledon
Date

Source

Title

Comment

2019-03-07

Blueland Farm

Application under Aggregate Resources Act filed.

Public Information Session is March 25, 2019

2013-07-25

Daily Commercial News

Peter Kenter

Mader is currently working to process an application for a 100-acre site in Caledon, Ont.

2013-06-24

Avaaz.org / Katelyn F.

Collecting names & addresses of opponents

2013-04-15

Town of Caledon

Official plan amendment application

2011-01-01

People for Responsible Escarpment Development Caledon

2010-03-15

Orangeville Banner
For more information:
Town of Caledon Planning website
Pitsense - www.pitsense.ca / pitsense@pitsense.ca
People for the Responsible Escarpment Development Caledon (REDC) - www.peopleforcaledon.com
Return to AWARE-Ontario.ca Home Page
List of Ontario's Issues
Disclaimer: This information has been compiled through private amateur research for the purpose of allowing the reader to make an informed and educated decision. However, while the information is believed to be reliable, accuracy cannot be guaranteed.
APPENDICES
https://awareontario.nfshost.com/AWARE-Ontario/Issues/Aggregate_McCormick%20Heart%20Lake/McCormick%20Heart%20Lake.htm