Carmeuse Lime (Beachville) Quarry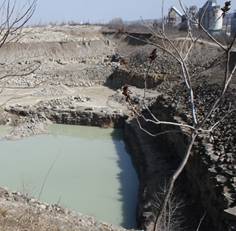 Location
Lots 14 and 15, Concession 3, North Oxford, north of the CN rail line and west of County Road 6, Zorra Township, Oxford County, north-east of Ingersoll (map (.pdf))
Located north-east of Ingersoll in Zorra Township, Oxford County, the Carmeuse Lime quarry is an active quarry on 2,000 acres licenced since x. Near the Township of South-West Oxford, the towns of Ingersoll, Beachville and Centreville, the pit is halfway between Guelph and London and just 550 metres from the Thames River.
The quarry is owned by Carmeuse, an international lime conglomerate based in Belgium.
Walker Industries' Southwestern Landfill Proposal
Carmeuse Lime established an option to lease 80 ha/60m deep (200 acres/200' deep) section of the quarry site to Walker Environment Group/Walker Industries, a Niagara-based company involved in aggregate extraction, paving and waste management, among other operations. Walker has proposed a landfill using a multi-layered liner capable of accepting 850,000 tonnes annually over a 20 year period. At 17 million tonnes (article) it would be the fourth largest landfill in Canada by volume. Such an operation would also add 100 hauling trucks a day onto local roads.
The project is subject to an Ontario Ministry of the Environment Environmental Assessment (EA).
According to the website, if approved, the Southwestern Landfill would accept non-hazardous, solid waste from businesses and communities across Ontario. The broad scope is to have the proposal become the cornerstone for a campus of environmentally based businesses in Oxford County. These businesses could include recycling facilities, compost operations, biomass fuel and landfill gas projects. (article)
Walker contends that the landfill would employ up to 30 people. However, opponents point out that there are 3,000 tourism-related jobs in the area, which would be at risk.
Opposition
Broad concerns of opponents are: leachate, impact on groundwater, loss of water quality, community impact, health impact, loss of tourism, loss of tourism jobs, blasting impact, explosives transportation and storage, additional heavy traffic, dust, loss of air quality, noise pollution, environmental impact, impact on fish, potential to take water, water ownership, garbage importing, rehabilitation and site after-use, vermin and scavengers, smell.
Blasting – the quarry would remain active and be subject to blasting, further increasing the danger of fracturing the limestone and contaminating the water
Oxford People Against the Landfill (OPAL) Alliance – www.opalalliance.ca (Nov-2013 video)
Members of the Town Council of Ingersoll as well as the County of Oxford are opposed to the project. (article)
The Chippewas of the Thames First Nation maintains that they should have been consulted as the Thames River passes through their land and is sacred to their community.
Thames River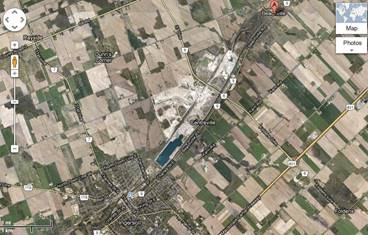 According to the Thames Sydenham Source Protection Plan the quarry site is ranked "high vulnerability" in how easily contaminants can reach the underlying aquifer. The quarry descends far below the water table and its walls and floor are fractured limestone, the channels of which can allow groundwater to travel many hundreds of metres per day. There are already massive inflows of water into the quarry. Also Ingersoll's municipal well #8 and numerous private wells are worryingly close to the site.
Neighbouring 4 ha Centreville Pond and Conservation Area and Lawson Nature Reserve 14 ha are of forest, meadow and wetland just south of Ingersoll. Stewards worry that vermin and scavengers would have an impact on native species (habitat, food sources, diseases).
According to an Environment Canada report entitled Threats to Sources of Drinking Water and Aquatic Ecosystem Health in Canada "it is now accepted that all landfills will eventually release leachate to the surrounding environment and therefore all landfills will have some impact on the water quality of the local ecosystem." The Precautionary Principle states: "Where threats of serious or irreversible harm to people or nature exist, anticipatory action will be taken to prevent damages to human and environmental health, even when full scientific certainty about cause and effect is not available, with the intent of safeguarding the quality of life for current and future generations."
The Thames River is also subject to risk by Enbridge's Line 9 reversal proposal.
Community
The community has been promised green space. Rehabilitation of the quarry lake site was to be a lake.
Quarry Lake Video: https://www.facebook.com/photo.php?v=10153320816925245
- OPAL hydrogeologist has not been allowed on site
- It is not a pond – it is a lake that has interactions with groundwater & fish
- Walker unwilling to perform a karst study
Approval Process:
Zoning by-law amendment?
Official plan amendment?
Environmental Assessment:
- Terms of Reference – comment period open
Conservation Authority approval if applicable
MNR Aggregate Resources Act licence
Permit To Take Water
Sewage permit
Air permit
Timeline (chronological order)
Date

Event

Draft Terms of Reference (EA) available for comment

April 7, 2015

EBR 012-1282 PTTW withdrawn - Permit to take water (dewatering the quarry for rehabilitation)

Comment(s) Received on the Proposal: 6494

Public Consultation on the proposal for this decision was provided for 92 Days, from March 12, 2014 to June 12, 2014.

As a result of public consultation on the proposal, the Ministry received a total of 6494 comments: 6396 comments were received in writing and 98 were received online.

August 2015

Carmeuse Lime approved to discharge effluent into Quarry Lake – appeals by Oxford County and OPAL in progress
News (latest news first)
More Information:
http://www.zorra.on.ca/OurTownship/ProposedLandfillinZorra.aspx
Township of Zorra – Landfill Proposed in Zorra Township
Joe Lyng, General Manager of Strategic Growth, Walker Environmental Group
Walker Environmental Group – www.walkerea.com
Walker Industries - www.walkerind.com
Carmeuse Lime (Beachville) Quarry - www.carmeuse.com (Carmeuse Lime (Canada) Limited is listed with Industry Canada – subject to NAFTA?)
Oxford People Against the Landfill (OPAL) Alliance – www.opalalliance.ca (Nov-2013 video)
Bryan Smith, Suzanne Crellin
Oxford Environmental Action Committee (OEAC)
Facebook public group – "STOP THE DUMP from coming to Ingersoll"
Canadian Environmental Law Association (CELA)
About Carmeuse
Carmeuse is a Belgium-based company with limestone facilities across Europe, Asia and North America. (article)
Other Carmeuse News:
| | | | |
| --- | --- | --- | --- |
| Date | Source | Title | Comment |
| 2017-07-21 | al.com | | Dennis Pillion (dpillion@al.com) |
Return to AWARE-Ontario.ca Home Page
List of Ontario's Issues
Disclaimer: This information has been compiled through private amateur research for the purpose of allowing the reader to make an informed and educated decision. However, while the information is believed to be reliable, accuracy cannot be guaranteed.
APPENDICES
APPENDIX A
https://awareontario.nfshost.com/AWARE-Ontario/Issues/Aggregate_Carmeuse/Carmeuse%20Overview.htm
APPENDIX B
Comments (subject to review) :
SHOCKING! A designated Area of Natural and Scientific Interest (quarry lake) would be right next door to Walker's proposed landfill. THAT ALONE SHOULD MAKE THIS PROPERTY OFF-LIMITS! This just in from OPAL Alliance:
A great vid of the quarry lake beside the proposed landfill site! This area has been identified as an "ANSI". That means it's a geological "Area of Natural or Scientific Interest". It's clear to see why by watching this video!
Please take a moment to send a quick email to Walker's Ministry of Environment project officer at swlandfillproposal.moe@ontario.ca telling her you believe the plans Walker has laid out in their "ToR' document will not protect our drinking water and surface water and you oppose the 'Southwestern Landfill Proposal'!
Walker won't agree to do a "karst" study on the property and area. This study would give the MOE and the public (us!) info on how the landfill could affect the amount and quality of our surface and groundwater. If they think this site is so safe, why wont they agree to this study? We have to drink this water!
While you're at it, send the MOE and MNR each an email telling them to preserve the quarry lake on the Carmeuse Lime property as-is so it can be studied properly if Walker is granted an Environmental Assessment!
minister.mnr@ontario.ca
minister.moe@ontario.ca
CC it to our local MPP, MP, mayors and councils as well! hardeman@execulink.com
dave.mackenzie@parl.gc.ca
https://www.facebook.com/photo.php?v=10153320816925245&set=vb.398755993476400&type=2&theater
Every email makes a big difference! To share yours with OPAL, CC opalmedia@hotmail.com
Vermin
Gulls and vermin associated with a landfill are of great concern. Landfills attract large numbers of nuisance birds, mostly seagulls and crows, due to the presence of food waste. On their fact sheet, Walker lists various ways of dealing with nuisances including: applying daily cover and minimizing tipping face; distress calls; falconry; pyrotechnics, and minimizing standing water on site. The Ministry has specific guidelines for the limits of noise levels of pest control measures. However, pest control measures tend to make birds scatter from the landfill and into surrounding areas. The birds create a number of problems to surrounding areas, including health risks due to direct exposure from droppings; damage to cars, buildings, playground equipment, school yards, parks and tombstones; as well as the general nuisance of flying, roosting and squawking birds, all of which interfere with the quality of life of local residents. It is the task of the Social Assessment Experts to study any disruption to use and enjoyment of residential properties, public facilities and institutions due to impacts of the landfill. There are no limits, levels and standards to meet as "enjoyment" is a subjective term. How can you put a quantitative measure on something as subjective as disruption to enjoyment? What levels will be considered acceptable?
March 10, 2017
T Brown:  That's the mega quarry [Carmeuse Lime Quarry] they want to turn into a landfill. The terms of reference for that landfill EA and all the related documents is literally over a meter high. They're requesting site plan amendments that are obviously in the interest of facilitating the dump application. The comment period is only 30 days, they want you to go into London to look at the documents about what's being proposed, and the dude who arranges that went on vacay for the first two weeks of the comment period.