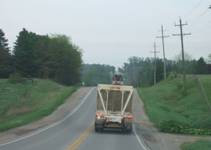 AWARE-Ontario.ca
Arbour Farm's Proposed Gravel/Sand Pit, Mansfield
On 31-Jan-2013, Arbour Farms Ltd, owned by Adam Krehm and his brother, re-proposed a new gravel/sand pit on Airport Road (Part of Lot 23, Concession 7 E.H.S.), just north of Mansfield in Mulmur Township, Dufferin County (about 20 minutes east of the former proposed Highland Companies mega-quarry site).  
The Arbour Farm property has been in the Krehm's family since 1977 (article).
Plans are to licence the 41.68 ha (103 acre) site, with extraction of 36 ha (89 acres), of which 21.4 ha (53 acres) is proposed below the water table.  Annual tonnage applied for is 500,000 tonnes of sand and gravel per year with 187,000 tonnes of that coming from below the water table.   There is an estimated 8.7 million tonnes of extractable aggregate material at the site.  (See licence application EBR 011-7913.)
It is proposed that the pit would operate up to 12 hours per day from 7 am to 7 pm, Monday to Saturday. Shipping hours are to be limited to 7 am to 6 pm, Monday to Thursday, and 7 am to 12 noon on Fridays. During the winter months, a "road sand" supply operation is proposed that would involve shipping sand off-site for winter road maintenance purposes, which could occur 24 hours a day, seven days a week.
Recycling is also proposed for the site where recycled product would be crushed and mixed with virgin product to meet market specifications.
In the future rehabilitation involves allowing the land to settle back to a natural space with the residual pond/wetland feature.
The local citizens group (CORE) reached agreement with the proponent to relocate the entrance to the pit off the main north/south county road (Airport Road) and on to county road 21.  This decision has impact on neighbouring towns Everett and Lisle (Adjala-Tosorontio) and Simcoe County.
Timeline
| | | |
| --- | --- | --- |
| Date | Event | Comment |
| 2000 | initial gravel pit application | |
| 2001/2 | startup of Conserve Our Rural Environment (CORE) opposition group | |
| 2013 | re-apply for local township official plan and zoning by-law amendments | Mulmur Township |
| 2013- Jan | Apply for aggregate licence under ARA | Government of Ontario EBR 011-7913 |
| | ARA public comment period 4-Jan-13 to 18-Feb-2103 | |
| 2013-Jun-25 | AVAAZ Community Petition:  Stop the Arbour Farms Gravel Pit on Airport Road | |
| | CORE public information session  (Rosemont?) | |
| 2014-Dec-13 | Concerned Residents of Mulmur & CORE public information session at Mansfield Outdoor Centre | |
| 2015-Jul-08 | OMB prehearing conference | PL150119 |
| 2016 early | OMB hearing expected | |
| 2016-12-23 | OMB Board Decision | |
| 2017-Mar-27 | OMB 1-week hearing to commence | |
Approvals/Permit Requirements
- Township of Mulmur official plan amendment
- Township of Mulmur zoning by-law amendment
- Aggregate Resources Act licence
- Nottawasaga Conservation Authority approval
- Permit to Take Water
- sewage permit aka Environmental Compliance Approval (project type: sewage)
- air emissions permit – aka Environmental Compliance Approval (project type: air)
Link to Mulmur Township project page
News Items (reverse chronological order)
For further information:
Arbour Farms Ltd. (c/o MHBC Planning)
113 Collier Street
Barrie, ON
L4M 1H2
Concerned Residents of Mulmur
Conserve Our Rural Environment (CORE) 
info@corecares.ca / www.corecares.ca – Page: Airport Road gravel pit
Contact:  Norm MacEachern (norm@informationpackaging.ca)
County of Dufferin
info@dufferincounty.ca / www.dufferincounty.ca
Contact: clerk@dufferincounty.ca
Ministry of Natural Resources ON
Guelph District
1 Stone Road West
Guelph, ON
N1G 4Y2
Mono Mulmur Citizens' Coalition (MC)2
c/o Michael Monahan
Creemore, ON  L0M1G0
info@monomulmur.com / www.monomulmur.com
Contact:  mail@monomulmur.com
Township of Mulmur
Contact:  Paul Mills, Mayor – pmills@mulmurtownship.ca
"Adam Krehm should not be allowed to ruin our lives just to line his pockets."  Michael Monahan
Return to AWARE-Ontario.ca Home Page
List of Ontario's Issues
Disclaimer: This information has been compiled through private amateur research for the purpose of allowing the reader to make an informed and educated decision. However, while the information is believed to be reliable, accuracy cannot be guaranteed.
APPENDICES
Link:  https://awareontario.nfshost.com/AWARE-Ontario/Issues/Aggregate_Arbour%20Farms/Arbour%20Farms.htm