Whistleblowers & Protesters - Banksy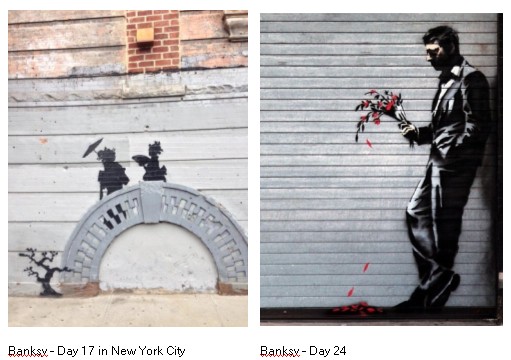 Banksy is a famously anonymous British graffiti artist, political activist, film director and painter who grabbed North America's attention in New York City at the beginning of October, 2013.
NEWS - Banksy
Banksy's New York Adventure (2013)
Banksy's October 2013 one-month "Better Out Than In" residency project in New York City is being broadcast through Twitter (@banksyny) and Instagram accounts.
Follow Along As Banksy Takes Over New York City – Huffington Post
More Information:
Banksy's documentary film "Exit Through the Gift Shop" was nominated for an Academy Award in 2011.
Similar:
Return to AWARE-Ontario.ca Home Page
List of Ontario's Issues
Disclaimer: This information has been compiled through private amateur research for the purpose of allowing the reader to make an informed and educated decision. However, while the information is believed to be reliable, accuracy cannot be guaranteed.
APPENDICES
https://awareontario.nfshost.com/AWARE-Ontario/Issues/Whistleblowers_General/Banksy.htm