Nuclear News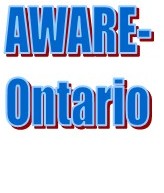 Deep Geological Repository,
Ontario Power Generation
aka "Proposed Nuclear Waste Dump – Lake Huron"
Excerpt from "Stop the Great Lakes Nuclear Dump" Facebook entry dated 14-Feb-2013:
Ontario Power Generation (OPG), a corporation wholly owned by the Province of Ontario, is asking the federal government to approve its proposal to bury low and intermediate level radioactive nuclear waste under the Bruce Nuclear Power Plant site, directly on the shore of Lake Huron, in the Municipality of Kincardine, Ontario.
Called a Deep Geological Repository, DGR or Nuclear Waste Dump, the 31 burial caverns are planned to be 680 metres below the ground carved out of limestone, and will extend to approximately 400 metres from Lake Huron.
Low level radioactive nuclear waste includes contaminated mops, rags and industrial items. Intermediate level radioactive nuclear waste contains resins, filters, and irradiated components from within the nuclear reactors themselves. Intermediate level nuclear wastes are highly radioactive and many remain radioactive for over 100,000 years.
The Nuclear Waste Dump will be very large – approximately 37 acres on the surface and twice that size underground, and will accommodate very large amounts of radioactive wastes that have been generated during the operating life and refurbishment of Ontario's 20 nuclear reactors.
OPG's most recent estimate is that 200,000 cubic metres (7.1 million cubic feet) of nuclear waste in 53,000 containers will be buried in the Dump over 35-40 years. The Dump will eventually be sealed with a sand/clay mixture and concrete, and the plan is that within a decade of closure it will no longer be monitored for radioactive leaks. Ten years of pre-closure monitoring will be followed by potentially 300 years of institutional control, and then abandonment. OPG calls the period following institutional control the "Long Term."
OPG suggests that the Nuclear Waste Dump will safely hold its radioactive contents for 100,000 years. Is it reasonable to conclude that an unmonitored Nuclear Waste Dump will contain its radioactive contents for 100,000 years? The Great Lakes were created only 12,000 years ago.
Note-worthy:
Ontario Power Generation (OPG) proposes to construct a 680m below-ground facility to store low- and medium-level radioactive waste at the Bruce nuclear station beside Lake Huron.  OPG says the rock formations are stable and over 450 million years old.
The proposed site is less than 1.6 kms from the Lake Huron shoreline and "upstream from the main drinking water intakes for southeast Michigan".
Michigan, USA rules prohibit low-level nuclear waste from being stored within 10 miles (16 kilometres) of the lakes and rivers in the Great Lakes system bordering Michigan.  However, Michigan does allow construction of waste sites on the grounds of a nuclear generating station so OGP says that the proposal is in compliance with Michigan's laws.
Low-level radioactive waste includes protective clothing worn by workers, and mops or towels used to wipe up spills of contaminated water. 
Medium-level radioactive waste includes used parts from the reactor core which must be packed in radiation-proof containers, and remain dangerous for hundreds of years.
All low- and intermediate-level waste for Ontario's nuclear reactors is currently stored on the surface at the Bruce nuclear site.
High-level waste such as spent fuel is stored on the surface at the nuclear stations where it was used.  Critics are not convinced that high-level waste will not be added to the site in the future. 
Timeline (chronological order)
| | |
| --- | --- |
| Date | Event |
| June 2015 | Federal review panel recommends approval of project subject to fulfillment of 100 conditions (source).  Approval by federal Environment Minister delayed until after election. |
|  - December 2015 | 90 federal comment period |
| December 2, 2015 | Decision expected by Canadian Minister of the Environment |
| February 2016 | Federal government delays OPG nuclear waste proposal decision (article) |
| 2017 | Ontario Power Generation requests support from Ontario municipalities |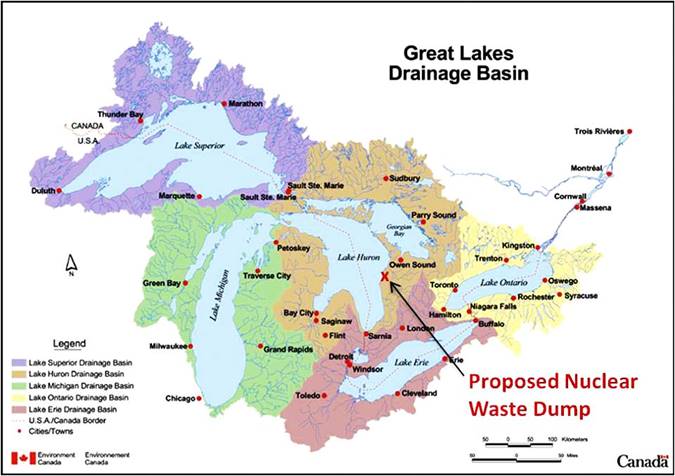 News - Deep Geological Repository (DGR)
29-May-2013
Interested Parties:
For your information, the Panel is continuing with its evaluation of the DGR project information and submissions received in relation to the review http://www.ceaa-acee.gc.ca/050/documents/p17520/89650E.pdf. On or prior to June 23, 2013, the Panel will determine whether the information adequately addresses the requirements of the EIS Guidelines.   At that time, the Panel will either schedule and announce the public hearing for the project or request more information from Ontario Power Generation before proceeding to the hearing phase of the review.
For more information:
Opposition:  www.Stopthegreatlakesnucleardump.com
Search "Stop the Great Lakes Nuclear Dump" on www.facebook.com
"This nuclear waste repository will be surrounded by Lake Huron on three sides and be located just upstream from the main drinking water intake for southeast Michigan.  If this radioactive material leaks, the drinking water for 40 million people could be contaminated."
U.S. Senator Hoon-Yung Hopgood (video)
Return to AWARE-Ontario.ca Home Page
List of Ontario's Issues
Disclaimer: This information has been compiled through private amateur research for the purpose of allowing the reader to make an informed and educated decision. However, while the information is believed to be reliable, accuracy cannot be guaranteed.
APPENDICES
https://awareontario.nfshost.com/AWARE-Ontario/Issues/Nuclear_DGRP/OPG%20DGR%20Huron%20Overview.htm
Further items to research:
Nuclear waste dump at Port Granby?