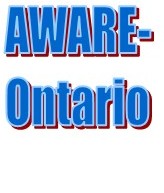 Farmland Development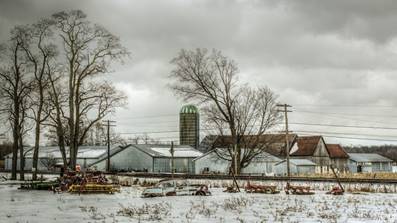 Frank & Marjorie Meyers' Family Farm - Expropriation
Location:  209 Meyers Creek Road, Trenton, ON  Canada  K8V 5P8
Since 2007 Canada's federal department of public works has been buying up hundreds of acres (401ha) directly north of CFB Trenton, Canada's largest and busiest air force base.  However, 12 property owners held out so the federal government was obligated to take the land by expropriation (aka eminent domain).  In 2014, one 86-year old farmer, Mr Frank Meyers, and his wife, Marjorie, were the last hold outs (97ha), and today they continue to put up a fight.
With help from social media-savvy people, an online campaign was started in October 2013.  By February 2014 the Facebook page had attracted in excess of 50,000 "likes".
Many issues are at play:
- How Canada treats Canadian Seniors - Mr. Frank Meyers is elderly and he has lived on the farm his entire life.  His family and ancestors have a distinguished record for working on behalf of Canadians.  Yet Mr. Meyers was forced to watch the destruction of his life-long work from his porch.
- How Canada treats Canadian Military Vets - Frank is a direct descendent of loyalist war hero, John Walden Meyers, who was deeded the property in 1798 by King George III for services rendered in the fight against the Americans.
- How Canada treats Canadian farmland and food security – The Department of National Defense (DND) is attempting to take a significant portion of the farm (220 acres).  People are protesting the Canadian government's attitude that finds the land that feeds us as empty or developmentally wasted and therefore disposable (see #FoodAndWaterFirst campaign).
- How Canada treats culture and history – CFB Trenton would grow at the expense of local agriculture and history reducing diversity of culture and business.
- How Canada spends Taxpayers' money – Questions have been raised as to the waste of federal dollars since Canadian Forces bases are being idled or made surplus (CFB Borden (article), NORAD/CFB North Bay) while the government pays to expand CFB Trenton.  CFB Borden has 21,000 acres of land, including 6,000-acre training area and 460 buildings.  It is under-utilized and not far away from CFB Trenton.  Why is CFB Trenton being expanded through expropriation of productive farmland when CFB Borden is idle?
- How casually Canada expropriates land – Expropriation is only appropriate if used for the greater good of all Canadians. 
- How Canada politically directs largesse and takes from existing communities – Angus and Barrie in Simcoe County welcome and rely on a thriving CFB Borden.  Expanding CFB Trenton ignores the fact that other bases are being used less, which in turn affects other communities.
- Does land that has technically been sold and repurchased still warrant historic significance?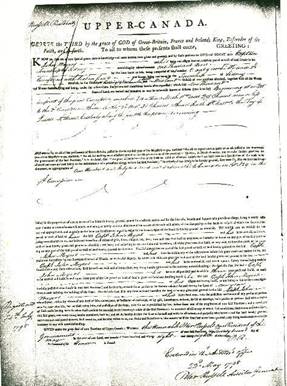 Figure 1 Meyers' Property Deed
Proponents argue that expanding CFB Trenton would bring many associated benefits including civilian and military jobs, attracting more families into the area which would in turn be good for local businesses.  Opponents point out that increased population brings its own infrastructure, crime and growth considerations.
Protestors occupied the Meyers' farm from November 2013 but the bulldozers finally took down the barns in May 2014.
In 2018 the Meyers' Family still has supporters in their bid to get their property returned. 
UPDATE:  On September 15, 2019 Mr. Frank Meyers passed away.  RIP Frank.  (obituary)
News – Meyers' Family Farm (most recent first)
Date

Source

Title

Comment

2019-10-01

Ontario Farmer

Suzanne Atkinson

2018-04-25

Trentonian

Tim Miller

2018-04-24

National Post

Defence officials wonder whether it still makes sense to move counterterrorism unit out of Ottawa

David Pugliese

2018-04-12

EcoWatch / Circle of Blue (USA)

Fear and Fury in Michigan Town Where Air Force Contaminated Water

Brett Walton

- not directly connected to Meyers' expropriation

- impact of perfluorinated compounds (PFAS) sprayed during training exercises to extinguish petroleum fires on a military base

2018-03-02

Quinte News

Tim Durkin

2016-07-01

Intelligencer

David Pugliese, Postmedia Network

Meyers' supporters have asked the Liberal government to return the property but it has declined to do so.

2014-09-22

Youtube / Gord Grob

Help Frank and Marjorie Meyers get their farm land back (3 mins)

Gord Grob

2014-07-08

Ontario Farmer

Suzanne Atkinson

2014-05-29

Communitypress.ca

Jerome Lessard, The Intelligencer

2014-05-28

Comment:

DND demolishes Frank's barns and out-buildings

"It is very sad to see the wanton destruction of the buildings. Thousands and thousands of materials destroyed with NO THOUGHT to salvaging anything - virtually new grain silos crumpled and piled on top of a heap of the tin sheets that used to clad the barns and cover the roofs, hundreds of hand hewn barn beams splintered in a pile, hundreds of board feet of barn board....all gone to land fills and scrap yards. These people have way too much $. I think it would have been easier to watch them salvage stuff than watching them just knock things down, leaving a pile of garbage for Frank to see every day."  Ken Dearborn (facebook)

2014-05-22

Macleans

Michael Frisolanti

2014-05-08

Intelligencer/Trentonian

Ernst Kuglin

2014-05-08

Intelligencer/Trentonian

Ernst Kuglin

- Freda, Robert Hausner

2014-04-10

Youtube / Ken Tizzard

Ken Tizzard

2014-03-13

Intelligencer

Chris Malette

2014-03-12

Intelligencer/Trentonian

Ernst Kuglin

2014-03-12

The Whig

Nicole Kleinsteuber

- Prince Edward County Council

2014-03-11

Environment Probe

Elizabeth Brubaker

2014-03-04

Youtube / Louise Leal

2014-02-28

Intelligencer

Bruce Bell

- Quinte West supports DND's plans; Prince Edward County uncomfortable

2014-02-26

Trentonian

Opinion: Meyers protesters have fallen and bumped their heads

Ernst Kuglin

2014-02-11

Global News

Budget delays Canadian Military equipment purchases until 2016

Murray Brewster

2014-02-10

Intelligencer/Trentonian

Ernst Kuglin

- Local MP Rick Norlock

2014-02-09

MP Paul Dewar NDP

MP Paul Dewar visits site

MP Paul Dewar, NDP is visiting Trenton with the media. Support from Ontarians as well as from around the world is building. Since the "Save Frank & Marjorie Meyers Farm" facebook page was created in Oct-2013, there have been 52,528 Likes.



2014-01-31

Intelligencer/Trentonian

Ernst Kuglin

2014-01-28

Global News

MP urges feds to reconsider Frank Meyers' farm expropriation

Erika Tucker

- MP Paul Dewar

2014-01-24

Intelligencer/Trentonian

Ernst Kuglin

2014-01-20

Morrisburg News

2014-01-16

Intelligencer/Trentonian

Ernst Kuglin

- hold off on demolition and let protest run its course (article)

2014-01-15

Youtube / Rick Mercer Report

Rick Mercer

2014-01-14

Intelligencer

Jerome Lessard, QMI Agency

2014-01-14

Intelligencer/Trentonian

2014-01-14

Intelligencer/Trentonian

Ernst Kuglin

2014-01-13

Youtube / RLife Productions

Government Attempts to Destroy Seniors Farm Given to Him by King George III (2mins)

Rlife Productions

2014-01-13

Intelligencer/Trentonian

Ernst Kuglin

2014-01-13

Global News

Erika Tucker

2014-01-12

Intelligencer

Emily Mountney-Lessard

2014-01-11

Youtube / Dennis Stein

Dennis Stein

2014-01-10

Intelligencer/Trentonian

Ernst Kuglin

2013-12-05

Youtube / David M

2013-12-03

Youtube / Melinda Blanchette

Melinda Blanchette

2013-12-03

Maclean's

After seven-year battle, Frank Meyers finally surrenders his family farm

Michael Friscolanti

2013-11-25

Environment Probe

Unfair, unsound, and unnecessary: A critical look at expropriation in Canada in 2013

Elizabeth Brubaker

- expropriation commentary

2013-10-01

Maclean's

Farmer loses land battle, though military grants him one last harvest

Michael Friscolanti

2013-10

Facebook

"Save Frank & Marjorie Meyers Farm" facebook page created

2013-08-28

Intelligencer/Trentonian

Ernst Kuglin

2013-07-07

Toronto Star

Elderly couple evicted from their home after 407 extension battle

Andrew Livingstone

- similar case?

2013-05-31

Comment:

Original agreement allowed Meyers to stay on the property until 31-May-2013.  It was extended to 30-Sep-2013. (article)

2013

Causes

Petition:  Stop the Harper government and the DND from taking the Meyers farm

2012-08-29

Comment:

CFB Trenton took physical possession of the property (article)

2012-04-12

Comment:

Expropriation Hearing in Trenton.  Former public works minister Rona Ambrose signed off on the expropriation in May 25, 2012. (article)

2012-04-12

Intelligencer/Trentonian

Ernst Kuglin

- some neighbours listed

2012-02-01

Thewhig.com

Ernst Kuglin and Luke Hendry/QMI Agency

2009-07-03

Intelligencer

Luke Hendry (Trentonian)

2009-06-23

McLeans

Michael Friscolanti

2008-02-22

The Ottawa Citizen / Canada.com

2007-01-30

The Ottawa Citizen / Canada.com

- Harper gov't election promise to create new airborne battalion at Trenton

2007

Comment:

Word is that Frank and John Meyers sold dairy quota because of pending expropriation

"Just over a quarter of the land expropriated was left from the original deed gifted from the King, not all of it. most of it had been sold off and bought back."  fb Meyers' Farm inside and out (14-Mar-2018)

2006-11-11

The Ottawa Citizen / Canada.com

- Dwyer Hill Road, near Richmond

2003-07-22

The Ottawa Citizen

David Pugliese

- Dwyer Hill Road, near Richmond

2001-09-11

Comment
More Information:
A Short History of Abandoned and Downsized Canadian Military Bases
Social Media
Twitter #savefranksfarm #fightthegoodfight #FoodAndWaterFirst
facebook 1 – original page:  "Save Frank & Marjorie Meyers Farm" (media timeline) (original page started 3-Oct-2013 administered by Lisa Gibson (article) who made Albert Horne Admin (8-Feb-2018) – Virginia & Lorrie had difficulty with original page)
facebook 2 – Frank's page " Frank Meyer's Farm – And the story continues" 12-Jan-2018 (new page started June 11, 2017 administered by Virginia Elliott and Lorrie Tannahill because "many of the things he [Frank] has asked be shared with you, are not being posted")
facebook 3 – legal "facts" page  "Meyers' Farm Inside and out" (new page started 9-June-2014 administered by ? Su Crawford? aka "Su S An Miller" Sue is a neighbour)
In the military's eyes, Trenton is the obvious alternative. Located halfway between Ottawa and Toronto, the base provides immediate access to airlift capabilities—and a town anxious to roll out the welcome mat. Last fall, when DND finally verified the gossip, local officials lined up to shake each other's hands and boast about the economic spinoffs. Rick Norlock, the local Conservative MP, called it "wonderful news for the people of Quinte West and surrounding area."  (article)
News – Other Ontario Expropriations (most recent first)
Return to AWARE-Ontario.ca Home Page
List of Ontario's Issues
Disclaimer: This information has been compiled through private amateur research for the purpose of allowing the reader to make an informed and educated decision. However, while the information is believed to be reliable, accuracy cannot be guaranteed.
APPENDICES
APPENDIX A
https://awareontario.nfshost.com/AWARE-Ontario/Issues/Dev_Farmland/Meyers%20Farm%20Trenton.htm
APPENIDX B
Political Contacts (as per Facebook / Save Frank & Marjorie Meyers Farm)
STEPHEN HARPER (Prime Minister)
613-992-4211
stephen.harper@parl.gc.ca
Const. # is 403-253-7990
Tweet - @pmharper
DIANE FINLEY (Public Works)
519-426-3400
diane.finley@parl.gc.ca
diane.finley@tpsgc-pwgsc.gc.ca
Tweet @dianefinleymp
JOHN WILLIAMS (Trenton Mayor)
Office of the Mayor, The City of Quinte West
7 Creswell Drive, P.O. Box 490
Trenton, ON K8V 5R6
Tel: (613) 392-2841
Toll-free: 1-866-485-2841
Fax: (613) 392-0131
TTY: (613) 965-6849
ROB NICHOLSON:
515-S Centre Block
House of Commons
Ottawa, ON
K1A 0A6
tel: 613-995-1547
fax: 613-992-7910
email: rob.nicholson@parl.gc.ca
email: rob.nicholson.a1@parl.gc.ca
email: rob.nicholson.c2@parl.gc.ca
RICK NORLOCK:
House of Commons:
Ottawa, Ontario
Canada
K1A 0A6
Constituency Office(s):
2-277 Division Street PO Box 290 (Main Office)
Cobourg, Ontario
K9A 3R2
Telephone: 905-372-8757 Fax: 905-372-1500
103-B Dundas Street West
Trenton, Ontario
K8V 3P4
Telephone: 613-392-3382 Fax: 613-392-3130
Telephone: 613-992-8585 Fax: 613-995-7536
Email:rick.norlock@parl.gc.ca
Prince Edward County Councillors:  http://www.pecounty.on.ca/government/council/
APPENDIX C
Posted in facebook by Lorrie Tannahill:
Frank Meyer's Farm - And the story continues Thank you to everyone who has "liked" this page, and to everyone who took the time to ask their friends to like it as well. There is strength in numbers, and we are going up against a political spiked wall. I've never been one to back down from something I believe in, and I'm certainly not going to start now!
One of Franks long standing supporters, Gord Grob, has continued to stay in touch with Frank as we have, and took the time to write this extremely informative article. You can believe the information, because Frank handed me a copy and asked that I include it here. Thank you Gord for taking the time to put this together for him.
WRITTEN BY GORD GROB
April 10 ·
Just to let you all know, less than two weeks ago Frank Meyers returned home after being in the hospital for over a week from undergoing open heart surgery, and pleased to inform you all that his operation was a success. Frank is now recuperating & resting well with Marjorie by his side. I'm quite certain that the stress over the last few years from losing his historic farmland took it's toll and contributed to his recent need for that surgery, and after speaking to him a few times since returning home, Frank is more determined to continue on lobbying Prime Minister Justin Trudeau and his Liberal Government into having them reverse the decision on using his former farmland, and call upon the Liberal party to return, and give back the historic Meyers farmland. Since the destruction and demolition of the Meyers barns on May 28, 2014 the only work that has been done on that land is having hundreds of tons of dirt dumped onto his historic former farmland, which is incomprehensible and absurd.
To Frank, Marjorie, his family, myself and you, the 55, 000 plus supporters on this FB page understand, the expropriation of the Meyers historic farmland should have never taken place. With Canada being the second largest country in the world in land size, expropriating that farmland was indeed unnecessary and should have never have happened in the first place. Knowing that there were other military bases the former Conservative Harper Government could have easily chosen from, which members of parliament, along with high ranking military members in the past informed the former Federal Government that there was indeed other suitable locations they could use instead of expropriating the Meyers farmland was turned to deaf ears, let alone after careful research, there were, and still are numerous mothball military bases sitting empty and idle which still could be used to accommodate the relocation of JTF2 and its specific needs and requirements.
Frank would like me to ask every single one of his supporters to continue writing, emailing, and to please call upon members of the Liberal Government, but more importantly, reach out to Prime Minister Justin Trudeau, as he is the only person in this country that could reverse the decision, and not just insist, but demand that he and his Liberal Government return the Meyers historic farmland back to its rightful owners. There are numerous reason why the expropriation of the Meyers farmland was not at all necessary. One being that it has been publicly documented that the Ministry of Defence only request 400 acres for the relocation of moving JTF2 to CFB Trenton, and that the Conservative Harper Government already purchased over 700 acres (nearly twice the amount required) from 11 other families in the Trenton area for this expansion, before expropriating the 228 acres of the Meyers farmland, which now put them well over 900 acres, more than twice the amount actually requested and needed for the relocation of JTF2.
From 2005 to this date Frank & Marjorie have never once been treated with any sort of compassion or dignity in this matter, and with them being in the final moments of their golden years, they should have been treated with the utmost respect, compassion, and dignity. After all part of their former historic farmland was bestowed from King George III in 1798 to Frank's forefather Captain John Walden Meyers for his instrumental role in assisting the British Army help fight off Americans during the Revolution, and the deed given to his family which states "in perpetuity", and that deed should be held to its highest significance of merit, and should hold some kind of precedence as it was honored way before the birth, and constitution of Canada in 1867.
Contrary to false reports from the local newspaper in Trenton, and others that continue to spread lies with posts on this Facebook page, Frank "HAS NOT" cashed the cheque given to him for his former historic farmland, and does not intend to do so as long as he is alive. In fact the only person that has actually benefited from the expropriation of the Meyers farmland is former Trenton Mayor John Williams. Over his position as a two term Mayor from 2006-2014, he never once stood up for Frank & Marjorie and the Meyers family in helping them preserve a historic Canadian family farm, but instead Mr. Williams was more interested in supporting his friend and former Quinte West Conservative member Rick Norlock, and with his help for the expropriation of the Meyers farmland, Mr. Williams would continue building his hotel empire in the area in order to benefit himself with the Ministry of Defence Government contracts to his hotels, for meetings and other functions at CFB Trenton, and even benefit if not being used by the members of the Canadian Government and military. With this finally being said, and brought to light, I find this highly unorthodox, but by using the expropriation of the Meyers historic farmland for one's personal gain and was used simply just a convenient tool in order for the benefit on receiving Government contacts for his hotels. Of course as we all know, scratching one politician's back to another politician's back, is a common practice in the history of politics, and somehow not surprised.
Now with Canada celebrating its 150th anniversary this year, surely Prime Minister Justin Trudeau will finally understand the importance of justifying the injustice the Meyers family underwent during the expropriation of his former farmland under the Conservative Harper Government, and hopefully he fully understands the importance of carrying on a family tradition, and will help reverse the decision in preserving the legacy of family name so the Meyers family can return and continue on farming on that historic farmland. In my eyes after getting to know them for nearly for the last few years, the Meyers family is the greatest Canadian family I've ever met and steeped with more history than any Canadian family I've known and deserves so much better than the way they've been treated by Canadian polticians and former Prime Minister Stephen Harper. I urge everyone who reads this to help out Frank & Marjorie by making all phone calls to Justin Trudeau office by calling 613-995-0253, emails can be sent to him by writing to him at justin.trudeau@parl.gc.ca and letters can be sent to him at:
The Right Honourable Justin Trudeau
Prime Minister of Canada
Office of the Prime Minister
80 Wellington Street
Ottawa, Ontario
K1A 0A2
By the way, today is Frank's 89th birthday, and there is nothing more this man wants to have in life than to have his family and his newly and only born grandson from his only son John that will carry on the Meyers family name, and have them return to continue farming on that historic farmland for another 200 plus years...and longer. In conclusion, please continue on writing, emailing, and phoning members of the Liberal Government, but once again more importantly, reach out to Prime Minister Justin Trudeau if you have, or haven't already, and please take the a couple of minutes of your time to lobby on behalf of him, his wife Marjorie, and the entire Meyers family.
Please share this post with family and friends, and please ask them to share this post as well, it is greatly appreciated. I will be reading all the well wishes to Frank from his recent open heart surgery, as well all of the birthday messages from you to him this week. Thank you everyone for your continued support.
Gord Grob
APPENDIX D
Interesting to see how Frank's support has divided into 3 facebook pages ("Save Frank & Marjorie Meyers Farm", "Frank Meyer's Farm – And the story continues", "Meyers' Farm inside and out") and perhaps inevitable as new strategies are pursued.  Kudos to you all for your determination and work to ensure Canada stays a good and fair place to live.  For a quick history of the Meyers' situation, check this link:  https://awareontario.nfshost.com/AWARE-Ontario/Issues/Dev_Farmland/Meyers%20Farm%20Trenton.htm  Stay vigilant.  Stay AWARE.